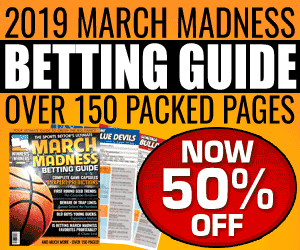 Featured Video from Scott Steehn
Our Deep-3 picks are 8-1 this week and we've got the latest version right here:
A pair of Eastern Conference teams in different situations take the floor in the City of Brotherly Love. The Atlanta Hawks are on the road as they travel to battle the Philadelphia 76ers Friday night. Atlanta was defeated 116-100 on the road by Brooklyn Wednesday night in their previous contest. Philadelphia was dumped 123-106 on the road by Washington in the back half of a home and home set Wednesday night. The 76ers own a 192-186 lead in the all-time regular season series and have taken the last four meetings, including a 113-92 home win in the first matchup this season on October 29, 2018.
Atlanta Hawks Seeking to Regroup
Atlanta dropped their second straight and fifth in their last six games as they were downed by the Nets on the road Wednesday night. The Hawks entered Thursday 12th in the Eastern Conference, 7.5 games behind the Hornets for the final playoff spot. Atlanta led by 15 after the opening quarter before the fatigue of back to back games caught up to them. The Hawks led by as many as 19 in the game but after scoring 38 points in the opening quarter, they were outscored 93-62 in the final three stanzas. Atlanta shot 36.4 percent from the field, including a dismal six of 35 from three-point range, and turned the ball over 22 times in the loss. John Collins led the Hawks with 30 points and 14 rebounds in the loss. Atlanta is 11-12 ATS on the road this season while the over is 12-11 in those games.
.@jcollins20_ is a baaaaaaad man.

He put up 30 points and grabbed 14 boards in Brooklyn #TrueToAtlanta pic.twitter.com/Gwreyy2Pdp

— Atlanta Hawks (@ATLHawks) January 10, 2019
The Hawks are 20th in the league in scoring offense with 108.7 points per game this season. Atlanta is 13th in the league in rebounding (45.5 rpg) and 9th with 25.4 assists per contest. The Hawks are 30th in the NBA in scoring defense as they allow 117.2 points per game. Taurean Prince is third on the team with 15 points per game on the year. Rookie Trae Young is second on the team with 15.5 points plus 7.3 assists while Kent Bazemore is putting up 14 points a night. The Hawks need more production from Miles Plumlee, John Collins (team-high 18.8 points, 10.6 rebounds), Jeremy Lin (11 points), Dewayne Dedmon, Omari Spellman, Vince Carter, Alex Poythress, and Alex Len offensively in order to have any success. The Hawks are tied for 24th in the league by shooting 44.5 percent from the floor as a team. Atlanta is 10th in the league with 11.4 made three-pointers a night and tied for 27th in three-point shooting as the team hits 33.2 percent from beyond the arc. Prince is out until at least mid-January with an ankle sprain: that takes the Hawks' third-leading scorer out of the mix. Bazemore is also out until mid-January with an ankle sprain while Plumlee is out until late January after a non-surgical procedure on his knee, which could be a factor here.
Philadelphia 76ers Shoot to Earn Another Home Win
Philadelphia was dropped in the second game of their home and home set with the Wizards so they'll look to bounce back at home. The 76ers entered Thursday 3.5 games behind the Raptors for the top spot in both the Eastern Conference and the Atlantic Division races. Philadelphia trailed by five after the opening quarter and by 15 at the half: they never were able to make a sustained run in the second half and ended up with the loss. The 76ers shot 43 percent from the field, including eight of 27 from three point range, and won the rebounding battle 46-39. They committed 24 turnovers in the game, which proved costly. Joel Embiid led the 76ers with 35 points and 14 rebounds in the loss. Philadelphia is 12-9 ATS at home this season while the over is 12-9 in those games.
oooooo that's nice 😳

Vote 7️⃣6️⃣ ⭐️ https://t.co/KJPh8Q99Rh pic.twitter.com/1BOOpnTslT

— Philadelphia 76ers (@sixers) January 10, 2019
The 76ers enter this game 6th in scoring offense with an average of 114.6 points per game. Philadelphia is 4th in rebounding with 47.5 boards per game and stands 3rd in assists with 27 per contest. The 76ers are 22nd in scoring defense by allowing an average of 112.5 points per game so far. Joel Embiid leads the team with 26.9 points plus 13.5 rebounds and 1.88 blocks per contest. Ben Simmons is averaging 16.4 points, 9.1 rebounds and eight assists per game and JJ Redick (18.3 points) is also averaging in double figures. Jimmy Butler puts up 19.2 points, five boards and 3.5 assists a night with Minnesota and the 76ers this season. Amir Johnson, Markelle Fultz, Mike Muscala, Wilson Chandler, Furkan Korkmaz, Landry Shamet and T.J. McConnell are all key pieces in Brett Brown's rotation. Philadelphia is 10th in field goal percentage as they shoot 46.8 percent from the floor. The 76ers are tied for 12th in three pointers per game (11.1) but stand 14th in three point percentage as they cash in 35.3 percent of their shots from beyond the arc. Fultz is expected to miss three to six weeks as he undergoes rehab on his shoulder.
Notable Trends
76ers are 4-0 ATS in their last 4 games following a straight up loss
76ers are 5-0 ATS in their last 5 games following an ATS loss
76ers are 6-0 ATS in their last 6 games following a straight up loss of more than 10 points
Hawks are 5-16 ATS in their last 21 Friday games
Hawks are 2-8 ATS in their last 10 vs. Atlantic Division opponents
The Bottom Line What to bet on this game.
Full-Game Side Bet
Philadelphia has been terrific at home this season as they enter this contest 18-3 at home on the year. Atlanta has struggled on the road this season, going 5-19 in those contests as the visiting team. The Hawks are still missing key personnel in their rotation and they have work to do in order to become anything more than cannon fodder at this point. Atlanta is logging their third game in four nights here and their fourth game in six nights. Philadelphia should dominate this contest at home to bounce back from their loss in Washington.
Prediction: Philadelphia 76ers -12.5
Full-Game Total Pick
Atlanta has struggled on the defensive end of the floor this season and Philadelphia isn't the kind of team you want to have to face in that department. The Hawks have been dismal on the road this season and they face one of the top home teams in the league. Philadelphia showed their road struggles against the Wizards but they beat Washington in the first half of the home and home set. Can the Hawks find a way to get the win in this contest?
The under is 7-0 in the Hawks' last 7 when their opponent allows 100 points or more in their previous game, 4-0 in their last 4 after scoring 100 points or more in their previous game and 4-1 in their last five overall. With the slight improvement we've seen from the Hawks defensively this week and the 76ers knowing that they don't need to pile up 125 points to win here, look for it to fall under the number.
Prediction: Under 231.5
Half-Time Side Pick
Philadelphia tends to do a lot of damage in games in their home building as the opposition has struggled there this season. The Hawks aren't expected to be any different given their inability to make things happen on the road this season. Atlanta is going to have to find a way to slow the 76ers' attack and get some easy opportunities. It's hard to trust a team like the Hawks, who have struggled mightily this season. Give the edge to Philadelphia at the half.
Prediction: Philadelphia 76ers -7.5
Half-Time Total Bet
Atlanta's defense has taken a couple steps forward this week but it's going to take more work in order to make them a viable threat. The Hawks have to make some tough decisions about how they are going to build for the future. Philadelphia is going to have to find some outside shooting, especially with Simmons being allergic to shooting outside the restricted area. The 76ers should be able to take advantage of the Atlanta defense to put up some points but this one ends up under the number at the half.
Prediction: Under 116.5