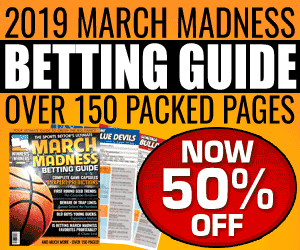 Featured Video from Scott Steehn
Our Deep-3 picks are 8-1 this week and we've got the latest version right here:
When and where: January 11, 2019, ORACLE Arena, 10:30 PM ET
The Chicago Bulls will try to pull off a monumental upset, as well as avoiding a fifth consecutive loss, when they travel to Oakland on Friday to take on the defending champion Golden State Warriors. It'll be back-to-back games against playoff contenders for the Bulls, who were trounced on the road on Wednesday by the Portland Trail Blazers. Meanwhile, the Warriors seem to be finally finding some traction after winning three of their last four games, including a recent blowout win over the New York Knicks.
Bulls show fight in loss
The Chicago Bulls didn't wilt or fade away at any point of their 124-112 loss to the Trail Blazers on Wednesday night. They fought valiantly and kept the game within reach from start to finish, but they ultimately weren't able to match the Trail Blazers' lights out shooting. The Trail Blazers shot a ridiculous 56.6 percent from the floor, and they also had two players score 16-plus points off the bench.
Meanwhile, the Bulls were already doing well enough to score 112 points in a game considering they came into the contest averaging 100.7 points per game. It was a confidence-building game that teased how well the young Bulls team could potentially perform when they're all on the same page. Whether that confidence sticks around moving forward remains to be seen.
#Bulls kept things close in the first half. Take a look at some 📹 from the game. pic.twitter.com/7tdHAVQvhn

— Chicago Bulls (@chicagobulls) January 10, 2019
Bulls center Wendell Carter Jr. scored a team-high 22 points and six rebounds in the game, while star guard Zach LaVine finished with 18 points, two rebounds and three assists. Kris Dunn also had 15 points, five rebounds, seven assists and two steals.
Klay Thompson finding his shot
Klay Thompson playing up to his All-Star potential is the key behind the aura of invincibility for the Warriors. Steph Curry and Kevin Durant are two of the best players in the world, and they're always going to be a difficult duo to deal with when they're on the floor at the same time. However, Thompson being a 20-plus scorer a night is the secret behind the team's infallible success.
He's essentially the straw that breaks the camel's back on a team full of All-Stars.
On a night when the Warriors weren't shooting the ball particularly well, he sunk seven 3-pointers and put up 43 points, two rebounds, two steals and two blocks. Granted, he did so against a bad New York Knicks team, but his ability to flash his elite shooting was a welcome sight for a Warriors team that has looked inconsistent as of late.
43 points from 4 dribbles
52 points from 9 dribbles
60 points from 11 dribbles

A closer look at some of the numbers behind @KlayThompson's impressive performances.
👉 https://t.co/02CSIE7AYG pic.twitter.com/sVU6utSs3K

— Golden State Warriors (@warriors) January 10, 2019
Durant had 24 points, six rebounds, six assists and two blocks in the contest, while Curry was held to only 14 points, 14 assists and seven rebounds.
Notable Trends
Warriors are 4-1 ATS in their last 5 Friday games
Warriors are 4-1 ATS in their last 5 games against teams in the Eastern Conference
Warriors are 16-5 ATS in their last 21 games against teams with a winning % below .400
Warriors are 6-2 ATS in their last games against teams in the NBA Central
Bulls are 3-10-1 ATS in their last 14 games against teams in the NBA Pacific
Bulls are 1-4 ATS in their last 5 when their opponent scores 100 points or more in the previous game
Bulls are 1-4 ATS in their last 5 games against teams in the Western Conference
Bulls are 1-4 ATS in their last 5 after scoring 100 points or more in the previous game
The Bottom Line What to bet on this game.
Full-Game Side Bet
The only team with less wins right now than the bulls are the Cleveland Cavaliers. Yet, the Bulls will be tasked with going into ORACLE Arena and somehow defeating the Warriors on their home floor. This is another one of those "as close as a sure-thing gets" kind of games.
The Warriors are simply a vastly superior team on both ends of the floor, and there are few ways the Bulls can even match-up. LaVine would have to play out of his mind, along with receiving a huge scoring lift from other teammates, to even have a shot at hanging around in this game.
And that's the easy part.
The hard part is figuring out a way to slow down Curry, Durant and Thompson, while also dealing with the defensive nuisance that is Draymond Green. That'll be a daunting challenge on its own considering the Bulls rank in the bottom-half of the league in defensive efficiency. Perhaps the most staggering stat is the fact that they rank dead last in points per game (100.7). Good luck hanging with this Warriors team on the road if you can't score.
Prediction: Golden State Warriors (-15)
Full-Game Total Pick
The under is 11-3 in the Bulls' last 14 games on the road against teams with a winning record at home and 7-3 in the Warriors' last 10 after a straight up win. This game will look similar to the Knicks game, where the Warriors put up a lot of points and held the Knicks under 100. Points will be hard to come by for the Bulls against a Warriors team can defend almost as well as they can shoot, when they're locked in and focused. Take the under in this game.
Prediction: Under (221.5)