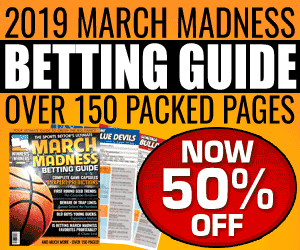 Featured Video from Scott Steehn
Our Deep-3 picks are 8-1 this week and we've got the latest version right here:
It's an interconference matchup between a doormat and a division leader down in the Lone Star State. The Cleveland Cavaliers are on the road as they make the trip to face the Houston Rockets Friday night. Cleveland comes in off a 140-124 road loss to New Orleans in their last game Wednesday night. Houston dropped a 116-109 decision at home to Milwaukee in their previous contest Wednesday night in a matchup of division leaders. The Rockets lead the all-time regular season series 85-45 but it was the Cavaliers taking a 117-108 home win in the first matchup this season on November 24, 2018.
Cleveland Cavaliers Hoping to Snap Losing Skid
Cleveland saw their losing skid reach 11 games as they were dumped by the Pelicans for the second time in four days. The Cavaliers are in the basement of the Eastern Conference, trailing the Hornets by 12 games for the final playoff spot entering Thursday. Cleveland led by 13 after the opening quarter but gave up a staggering 115 points over the final three quarters, including 81 in the second half. The Cavaliers shot 47.7 percent from the field, including 14 of 30 from three point range, and lost the rebounding battle 44-31 in the game. Jordan Clarkson led Cleveland with 21 points off the bench in the loss. The Cavaliers are 11-9 ATS on the road this season while the under is 12-8 in those games.
The Wine & Gold bench netted 75 points in #CavsPelicans – topping the 70-point plateau for the first time this season.

MORE HIGHLIGHTS: https://t.co/URucDWHVO8 pic.twitter.com/91B1VgZZe0

— Cleveland Cavaliers (@cavs) January 10, 2019
The Cavaliers are 28th in the league in scoring this season with 102.5 points per game. Cleveland is 25th in rebounding with 42.2 caroms a night while the team stands 29th with 20.2 assists per contest. The Cavaliers are below average defensively, ranking 23rd in scoring defense by allowing 113 points per game. Kevin Love leads the Cavaliers with 19 points and 13.5 rebounds per contest. He underwent surgery on his big toe and is expected to be out until mid-February. Cedi Osman contributes 11.6 points plus 4.8 boards, Jordan Clarkson averages 17.3 points and Rodney Hood (12.9 points) is putting up double figures a night. Rookie first-round pick Collin Sexton (14.6 points), Tristan Thompson (11.8 points, 11.3 boards), Ante Zizic, Alec Burks (10.4 points), David Nwaba, Matthew Dellavedova, Cameron Payne, John Henson and Larry Nance Jr. are key components of the Cavs' rotation. Cleveland is 26th in the league by shooting 44.4 percent from the field. The Cavaliers are 27th in the league in made threes with 9.3 triples a night while ranking tied for 7th in three point shooting by shooting 36 percent from downtown. Henson is still recovering from wrist surgery that likely has him sidelined until February. Nance Jr. suffered a MCL sprain against the Pacers January 8 and is expected to miss two to three weeks.
Houston Rockets Look to Rebound From Tough Loss
Houston had won seven of eight before getting knocked off by Milwaukee in an interconference clash of division leaders. The Rockets entered Thursday tied with the Spurs for the Southwest Division lead and held the sixth spot in the Western Conference. Houston led by three after the opening quarter and by six at the half before getting outscored 38-23 in the third quarter. The Rockets were tied at 83 with 1:39 to play in the third quarter before giving up a 15-0 run over the next 3:40: they couldn't get closer than three the rest of the way. Houston shot 37.6 percent from the field, including 18 of 48 from three point range, and turned the ball over 18 times. James Harden led the Rockets with 42 points, 11 rebounds and six assists in the loss. Houston has gone 12-7-1 ATS at home this season while the over is 12-7-1 in those contests.
The Rockets are struggling offensively so far this season: they are 17th in the league with 110.6 points per game. Houston is 26th in rebounding with 42.1 boards per game and 28th with 21.2 assists a night. The Rockets are 13th in scoring defense as they allow 109.3 points per game. James Harden leads the team with 33.7 points per game while grabbing six boards and dishing out 8.6 assists a night. Eric Gordon puts up 15.7 points per contest while Clint Capela averages 17.6 points plus 12.9 rebounds and 1.88 blocks a night. PJ Tucker, Nene Hilario, Austin Rivers, Gerald Green, Danuel House Jr., James Ennis III and Chris Paul (15.6 points, eight assists, 2.08 steals) are key pieces in the rotation as well. The Rockets are 23rd in the league in field goal percentage, shooting 44.7 percent as a team. Houston is 1st in the league with 15.2 threes a night while the team is 13th by shooting 35.4 percent from long range this season. Paul suffered a hamstring strain against the Heat December 20 and is out until likely late January. With Gordon undergoing a MRI on his knee and being day to day, Rivers will need to step up even more in the interim.
Notable Trends
Rockets are 5-0-1 ATS in their last 6 home games vs. a team with a losing road record.
Rockets are 10-2 ATS in their last 12 when their opponent allows 100 points or more in their previous game.
Rockets are 12-3-1 ATS in their last 16 home games
Cavaliers are 1-6 ATS in their last 7 after scoring 100 points or more in their previous game
Cavaliers are 0-6 ATS in their last 6 Friday games
Cavaliers are 0-4 ATS in their last 4 games playing on 1 day of rest
The Bottom Line What to bet on this game.
Full-Game Side Bet
This one is a mismatch on paper and it's hard to see things looking any better in this contest for Cleveland. The Cavaliers struggle on the offensive end of the floor and they're going to have a tough task trying to put points on the board against the Rockets. Houston has won seven of nine coming into this one and with Harden on a roll of late coming into this one, you have to like their chances. The Rockets get the upper hand in this contest.
Prediction: Houston Rockets -14.5
Full-Game Total Pick
The Rockets have been playing solid basketball despite being minus guys like Gordon and Paul right now. Harden has put up at least 30 points in each of Houston's last 14 games and it's hard to see Cleveland slow him all that much when you get right down to it. The Cavaliers are dealing with a series of injuries to some of their role players and that's bad news, especially when you have no star to lean on. The Cavaliers have stumbled mightily of late: can they find a way to steal one on the road, where they are 3-17 this season?
The over is 3-0-1 in the Cavaliers' last 4 games playing on 1 day of rest, 4-0-1 in their last 5 overall, 4-0-1 in their last 5 games following a straight up loss and 4-0-1 in their last 5 when their opponent scores 100 points or more in their previous game. Houston has seen the over go 4-0 in their last four on Friday, 5-1 in their last six home games vs. a team with a road winning % of less than .400 and 5-1 in their last six against the Central Division. With the Cavaliers struggling to slow teams, this one ends up over the number thanks to Harden.
Prediction: Over 217
Half-Time Side Pick
Houston is going to come out flying as they feel they have something to prove after losing to the Bucks. The Rockets know that they have the talent to beat good teams and they feel that this one is a mismatch, especially with all of Cleveland's injuries. The Cavaliers have no go-to guy in clutch situations with Love missing. Clarkson is the team's leading scorer on the active roster but he's a volume shooter since there is a lack of other weapons. Harden should have a field day here and that gives the Rockets the edge at the half.
Prediction: Houston Rockets
Half-Time Total Bet
We've seen Harden have some big games over the past month and this portends to be another one. He went off against the Grizzlies in the opening half last week and had a similar assault against the Bucks Wednesday, putting up 23 first half points in the contest. Cleveland doesn't have the guys to defend him and that's bad news when you're trying to win basketball games. The Cavaliers will get some points and this one ends up over the number at the half behind Harden and Capela.
Prediction: Over