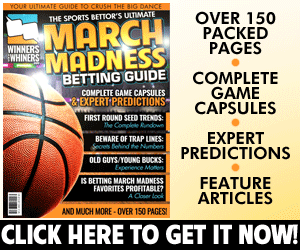 Featured Video from Scott Steehn
It's an interconference matchup with two teams in different situations in regards to the playoff picture take the floor in the Sunshine State. The Houston Rockets are on the road as they face the Orlando Magic Sunday evening. Houston crushed Cleveland 141-113 at home in their last contest Friday night. Orlando was in action on Saturday night as they hosted Boston. The Rockets lead the all-time regular season series 32-27 and have taken four straight meetings, including a 114-107 home win in the last matchup on January 30, 2018.
Houston Rockets Seek to Keep Rolling
Houston crushed Cleveland to pick up their 13th win in the last 16 games Friday night. The Rockets are in a tie for first place in the Southwest Division with the Spurs and entered Saturday 4.5 games behind the Nuggets for the top spot in the West. Houston was up 42-22 after the opening quarter and led by 28 at the half. The Rockets shot 51.7 percent from the field, including knocking down 20 of 52 three point attempts, and won the rebounding battle 45-39. James Harden led the team with 43 points, 10 rebounds and 12 assists to become the first player with a triple-double with 40 points in less than 30 minutes. Houston is 8-12 ATS on the road this season while the under is 11-8-1 in those games.
❗️ Historical Numbers
✔️ Passed CP3 for all-time points in #NBA history
✔️ Passed Kobe for all-time threes in #NBA history
✔️ Passed Moses Malone for 40-point games in a season (#Rockets record)

Vote The Beard into @NBAAllStar ➡️ https://t.co/SKZdoKpYvl pic.twitter.com/K4QNOudWcU

— Houston Rockets (@HoustonRockets) January 12, 2019
The Rockets are struggling offensively so far this season: they are 16th in the league with 111.4 points per game. Houston is 25th in rebounding with 42.2 boards per game and 28th with 21.4 assists a night. The Rockets are 12th in scoring defense as they allow 109.4 points per game. James Harden leads the team with 34.1 points per game while grabbing 6.1 boards and dishing out 8.7 assists a night. Eric Gordon puts up 15.7 points per contest while Clint Capela averages 17.6 points plus 12.6 rebounds and 1.88 blocks a night. PJ Tucker, Nene Hilario, Austin Rivers, Gerald Green, Danuel House Jr., James Ennis III and Chris Paul (15.6 points, eight assists, 2.08 steals) are key pieces in the rotation as well. The Rockets are 23rd in the league in field goal percentage, shooting 44.9 percent as a team. Houston is 1st in the league with 15.3 threes a night while the team is 13th by shooting 35.5 percent from long range this season. Paul suffered a hamstring strain against the Heat December 20 and is out until likely late January. With Gordon undergoing a MRI on his knee and being day to day, Rivers will need to step up even more in the interim.
Orlando Magic Playing Second Game of Back to Back
Orlando returned home after a disappointing road swing to face Boston on Saturday night. The Magic entered Saturday 11th in the Eastern Conference, two games behind the Hornets for the final playoff spot. Orlando was 3.5 games behind Miami for the Southeast Division lead. The Magic is 2-6 in the second game of back to back situations this season. Orlando averages 110 points per game this season, which is better than their regular season average of 103 points a night. The Magic sputters on the defensive end of the floor, allowing 115.8 points per game, which is worse than their full season mark of 107.2 points per game. Orlando is 9-11 ATS at home this season while the under is 11-9 in those contests.
T-R🔥SS pic.twitter.com/6nXlCpHhSn

— Orlando Magic (@OrlandoMagic) January 10, 2019
The Magic has been below average this season putting the ball in the basket: they are 27th in the league with 103 points per game. Orlando stands 24th on the glass with 43.1 boards per contest and is 15th with 24.3 assists a night. The Magic is 7th in scoring defense as they allow 107.2 points a game. Evan Fournier is third on the team with 14.7 points per contest. Nikola Vucevic (team-high 20.2 points, 12 rebounds, 3.7 assists), Aaron Gordon (15.2 points, 7.5 rebounds) and Terrence Ross (13.3 points) are all averaging in double figures this season. Jonathon Simmons, D.J. Augustin (11.5 points, 4.9 assists), Jarell Martin, Mo Bamba, Wesley Iwundu, Johnathan Isaac and Jerian Grant are all important pieces of the rotation for Steve Clifford. The Magic is 27th in the league in field goal percentage as they shoot 44.3 percent as a team. Orlando is 16th with 11 made threes per game while the team is 17th in three point percentage as they shoot 35 percent from downtown. Timofey Mozgov is out indefinitely with a knee injury.
Notable Trends
Magic are 1-4 ATS in their last 5 games vs. a team with a winning straight up record
Magic are 0-4 ATS in their last 4 games overall
Magic are 0-6 ATS in their last 6 vs. Western Conference foes
Rockets are 9-2-1 ATS in their last 12 games playing on 1 day of rest
Rockets are 12-3-1 ATS in their last 16 games overall
The Bottom Line What to bet on this game.
Full-Game Side Bet
Orlando is playing the second game of a back to back situation here and they're facing a Houston team that is a high-octane unit. The Rockets have reeled off 13 wins in their last 16 games coming into this one despite missing guys like Paul and Gordon. Harden has been electric of late and they should take advantage of the Magic being tired. Orlando has struggled of late and that's going to hurt them here. The Rockets get the upper hand in this contest.
Prediction: Houston Rockets -5.5
Full-Game Total Pick
Houston has been terrific of late as they moved from 14th in the Western Conference to holding a share of the top spot in the Southwest Division entering Saturday. The Rockets have gotten by without Paul and Gordon. Harden has carried the team on his back while getting decent production from Capela and Rivers. Orlando was terrible on the road and now has to play the second game of a back to back. Can the Magic find a way to come up with the win in this contest?
The under is 5-1 in the Rockets' last 6 road games vs. a team with a losing home record and 6-2 in their last eight on the road. Orlando has seen the under go 4-1 in their last five overall and 11-4 in their last 15 against Southwest Division opponents. The teams have stayed under the total in four of the last five meetings in Orlando. Look for Houston's defense to clamp down and keep this one under the total.
Prediction: Under 213.5
Half-Time Side Pick
Harden has been electric of late as he has averaged 40.5 points in his last 15 games. The only player to reach that mark over a 15 game stretch in the last 45 yards is Kobe Bryant. He's scored at least 30 points in each of the Rockets' last 15 games coming into this one. The ability that he has to take control of a game at any given point in a variety of ways is important. Orlando doesn't have the pieces to hang in here. Look for Harden to help carry Houston to a lead at the half.
Prediction: Houston Rockets -2.5
Half-Time Total Bet
Houston has played better on the defensive end of the floor of late. The Rockets are going to face an Orlando team that has sputtered offensively works in their favor as well. The Magic has been very good defensively this season and that might be what keeps them in the game here. Orlando has to shake off the fatigue factor, which we saw catch up to them in the second half against the Jazz. The Magic's defense keeps them in the mix and this one is a defensive struggle. Look for this one to end up under the number at the half.
Prediction: Under 108.5