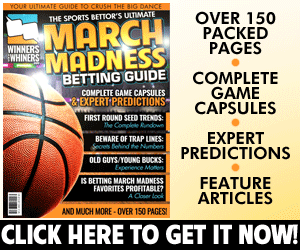 Featured Video from Scott Steehn
For our Top Plays of the Day, check out the Fab Five:
A pair of Atlantic Division rivals take the floor in the Big Apple. The Philadelphia 76ers are on the road as they make the trip to face the New York Knicks Sunday afternoon. Philadelphia comes in off a 123-121 home loss to Atlanta in their last game Friday night. New York was defeated 121-106 at home by Indiana Friday night in their last contest. The 76ers lead the all-time regular season series 250-201 and have taken the last six meetings, including two this season. In the most recent matchup, Philadelphia took a 131-109 home win on December 19, 2018.
Philadelphia 76ers Look to Rebound After Home Loss
Philadelphia put together a disappointing showing against the Hawks as they were defeated at home. The 76ers entered Saturday fourth in the Eastern Conference, 4.5 games behind the Raptors for the top spot in the conference and Atlantic Division races. Philadelphia was in a tight game back and forth all the way. The 76ers gave up the go-ahead jumper with 9.7 seconds to play. On their final possession, Jimmy Butler missed two free throws while Ben Simmons and Wilson Chandler missed putback chances that could have tied the game. Philadelphia shot 51.7 percent from the field, including 11 of 33 from three point range, and lost the rebounding battle 44-30. Butler led the 76ers with 30 points plus five assists in the loss as Joel Embiid did not play with a sore ankle. Philadelphia is 8-13 ATS on the road this season while the over is 12-9 in those games.
.@BenSimmons25 ➡️ @landryshamet @StateFarm | #HereTheyCome pic.twitter.com/uVDM3u2WvP

— Philadelphia 76ers (@sixers) January 12, 2019
The 76ers enter this game 6th in scoring offense with an average of 114.7 points per game. Philadelphia is 6th in rebounding with 47.1 boards per game and stands 3rd in assists with 27.1 per contest. The 76ers are 22nd in scoring defense by allowing an average of 112.7 points per game so far. Joel Embiid leads the team with 26.9 points plus 13.5 rebounds and 1.88 blocks per contest. Ben Simmons is averaging 16.5 points, 9.1 rebounds and 8.1 assists per game and JJ Redick (18.3 points) is also averaging in double figures. Jimmy Butler puts up 19.5 points, 4.9 boards and 3.6 assists a night with Minnesota and the 76ers this season. Amir Johnson, Markelle Fultz, Mike Muscala, Wilson Chandler, Furkan Korkmaz, Landry Shamet and T.J. McConnell are all key pieces in Brett Brown's rotation. Philadelphia is 10th in field goal percentage as they shoot 46.9 percent from the floor. The 76ers are tied for 13th in three pointers per game (11.1) but stand 15th in three point percentage as they cash in 35.2 percent of their shots from beyond the arc. Fultz is expected to miss three to six weeks as he undergoes rehab on his shoulder.
New York Knicks Trying to Snap Slide
New York's return home didn't pay dividends as they were defeated by Indiana. The Knicks lost their third straight and their 11th in the last 12 games. New York entered Saturday tied for 13th in the Eastern Conference standings, 9.5 games behind the Hornets for the final playoff spot. The Knicks trailed by nine after the opening quarter and by 12 at the half: they couldn't get closer than 11 the rest of the way. New York shot 44.3 percent from the field, including 14 of 39 from three point range, and was beaten 47-37 on the glass. Emmanuel Mudiay led the Knicks with 21 points in the loss. New York is 6-10-1 ATS at home this season while the over is 9-8 in those games.
Halftime Highlight ✨

Right in the shootin' pocket 👌 pic.twitter.com/fcUe2np8r1

— NEW YORK KNICKS (@nyknicks) January 12, 2019
The Knicks are 23rd in the league in scoring as they average 107.3 points per game. New York is 17th in the league in rebounding with 44.9 boards per contest while standing 30th with 19.8 assists per game. The Knicks are 27th in scoring defense as they allow 116 points per game. Tim Hardaway Jr. leads the team with 19.8 points per contest. Enes Kanter is solid in the low block with 14.4 points plus 11 boards a night, Damyean Dotson chips in 9.6 points plus 3.7 rebounds a contest and Trey Burke adds 11.1 points with 2.8 assists per game. Mario Hezonja, Emmanuel Mudiay (14.3 points), Allonzo Trier (9.9 points), Frank Ntilkina, Noah Vonleh, Kevin Knox (12.1 points) and Lance Thomas have to step up offensively. The Knicks are 30th in field goal percentage as they shoot 43.1 percent as a team. New York is tied for 20th with 10.2 threes per game while ranking 22nd in three point shooting as they hit 34.5 percent of their attempts from beyond the arc.
Notable Trends
Knicks are 0-4 ATS in their last 4 vs. Atlantic Division opponents
Knicks are 0-4 ATS in their last 4 games playing on 1 day of rest
Knicks are 0-5 ATS in their last 5 home games vs. a team with a losing road record
76ers are 5-1 ATS in their last 6 games following an ATS loss
76ers are 4-1 ATS in their last 5 games following a straight up loss
76ers are 4-1 ATS in their last 5 games playing on 1 day of rest
The Bottom Line What to bet on this game.
Full-Game Side Bet
The Knicks are in a tailspin with 11 losses in their last 12 games coming into this contest. New York is 4-13 at home this season, which is just another reason why the team has struggled so mightily. Philadelphia is going to be mad and ready to make an example of New York after losing to Atlanta: after that game, Simmons said that the team was "soft." The 76ers take care of business and earn their seventh straight win over the Knicks with a triumph here.
Prediction: Philadelphia 76ers
Full-Game Total Pick
This one is a matchup of two teams that are geographical rivals who battle in the division. New York is sinking quickly and they are having all kinds of issues right now. The team is being cautious with the rehab of Kristaps Porzingis, who continues to work back from knee surgery last February. The 76ers struggled defensively without Embiid in their last game and the team hopes he'll be ready to go here. Butler is a question mark too: can the 76ers find a way to down the Knicks here?
The over is 5-0 in the 76ers' last 5 games vs. a team with a winning % below .400, 4-0 in their last 4 when their opponent scores 100 points or more in their previous game, 7-0 in their last seven against Eastern Conference foes and 4-0 in their last four against Atlantic Division teams. New York has seen their over go 4-1 in their last 5 games following a straight up loss and 10-3 in their last 13 games following a straight up loss of more than 10 points. The 76ers take advantage of the Knicks' struggles and get the win here.
Prediction: Over
Half-Time Side Pick
There's literally no reason to put much stock in the Knicks in this contest. New York is in a tailspin right now and they continue to fall down the standings in the Eastern Conference. There are all kinds of problems for the Knicks. Philadelphia is battling right now and the comments that Simmons made about them being soft should motivate them here. Look for the 76ers to take the edge at the half in this contest as they drop the hammer on New York once again.
Prediction: Philadelphia 76ers
Half-Time Total Bet
Philadelphia has plenty of offensive weapons and facing a leaky Knicks' defense is going to make things work that much better. The 76ers are much better at home than on the road this season but they have owned the Knicks of late. New York is struggling to put points on the board and the 76ers don't have that problem. With the Knicks struggling on both ends of the floor, Philadelphia piles up some points and helps push this one over the total at the half.
Prediction: Over