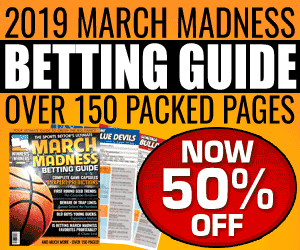 Featured Video from Scott Steehn
Check out our Deep-3 video to get our Top Picks of the Day:
Los Angeles Lakers at Dallas Mavericks
When and Where: Monday, Jan. 7, American Airlines Center, Dallas, Texas, 8:30 p.m. EST.
A pair of slumping teams trying to right themselves collide Monday night in Dallas, where the Mavericks look to avenge an early season loss to the Los Angeles Lakers.
Lakers still trying to figure out how to win without James
Los Angeles (21-19) has gone 1-5 in the six games superstar LeBron James has missed since suffering a groin injury. James, who averages 27.3 points, 8.3 rebounds and 7.1 assists, is expected to be sidelined at least another week before his next evaluation, which is likely to be Friday.
"We got to get him healthy," Lakers coach Luke Walton said at shootaround Friday according to ESPN. "We talk all year, we need everyone on our team. You don't want anyone to get hurt. That's how the NBA season plays out. We're down in bodies. It's gonna be a challenge, but our guys should be excited for that. We gotta find a way to keep playing at a high level and try to finish some of these games out."
The Lakers finally had their first clunker without James on Sunday, falling behind 22-3 to the Timberwolves in the first six minutes and never recovering in a 108-86 defeat. In addition to James' absence, Los Angeles opted to sit starting forward Kyle Kuzma due to a back contusion.
No time to waste. Another game tomorrow. pic.twitter.com/IzY9tXnkZW

— Los Angeles Lakers (@Lakers) January 6, 2019
The lack of offensive options was clearly evident as the Lakers' starting five accounted for just 34 points on 11-for-41 shooting. Kuzma's replacements, Michael Beasley and Ivan Zubac, combined for 20 points on 8-fo-14 shooting.
Where Los Angeles really missed James prior to Sunday's loss was in the fourth quarter. The Lakers were a net minus-34 in the first five games without James — a net minus-45 in the four defeats.
Mavs back home after 1-3 road trip
With 10 losses in its last 13 games, the Mavericks (18-21) are in danger of giving up all the ground they gained by winning 12 of their previous 15.
Dallas wrapped up its four-game road trip with back-to-back losses after a 106-100 setback at Philadelphia on Saturday.
Rookie Jalen Brunson notched his first career double-double and narrowly missed a triple-double as he had 13 points, 11 rebounds and eight assists off the bench in his first game in Philadelphia after helping Villanova win two NCAA Tournament titles in three seasons.
.@jalenbrunson1 had a gritty performance in his return to Philadelphia flirting with a triple-double but the Mavs could not complete the comeback. Let's get back to full strength and get ready for the Lakers who come to town on Monday. See you then, MFFLs! pic.twitter.com/ghHGULLCUk

— Dallas Mavericks (@dallasmavs) January 6, 2019
"For us to go somewhere, we're going to have to win on the road and that's been the biggest challenge all season," Harrison Barnes told the Dallas Morning News. "We've had moments in most of these games on the road where we could have won. We just couldn't get over the hump for whatever reason. It's been frustrating, no doubt about it."
Luka Doncic endured a rough shooting night, going 1 for 8 from 3-point range and 4 for 16 overall while finishing with 14 points and eight rebounds. The No. 3 overall pick has shot better than 50 percent in just one of his last 10 games, averaging 22.2 points, 6.5 rebounds and 5.1 assists. Doncic, though, is hitting 40.5 percent of his 3-pointers in that stretch and 43.1 percent of his shots overall.
Dallas' defense has also been a problem too. According to website Mavs Moneyball, the starting five of Doncic, Barnes, Dennis Smith, Wesley Matthews, and DeAndre Jordan have a net minus-5.7 points per 100 possessions when playing together. All five were in the negative while on the floor at Philadelphia, with Doncic and Barnes each a minus-18 in their 26-plus minutes.
Dallas, though, has been remarkable at home with 15 wins in 18 games. The Mavericks have won 13 of their last 14 at American Airlines Center, outscoring opponents by 10.6 points per game and limiting teams to 102.2 points during that run.
Notable Trends
The Mavericks are:
19-7 ATS in their last 26 home games.
Over/Under:
The under is 5-1 in their last six games.
The under is 5-2 in their last seven home games.
The under is 16-7 in their last 23 games vs. the Lakers.
The Lakers are:
1-4 ATS in their last five road games vs. the Mavericks.
3-7-1 ATS in their last 11 games vs. Southwest Division opponents.
2-7-1 ATS in their last 10 games vs. sub-.500 teams.
Over/Under:
The under is 6-1-2 in their last nine games playing on zero days' rest.
The under is 12-4 in their last 16 games vs. sub-.500 teams.
The under is 23-10 in their last 33 games.
The Bottom Line What to bet on this game.
Full-Game Side Bet
The Lakers edged the Mavericks 114-113 on Halloween, squandering a 13-point lead in the final 3:42 before James bailed them out by making one of two free throws with 2.1 seconds left.
Playing on back-to-back days is less than ideal, but playing them against a Mavericks team that has only lost three home games and also in desperate need of a victory after a rough trip is also sub-optimal.
Then there is the matter of playing without James. Los Angeles has been more "not good enough" than "bad" in the five games he has been sidelined, but a quick turnaround after a rough loss like Sunday's does not inspire confidence — more so with a Mavericks team having won eight of their last nine at home against the Lakers.
Prediction: Pick: Mavericks -8
Full-Game Total Pick
The Lakers have been just off enough without James that it affects their entire game. And after getting blown out by Minnesota on Sunday, the hangover effect could be in play with games on consecutive days and the Mavericks playing so well at home. Seeing a lack of continuity among the starting five in Los Angeles without both James and potentially Kuzma gives confidence in the under delivering.
Prediction: Pick: UNDER 222.5 points
Full-Game Prop Bet
The Lakers likely will not be held under 90 points for a second straight game, but with Kuzma a game-time decision for this game, the smart pick is to take the under. Los Angeles has shot better than 50 percent once since James was sidelined and failed to do so in the last five games.
Prediction: Pick: Lakers UNDER 107.5 points
Half-Time Side Pick
Though the Mavericks have not been a great first-half team of late — they have trailed at intermission in four of their last six games — there is little confidence in taking a Lakers team coming off a poor loss in which it never recovered from a disastrous first quarter.
Prediction: Pick: Mavericks -4.5
Half-Time Total Bet
Both teams are not shooting that well with Los Angeles shooting sub-50 percent in its last five games and Dallas not shooting 50 percent or better since Nov. 28 at Houston. Though the Mavericks are struggling at times defensively, the hedge is they can scrape stops together against a Lakers team sans James and potentially Kouzma as well.
Prediction: Pick: UNDER 113 points
Half-Time Prop Prediction
Los Angeles has topped 30 points in the first quarter just once in its eight games playing on the back end of games on consecutive days. The Lakers have also not topped 27 in the opening 12 minutes of their last four such contests and are coming off a disastrous start in which they were outscored 22-3 in the first six minutes and 35-19 in the first quarter at Minnesota.
Prediction: Pick: Lakers UNDER 27.5 points 1st Quarter