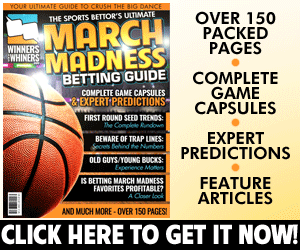 Featured Video from Scott Steehn
Our Deep-3 picks are 8-1 this week and we've got the latest version right here:
Purdue at Wisconsin
When and Where: Friday, Jan. 11, Kohl Center, Madison, Wisc., 9 p.m. EST.
Two of the Big Ten's best players square off in Madison, where Ethan Happ and Wisconsin look to get the better of Carsen Edwards and Purdue on Friday night.
Boilers find road tough going after throttling by Michigan State
Purdue (9-6, 2-2 Big Ten) fell to 0-4 in true road games this season after being belted 77-59 at sixth-ranked Michigan State on Tuesday night. All six of the Boilermakers' defeats have come in road or neutral site games against power conferences, putting a dent in an NCAA Tournament resume in which their best win came against then-No. 23 Maryland.
🎉 Happy Birthday to one of the best to ever play college basketball — the Big Dog.#BoilerUp 🚂 pic.twitter.com/5mThUua5Q5

— Purdue Men's Basketball (@BoilerBall) January 10, 2019
Freshman Trevion Williams had 13 points and 12 rebounds off the bench for his first double-double, but little went right offensively for Purdue as its three-game winning streak came to an end. The Boilermakers shot a season-low 31.3 percent, missed 10 of 22 free throws and were 7 of 31 (22.6 percent) from 3-point range.
The 6-foot-9, 280-pound Williams is averaging a modest 4.0 points and 2.6 rebounds while shooting 60.5 percent. But he and 7-3 center Matt Haarms are likely to see increased playing time in this game with starter Evan Boudreaux sidelined due to a groin injury.
Both will be tasked with stopping Happ, who has averaged 16.8 points, 7.3 rebounds and 4.0 assists in his last four games versus Purdue and had 21 points and 12 rebounds to power the Badgers to a 57-53 win in the most recent meeting last February.
"He's very fast for somebody his size, and very elusive," Painter said of Happ to the Lafayette Journal & Courier. "His decision-making and his ability to pass and his ability to score at the rim just puts you in a bind different than other guys that you face."
Edwards usually puts opponents into a bind for Purdue but is coming off his worst game of the season. He went 3 of 16 from the floor and finished with 11 points against Michigan State, committing four turnovers without registering an assist and was 2 for 13 from 3-point range.
The junior, who is seventh in the nation in scoring at 24.5 points per game, has connected on 37.2 percent of his 3-point shots while shooting 42.9 percent overall.
Badgers look to ride Happ to back-to-back league wins
Happ ranks third in the Big Ten in scoring and second in rebounding with 19.3 points and 10.3 rebounds per game in addition to a team-best 4.7 assists per contest, totaled 22 points and eight rebounds to power Wisconsin (11-4, 3-1) to a 71-52 win at Penn State on Sunday to avoid a third consecutive loss.
He's a Badger who also HAPPens to be one of the country's best

Congrats to @EthanHapp22 on being named to the Wooden Award Midseason Top 25 pic.twitter.com/xJIBUYqb48

— Wisconsin Basketball (@BadgerMBB) January 10, 2019
Brad Davison hit all three of his 3-point attempts and chipped in 14 points as the Badgers hit 8 of 16 from beyond the arc after going 11 for 43 in losing the previous two. Wisconsin is second in the conference in 3-point shooting at 38.5 percent, a partial by-product of Happ passing out of double teams when opposing defenses collapse on him.
Though Wisconsin had its streak of 19 NCAA Tournament appearances last season end, coach Greg Gard can point to last season's win as a turning point and one of the cornerstones of his team's currently successful season.
"Somebody wrote on the board after the game 'Trust the Process,'" Gard told the school's official website. "We've had a lot of learning experience, but the only way you learn from adversity and learn how to handle it is to go through it. That's how you force growth."
Davison (10.3 ppg) and D'Mitrik Trice (14.3) also are scoring in double figures for the Badgers, who rank 18th in the country in scoring defense at 62.2 points per game. Wisconsin is holding opponents to 40.9 percent shooting and only one team has shot better than 50 percent.
Notable Trends
Wisconsin is:
8-2 ATS in its last 10 games vs. Big Ten opponents.
9-3 ATS in its last 12 games after an ATS win.
General:
The home team is 4-0 ATS in the last four games between the teams.
Over/Under:
The under is 4-0 in its last four home games vs. Purdue.
The under is 6-1 in its last seven games vs. above-.500 teams.
The under is 6-1 in its last seven games vs. Big Ten opponents.
Purdue is:
7-18-1 ATS in its last 26 games vs. Big Ten opponents.
1-4-1 ATS in its last six games as a road underdog between 0.5-6.5 points.
1-5-1 ATS in its last seven games as a road underdog.
Over/Under:
The under is 4-1 in its last five road games.
The under is 3-1-1 in its last five games vs. Big Ten opponents.
The under is 5-2 in its last seven games as a road underdog between 0.5 and 6.5 points.
The Bottom Line What to bet on this game.
Full-Game Side Bet
Purdue has yet to show much of anything on the road — it has averaged 64.0 points on 37.6 percent shooting in those four defeats, including 30.8 percent from 3-point range. Additionally, not having five fouls to give up on Happ with Boudreauxs's absence is a huge blow given Happ's low-post savvy.
Lastly, the Boilermakers have yet to find a consistent frontcourt scorer. Ryan Cline will force Wisconsin to be honest chasing Edwards around the perimeter, but the Badgers should have enough to keep Purdue winless on the road. This line has dipped to three during the overnight, so if you're on the home team with this one, you may want to consider jumping in firmer now.
Prediction: Pick: Wisconsin -3
Full-Game Total Pick
As is the case of most games at the Kohl Center, this is a matchup where offenses go to die. The teams have combined for 125 points or fewer in five of the last six meetings in Madison. Wisconsin has turned winning ugly into an art form, and with Happ likely able to pull the strings offensively for the Badgers, this game will be a halfcourt slog in which separation won't come until late. The under should deliver here since it would be a surprise to see the winner reach 70.
This is another instance where the line has plummeted, with this one dropping 4.5 points to 131.5. If you got in early, you should feel good about it.
Prediction: Pick: UNDER 136 points
Full-Game Prop Bet
In a game like where every possession will matter, missing a starter matters. In the case of Purdue, missing Boudreaux and his 7.5 points per game will matter in the grand scheme of things, especially if Williams cannot stay on the court while guarding Happ. Edwards may also try to overcompensate after his bad game, and coupling these factors with Wisconsin's usually stingy defense, the under is the play for the Boilers.
Prediction: Pick: Purdue UNDER 64.5 points
Half-Time Side Pick
Purdue has trailed by five or more points in all four of its road games, and were down double digits at intermission in three of them. Wisconsin, however, has trailed at home at the half in all three of its home games against high-major opponents, which puts some risk into the pick. This is trusting Happ to be the best player on the court the entire game and deliver for the Badgers.
Prediction: Pick: Wisconsin -1.5
Half-Time Total Bet
In those three games at the Kohl Center against high major and Big Ten foes, Wisconsin has cleared 61.5 points just once — with 65 against N.C. State. The other two games topped out at 57. Purdue has averaged 29.3 first-half points on the road, and with the slower pace and solid defense at both ends, the under is the play.
Prediction: Pick: UNDER 61.5 points