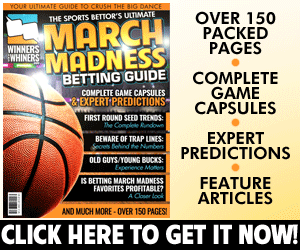 Featured Video from Scott Steehn
Check out our Top Plays in today's "Fab Five" video:
When and where: January 12, 2019, Alumni Arena, Buffalo, NY, 12:00 PM ET
After back-to-back losses to Central Michigan and Northern Illinois, the Miami-Ohio Redhawks face an even more daunting challenge on the road on Friday when they take on the No. 19-ranked Buffalo Bulls. The Bulls have turned their revenge tour towards the rest of the NCAA after losing their first game of the season to Marquette back in December. They have since won their last three consecutive games against Canisius, Eastern Michigan and Toledo.
Redhawks get rolled at home
The Redhawks came into Tuesday night's game against Northern Illinois averaging 73.8 points per game with a 42.6 shooting percentage on the road. They shot 43.1 percent from the floor and put up 70 points against Northern Illinois and still lost by 13 points. It was simply one of those nights where every shot seemed to be falling for the Huskies.
Even for a bad defensive team like the Redhawks, there are times when the opponent gets into a rhythm and can't be stopped. It felt like one of those nights for the Huskies, who shot 57.7 percent from the floor and 50.0 percent from 3-pointer.
Sophomore guard Nike Sibande led the Redhawks with 16 points and four rebounds, while Darrian Ringo contributed 14 points, two rebounds, five assists and six steals. Dalonte Brown had 12 points, four rebounds and two blocks to Bam Bowman's 10 points and six rebounds.
Bulls' Harris explodes for 34 points
Bulls senior guard Jeremy Harris played like a man possessed in Buffalo's 110-80 win over Toledo on Tuesday night. He was completely dominant on both ends of the floor and stuffing the stat sheet any way he felt. Toledo is actually the 78th-ranked team in the country in defensive efficiency. So they aren't terrible on the defensive end of the floor by any stretch.
Yet, Harris still managed to drop 34 points, seven rebounds, five assists and four steals on them. He shot 13-of-19 from the floor, along with knocking down 6-of-10 3-pointers.
It was truly a stellar performance.
Check out just a few highlights from tonight's 110-80 win over Toledo.

There definitely isn't enough time to post them all!!#UBhornsUP | #UBLegendary pic.twitter.com/qJXcgaXWGK

— UB Men's Basketball (@UBmenshoops) January 9, 2019
CJ Massinburg also had a solid game with 17 points, seven rebounds, seven assists and two steals. Senior forward Nick Perkins was the second-leading scorer off the bench with 21 points and six rebounds.
Notable Trends
Bulls are 21-8-4 ATS in their last 33 games after a straight up win
Bulls are 33-14-4 ATS in their last 51 games after an ATS win
Bulls are 35-17-2 ATS in their last 54 Saturday games
Bulls are 33-16-3 ATS in their last 52 home games against teams with a losing road record
Red Hawks are 1-9 ATS in their last 10 road games after three or more consecutive home games
Under is 10-3-1 in Red Hawks last 14 games against teams with a winning % above .600
Under is 9-4 in Red Hawks last 13 road games against teams with a home winning % of greater than .600
Under is 17-8 in Red Hawks last 25 games afetr a double-digit loss at home
The Bottom Line What to bet on this game.
Full-Game Side Bet
The Redhawks are walking into the lion's den on Saturday against a Bulls team that should rip them to shreds. They don't have the personnel to deal with this kind of challenge on the road against one of the top-25 teams in the country. Harris hasn't even been the Bulls' best scorer this season, and he still managed to drop 34 points against a decent defense in Toledo.
However, there is no decency with the Redhawks defense, which ranks among the worst in the country in efficiency. They also give up an average of 74.3 points per game and 77.6 points when they're on the road. Good luck staving off the seventh-ranked scoring offense in the country that is averaging 85.0 points per game.
After Harris had his breakout performance against Toledo, it will be Massinburg's turn to shine in this game.
Prediction: Buffalo Bulls (-17)
Full-Game Total Pick
The under is 5-1-1 in the last seven head-to-head games between the Bulls and Redhawks in Buffalo. I'm expecting a one-sided game where the Redhawks are neutralized on offense. The Bulls will run up the scoreboard, but there won't be enough resistance from the opposition to even consider taking the over in this game. Go with the under in this one.
Prediction: Under (155.5)