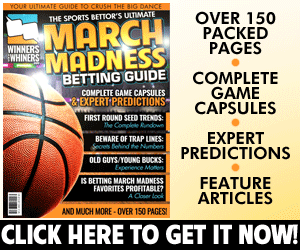 Featured Video from Scott Steehn
For our Top Plays of the Day, check out the Fab Five:
The Penn State Nittany Lions will host the #6 Michigan State Spartans in a Big Ten showdown Sunday afternoon from the Bryce Jordan Center. The Spartans are coming off a dominating 77-59 home win over Purdue, and the Nittany Lions dropped a 70-64 decision against Nebraska in their previous contest. Michigan State registered a 76-68 home win against Penn State in the lone meeting last season.
Spartans Improve to 5-0 in Big Ten Action
The red-hot #6 Michigan State Spartans will be targeting their 10th consecutive victory in this contest. The improved to 5-0 in conference play in a convincing 77-59 home win over Purdue on Tuesday in a matchup that had MSU favored by seven points. The Spartans converted on 44.8% of their field goals, while holding Purdue to a 31% clip. Spartans' top scorer Cassius Winston continued his outstanding play with a 23 point performance on 50% shooting. The junior guard is locked in, scoring at least 23 points in four out of his last five games, and he has increased his season average to 18 PPG on 49% shooting.
Nick Ward is also on a roll, scoring a combined 37 points paired with 16 rebounds in his last two games. The junior forward has eclipsed 20 points seven times this season, and he stands second in team scoring with 16.7 PPG and 6.6 RPG.
🔒⬇️ the #B1G's leading scorer? ☑️

S/o @mattblast3 and @henny2x 💯#SpartanDawgs

— Michigan State Basketball (@MSU_Basketball) January 9, 2019
The Spartans have covered the spread in all five of their conference wins. They have won three consecutive road games to lift their road record to 3-1 on the season. Michigan State stands ninth in the nation with an average of 86.4 points on the season. The Spartans continue to play stellar defense, and they are holding opponents to 67.5 points, placing them 85th in the nation.
Penn State Remains Winless in Conference Play
The Penn State Nittany Lions have quickly found themselves in a tough spot. They stand at 0-5 in Big Ten play which included a 70-64 road loss to Nebraska on Thursday in a game that had Penn State labeled as 10 point underdogs. The Nittany Lions only shot 36% from the field, while Nebraska was able to shoot 49.1%. Josh Reaves was a bright spot in the defeat, collecting a season-high 20 points on an 8 for 17 shooting performance. The senior guard has only reached double-digits in points in one out of his last six games, and he is averaging 10.1 points on the season.
Penn State's leading scorer Lamar Stevens wasn't sharp in Thursday's defeat, registering 13 points on a 6 for 20 clip from the field. The junior forward recently scored 22 points against a strong Wisconsin defense, and he is posting an average of 18.6 PPG and 8.1 RPG on the season.
Nittany Lions fall 70-64 in tightly contested game at Nebraska. Four Nittany Lions score in double figures led by Josh Reaves with season-high 20 pts. Watkins posts game-high 14 rebs/12 pts for his 23rd career double-double. Recap: https://t.co/Bb5mP8IAQj #ClimbWithUs 🔵🦁⚪

— Penn State Men's Basketball (@PennStateMBB) January 11, 2019
The Nittany Lions are currently positioned at 60th in the nation in Ken Pomeroy's college basketball rankings. They have dropped three straight games, and they own a 0-5 road record. Penn State is scoring an average of only 67.9 points on the season, ranking them 304th overall. They are holding opponents 66.9 points, placing them 73rd in the country.
Notable Trends
The Penn State Nittany Lions are:
1-4 ATS in their last 5 home games.
1-4 ATS in their last 5 games against the Big Ten.
1-7-1 ATS in their last 9 games against a team with a winning percentage above .600.
The Michigan State Spartans are:
5-0 ATS in their last 5 games overall.
4-1 ATS in their last 5 road games.
5-0 ATS in their last 5 games against the Big Ten.
The Bottom Line What to bet on this game.
Full-Game Side Bet
I expect a decisive road win from the Spartans in this contest. Penn State is scuffling, and they are 0-5 in Big Ten play. Penn State has dropped three straight games, and they are in an offensive slump,  averaging only 57 points in that three game span.
Furthermore, Michigan State is locked in, winning nine consecutive games, and they have covered the spread in eight of those games. The Spartans have been sharp in both ends of the court, and they have allowed 69 or fewer points in three out of their last four games.
Prediction: Michigan State Spartans
Full-Game Total Pick
I am going with the under in this matchup. Penn State's offensive struggles have resulted in the under converting in four out of their last five games. The Nittany Lions' offensive woes will resume in this one against a Spartans team that has allowed 68 or fewer points in four of their five conference games.
In addition, Penn State does not give up many points. They are holding opponents to 66.9 points on the season, and they recently limited Michigan to 68 points. The under is 20-8 in Penn State's last 28 home games, and it should cash again in this one.
Prediction: Under
Full-Game Prop Bet
The Spartans' stifling defense should contain Penn State's scoring. Michigan State is limiting opponents to 37% shooting, good for third in the nation. They recently limited Northwestern to 60 points, and Purdue to 59 points. Also, Penn State only scored 52 points against Wisconsin in their latest home game.
Prediction: Penn State Team Total: Under
Half-Time Side Pick
I expect the Spartans to control the play from the start. Michigan State is averaging a remarkable 42.9 points in the first half, compared to only 33.3 points from Penn State. MSU outscored Purdue by 13 points in the first half in their latest game, and the Spartans should hold a solid lead at the half.
Prediction: Michigan State