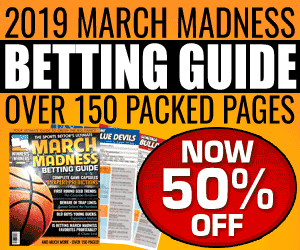 Featured Video from Scott Steehn
For our three Top Plays of the Day check out our short video:
Utah at Arizona State
When and Where: Thursday, Jan. 3, ASU Wells Fargo Arena, Tempe, Ariz., 8 p.m. EST.
Arizona State did the most of any Pac-12 team to help burnish the credentials of the conference and it still was not enough to stay in the AP Top 25 in the most recent poll. The Sun Devils now try to protect their body of work Thursday night when they open league play versus Utah.
Utes yet to find signature victory
Utah (6-6) played a fairly challenging non-conference schedule but failed to make anything come of it with losses at Minnesota and then-No. 19 Kentucky along with neutral-site losses to Northwestern and in-state rival BYU.
The Utes then suffered their most recent setback to one of the nation's elite, an 86-71 home loss to then-No. 6 Nevada on Saturday night. Sedrick Barefield continued his strong play off the bench with a season-high 33 points as he made 6 of 10 from 3-point range, but Utah's starting five accounted for just 18 points on 6-of-21 shooting.
Senior Sedrick Barefield finishing 2018 with a new season high! #GoUtes🏀🔴 pic.twitter.com/Gpn2cm19jx

— Utah Basketball (@UtahMBB) December 29, 2018
The Utes hung tough in the first half and trailed the Wolf Pack by one after 20 minutes, but the fleeting satisfaction of that accomplishment cost them in the second 20 according to coach Larry Krystkowiak.
"We usually do layups and get our bodies moving," he told the Salt Lake Tribune. "Lo and behold, we played exactly like we were complacent to start the second half.
"A lot of the teams that we're going to play are going to look just like this, and we've got to be better."
Barefield has done his part since being moved into the sixth man role, averaging 21.3 points — notably above his season mark of 15.0 per game —  in his last three games while shooting 59.1 percent (13 for 22) from 3-point range and 58.8 percent overall.
Donnie Tillman is the only other Utah player in double figures at 10.0 points per game, but three players are averaging between 8.2 and 9.1 points.
The Utes, though, are struggling on the defensive end, giving up 72.9 points per game while opponents are connecting on 37.2 percent of their shots from beyond the arc and 46.1 percent overall. Utah went 5-4 on the road in conference play last season, winning in overtime at Arizona State while splitting its two games in the desert.
Sun Devils trying to get freshman Dort going again
Arizona State (9-3) played one of the more ambitious non-conference schedules in the country, going 2-1 against ranked teams with wins over Mississippi State and Kansas bracketing a loss to Nevada.
The Sun Devils also split a two-game road trip against SEC teams Georgia and Vanderbilt but were knocked out of the AP Top 25 after a surprising 67-66 loss at home to Princeton on Saturday in which they matched a season low in shooting at 32.3 percent and made just 2 of 15 from 3-point range.
Arizona State guard Rob Edwards back on the court long after Saturday's loss to Princeton. pic.twitter.com/UzP5K5uiTl

— Doug Haller (@DougHaller) December 30, 2018
The defeat came seven days after Bobby Hurley's team had upended the previously top-ranked Jayhawks. Arizona State was arguably the only team in the Pac-12 to help its cause in non-conference play, but this loss — even to the reigning Ivy League tournament champion — called the conference's overall strength into question.
"There's no positives to this at all really, that I can think of at the moment," Hurley told the Arizona Republic. "Just the kind of nonconference that we had and the level of wins that we've had, this is a step back. But if we're going to play like this, then the resume isn't going to mean a whole lot. … You can't be one team against the No. 1 team in the country and then play this way."
Getting back to its winning ways means the Sun Devils need star freshman guard Luguentz Dort to resdiscover his shooting stroke. Dort leads the team in scoring at 18.1 points per game but has averaged just 10.3 in his last four contests while shooting a ghastly 20 percent (9 for 45) after being held to a season-low six against Princeton.
Backcourt partner Remy Martin is contributing 12.2 points per contest but has been a streaky shooter all season, hitting 34.8 percent of his overall attempts while going 6 for 37 from beyond the arc. Zylan Cheatham is averaging 13.2 points and 10.1 rebounds to anchor the frontcourt and has posted six double-doubles.
The Sun Devils are averaging 79.7 points on the season, but only 70.6 in the last five games while suffering all three losses. Arizona State has not shot better than 41.3 percent in any of those contests and has hit only 27.1 percent (26 for 96) of its 3-point shots in that span.
Notable Trends
Arizona State is:
6-2 ATS in its last eight home games vs. teams with a sub-.400 road winning percentage.
5-2-1 ATS in its last eight home games.
Over/Under:
The over is 3-1-1 in its last five home games as a favorite between 7-12.5 points.
The over is 4-0 in its last four games as a favorite between 7-12.5 points.
The over is 4-0 in its last four home games vs. Utah.
Utah is:
0-7 ATS in its last seven games vs. above-.600 teams.
1-6 ATS in their last seven games.
0-5 ATS in its last five games vs. above-.500 teams.
Over/Under:
The over is 6-1 in its last seven games vs. above-.600 teams.
The over is 5-1 in its last six games as an underdog.
The over is 4-1 in its last five road games as an underdog between 7-12.5 points.
The Bottom Line What to bet on this game.
Full-Game Side Bet
This pick is more against Utah than it is for Arizona State, but the expectation is the Sun Devils are going to come out looking to punch someone in the mouth. The Utes have yet to show they can punch either at their weight or above it, and Krystkowiak's comments about his team after its loss to Nevada is a warning sign they might not have their act together for this conference opener.
Hurley has probably been stewing over the past two weeks — the Sun Devils did not look good in any of the last five games but the win over Kansas — and the start of Pac-12 play might be just the thing he needs to get his players on the same wavelength to get back to winning basketball.
Prediction: Pick: Arizona State -11.5
Full-Game Total Pick
The expectation is Arizona State's offense will finally click, though its perimeter shooting is still a concern considering the deep funk it is currently enduring. Utah's defense, and perhaps as a whole, does not appear to be capable of playing a complete game against an elite team, and those breakdowns on defense should result in the Sun Devils getting their game back offensively to help the over hit.
Prediction: Pick: OVER 146 points
Half-Time Side Pick
This pick is trying to find a middle ground with the lack of trust in Utah, which has trailed at halftime in both its true road games, and also some skepticism in Arizona State in the first 20 minutes as it tries to find its offensive groove. The Sun Devils trailed at halftime against both Kansas and Princeton, so taking the money line for the first half is a safer play that offers a better, albeit a smaller, chance for profit.
Prediction: Pick: Arizona State -350
Half-Time Total Bet
The expectation is Arizona State will find its footing during the first half and likely come up just short of this number with Utah. The Sun Devils reached 70 and 67 in their games versus Kansas and Princeton in the opening 20 minutes. While the Utes got to 75 versus Nevada at home, they have reached 70 once in their six road and neutral site games.
Prediction: Pick: UNDER 69.5 points