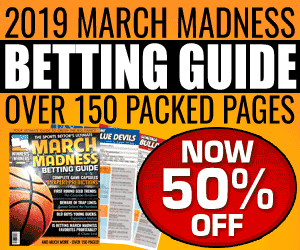 Featured Video from Scott Steehn
For our three Top Plays of the Day check out our short video:
UTEP vs UTSA
When and Where: Thursday, Jan. 3, The Convocation Center, San Antonio, Texas, 8 p.m. EST.
After struggling through their non-conference schedules, both UTEP and UTSA look to start out on the right track in their Conference USA opener on Thursday night in San Antonio.
Young Miners look for first road success
UTEP (5-6) took its lumps on the road during non-conference play, losing all four of its games by a combined 73 points. Rodney Terry's team did show some positive signs in the last two, falling at New Mexico and Marquette by a combined 13 points.
One of my fav action photos from tonight's battle between @UTEP_MBB and @wyo_mbb in the 57th Annual WestStar Bank #DonHaskins @HyundaiSunBowl Invitational. @SunBowlBball #UTEP #UTEPMiners #ElPaso #OnAssignment #CollegeHoops #Sportsphotography @JimSenter2 @RodneyTerry @CUSAMBK pic.twitter.com/m3uyYe3oQQ

— Ivan Pierre Aguirre (@i_p_a_1) December 23, 2018
The Miners are coming off a 2-1 homestand, capped with a 76-65 victory over Wyoming in the Sun Bowl Invitational on Dec. 22. Evan Gilyard hit 6 of 9 from 3-point range and scored 20 points off the bench as UTEP hit 12 of 27 from long range overall.
That kind of proficiency from beyond the arc will be needed according to Terry, who provided his school's website with a quick scouting report.
"Steve's [Henson] a really good coach and does a great job with his guys," Terry said. "We [while at Fresno State] got to play those guys two years ago when he first got the job. He's done a great job with the program in terms of getting his guys to play hard.
"From an offensive standpoint, they really want to score the basketball. They want to get out and run, play fast. They have two guards who will give you fits on any given night in Jackson and Wallace. Between the two of them, they'll shoot 20 three's every game."
Gilyard has enjoyed a breakout season thus far, with the sophomore more than doubling his scoring average to 18.4 points per game while leading Conference USA in 3-point shooting percentage (45.3). Freshman forward Efe Odigie has notched five double-doubles and is averaging 15.5 points and 9.2 rebounds while shooting 56.3 percent.
Fellow freshman Nigel Hawkins is averaging 10.0 points while Jordan Lathon and Paul Thomas are contributing 9.3 and 9.2 points per game, respectively. UTEP's biggest problem has been valuing the basketball — Terry's team is averaging 16.5 turnovers and have just 38 assists compared to 67 turnovers on the road while giving up an average of 83.8 points.
Roadrunners to be tested in bid for fourth straight win
After an 0-5 start that included losses to Oklahoma, Oklahoma State and South Dakota State, UTSA (6-7) has turned it around to a degree with six wins in its last eight games.
There is still an unknown of how good the Roadrunners are, though, as three of those victories have come against non-Division I opponents and the best of those six wins came at Texas A&M-Corpus Christi.
UTSA fought off a spirited challenge from Southeast Oklahoma State last time out, winning 70-67 on Saturday. Jhivvan Jackson had a career-high 32 points and 10 rebounds as the Roadrunners needed almost every bit of their 18-2 edge in free throws to scrape out the victory.
Junior Byron Frohnen is excited to "get going" in conference play, which begins Thursday night against UTEP.#BirdsUp🤙 pic.twitter.com/fQ7jKb5cmp

— UTSA Basketball (@UTSAMBB) January 3, 2019
Jackson has scored 20 or more points in eight straight games and has averaged 25.0 points while shooting 37.7 percent from 3-point range in five games since entering UTSA's starting lineup. He and Keaton Wallace, who is averaging 18.1 points, are the only Roadrunners in double figures.
UTSA is scoring 74.9 points per game but shooting just 31.8 percent from beyond the arc and 41.8 percent overall. The Roadrunners also have issues holding onto the ball, averaging 14.4 turnovers, but are also forcing 14.6 per contest as they average 7.7 steals.
Notable Trends
UTSA is:
8-2 ATS in its last 10 home games.
9-1 ATS in its last 10 games as a favorite.
9-3 ATS in its last 12 games vs. Conference USA opponents.
Over/Under:
The under is 21-5 in its last 26 games.
The under is 12-3 in its last 15 games following a straight up win.
The under is 6-0 in its last six home games vs. UTEP.
UTEP is:
3-7 ATS in its last 10 road games.
2-5 ATS in its last seven road games vs. teams with an above-.500 home record.
3-8 ATS in its last 11 games vs. Conference USA opponents.
Over/Under:
The under is 10-1 in its last 11 games vs. UTSA.
The under is 5-1 in its last six games.
The under is 5-0 in its last five games vs. sub-.500 teams.
The Bottom Line What to bet on this game.
Full-Game Side Bet
Both are these teams are somewhat young when it comes to their primary sources of offense, so this could be an erratic contest with fits and spurts of scoring. Despite playing a challenging road schedule, UTEP has yet to show it can get over that hump, and while UTSA has loaded up on some non-Division I cupcakes, it has turned the Convocation Center into a tough place during conference play.
This line dropped 1.5 points in the overnight, offering more confidence in the Roadrunners to deliver against the number.
Prediction: Pick: UTSA -5.5
Full-Game Total Pick
The Roadrunners have one of the least efficient offenses in Division I according to KenPom, ranking 332nd in effective field goal shooting at 43.2 percent. On the other end, UTEP is one of the worst teams in terms of turnover percentage, not getting a shot off in almost one of every four possessions.
While there may be pockets of points in this game, there does not look to be enough offense for sustained stretches to justify taking the over, especially with the line moving up one point to 141.5.
Prediction: Pick: UNDER 141.5 points
Half-Time Side Pick
The Miners have trailed at halftime in three of their four road games, with the lone outlier a five-point advantage at The Pit in New Mexico. With this being a young team playing its first conference road game, there is just enough margin of error for the Roadrunners to pick up the slack and lead at halftime.
Prediction: Pick: UTSA -3
Half-Time Total Bet
While both teams have the potential to turn this game into a track meet, their erratic play on offense does not lend itself to the over hitting. The Roadrunners have shot just 37.8 percent in their nine games versus Division I opponents, while UTEP is clicking at 42.2 percent on the road and have a .567 assist-to-turnover ratio.
Prediction: Pick: UNDER 66.5 points