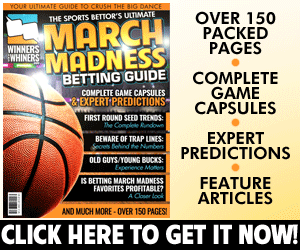 Featured Video from Scott Steehn
For our Top Plays of the Day, check out today's Deep-3 video:
Southern Illinois at Drake
When and Where: Tuesday, Jan. 8, The Knapp Center, Des Moines, Iowa, 8 p.m. EST.
Seeking its second 3-0 start in Missouri Valley Conference play in four years, Southern Illinois looks for its second straight road win Tuesday night when it faces Drake.
Salukis clamp down on Northern Iowa for second Valley win
After finishing a distant second to eventual Final Four participant Loyola of Chicago last season, Southern Illinois (9-6, 2-0 MVC) is keeping pace with the Ramblers in the early going.
The Salukis turned in one of their best defensive efforts of the season Saturday in a 58-51 victory at Northern Iowa. Southern Illinois held the Panthers to 31.5 percent shooting overall, and the 17 field goals allowed were the fewest by an opponent.
The #Salukis clamped down Northern Iowa to 31.5 percent shooting, SIU's best defensive performance in MVC play since 2009 at Drake. pic.twitter.com/DEZGZhhT57

— Saluki Basketball (@SIU_Basketball) January 6, 2019
"I think it's going to be synonymous with every game in The Valley. I've said it now for three weeks solid," coach Barry Hinson told the school's official website. "It feels great. We did it once again with a short lineup."
The short lineup is Southern Illinois going only seven deep as starting guard Armon Fletcher — who averaged 13.5 points and 6.0 rebounds in the first six games — has missed the last nine contests while being suspended indefinitely for breaking team rules, while role player and forward Thik Bol is expected to miss a third straight game with a high ankle sprain.
Center Kavion Pippen has stepped up in Fletcher's absence, averaging 13.2 points while shooting 66.7 percent to raise his scoring average to 11.9 per contest. Pippen and Sean Lloyd Jr. are both averaging 11.9 points while Aaron Cook (11.5 ppg) and Eric McGill (11.3) also are in double figures as the Salukis have spread the scoring load to compensate without Fletcher.
Southern Illinois is 4-2 in true road games this season, with the losses coming at nationally-ranked Kentucky and Buffalo. The Salukis are shooting 39.4 percent from 3-point range and 51.0 percent overall on the road.
Drake still adjusting after losing Norton for season
After compiling an 11-2 record in non-conference play highlighted by five road and neutral-site wins, Drake (11-4, 0-2) has yet to figure out a way to win without Nick Norton, who was averaging 14.0 points and 5.9 assists before suffering a torn left ACL in its conference-opening loss to Evansville.
The hangover from Norton's injury and defeat to the Aces carried over into the Bulldogs' Valley home opener Saturday when they lost 85-74 to Loyola of Chicago on Saturday. Drake hit its first 10 shots and raced to a 16-point lead on the defending Valley champ but could not sustain that pace as the Ramblers caught them before halftime and shot 63.3 percent overall.
Highlights from today's #MVCHoops game against Loyola. Great crowd in the Knapp Center for #DSMHometownTeam pic.twitter.com/4Ikw3Xm6H0

— Drake Basketball (@DrakeBulldogsMB) January 5, 2019
Sophomore Noah Thomas made his first collegiate start in Norton's spot and finished with eight points, five assists, and two steals while hitting 2 of 4 from 3-point range in 36 minutes.
"I thought Noah did a great job," Bulldogs coach Darian DeVries told the school's official website. "He came out and hit a couple of threes, managed the offense well and did a lot of good things."
Nick McGlynn leads Drake in scoring at 16.3 points per game while D.J. Wilkins (10.8 ppg) and Brady Ellingson (10.1) are also in double figures while combining for 62 3-pointers. They will be called upon to pick up the perimeter shooting slack since Norton hit 40 percent (32 for 80) of his long-range shots.
Notable Trends
Drake is:
1-4 ATS in its last five games vs. MVC opponents.
General:
The favorite is 3-8-1 ATS in the last 12 meetings between the teams.
Over/Under:
The under is 6-2 in its last eight games following a double-digit loss at home.
The under is 4-1 in its last five games as a favorite.
The under is 4-0 in its last four home games vs. teams with an above-.500 road record.
Southern Illinois is:
6-0 ATS in its last six road games.
5-2 ATS in its last seven games vs. above-.500 teams.
5-1 ATS in its last six games following a straight up win.
Over/Under:
The under is 5-1 in its last six games vs. MVC opponents.
The under is 5-0 in its last five games.
The under is 6-1 in its last seven games as an underdog.
The Bottom Line What to bet on this game.
Full-Game Side Bet
In a game of contrasting styles in terms of tempo, not having a point guard against a team that runs efficient half-court sets have given Drake fits in both Valley games. That trend will continue with Southern Illinois in this contest, and the Salukis share the ball very well.
The Salukis will grind this game down and find a way to scratch out a third straight Valley victory. This game has also swung wildly to Southern Illinois GIVING two points, so be vigilant if picking this contest.
Prediction: Pick: Southern Illinois +1.5
Full-Game Total Pick
This line has already moved down one-half point, and there is a chance it could slide down further in the overnight, so be vigilant if you are getting on board with the under. There is more trust in Southern Illinois to dictate the tempo with its seven-man rotation rather than getting caught up in Drake's pace. The Bulldogs do have some issues defensively, but the hedge is the Salukis will try to keep this game in the mid-to-upper 60s to deliver the under.
And in keeping with the watchword of vigilance, this line has plummeted to 135.5 points in the overnight. Hopefully, you got in before the dip.
Prediction: Pick: UNDER 141 points
Half-Time Side Pick
There is temptation to give this a "4" confidence rating, but the expectation of the Salukis grinding this game down to a crawl makes the over/under a more appealing choice for the "4." That said, there is plenty of value with Southern Illinois giving a solitary point. The Salukis have led at intermission in four of their six road games and trailed at Kentucky and at Buffalo by a combined eight points.
Prediction: Pick: Southern Illinois -1
Half-Time Total Bet
The injury to Norton is obviously fueling this dip in total and against the Bulldogs, but the Salukis have also traveled well. They teamed with Northern Iowa for 50 points and reached 58 and 61 at Kentucky and Buffalo, respectively. Drake is not likely to hit its first 10 shots for a second straight game, with a first-half total likely closer to 60 than the 86 it had with Loyola last time out.
Prediction: Pick: UNDER 63.5 points