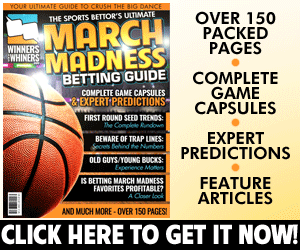 Featured Video from Scott Steehn
Check out our best bets in today's Fab Five:
Charleston at VCU
When and Where: Saturday, Dec. 15, Siegel Center, Richmond, Va., 4 p.m. EST.
Charleston looks to further burnish its non-conference credentials for a possible at-large NCAA Tournament berth Saturday when it faces a VCU team trying to bounce back from a tough loss.
Cougars gunning for sixth straight victory
Charleston (8-2) has already knocked off one Atlantic 10 team this season, beating Rhode Island at home, and also has victories over Memphis and UAB on a neutral court to help offset a loss at Oklahoma State and a 67-55 defeat to then-No. 19 LSU in the first round of the Advocare Invitational in Orlando.
Business Trip 💼 pic.twitter.com/kiLFPrPAsm

— CofC Basketball (@CofCBasketball) December 14, 2018
The Cougars capped a sweep of their three-game homestand last time out, easing back into their schedule last Sunday after an eight-day layoff with an 87-69 win over Georgia College and State that also extended their home-court winning streak to 21. Jarrell Brantley had 25 points and 12 rebounds for his second double-double of the season while Grant Riller added 23 points as all five starters finished in double figures in points.
"We had 19 assists, which I thought was good. We talked about moving the ball, sharing the ball and taking care of it," said coach Earl Grant to the school's official website post-game. "We played 30 good minutes, but we had about 10 minutes out there where we just have to be better with our ball care and decision-making.
"Defensively, we had a few breakdowns. I did a lot of subbing in the middle of the first half. I'm glad we showed enough effort to find a way to win the game. Particularly the start of the second half, we looked more like who we need to be all throughout the 40 minutes. We have a lot to build and improve on."
Riller and Brantley continue to be the driving forces of Charleston's offense, averaging 21.9 and 19.6 points, respectively, and both are shooting over 51 percent while ranking second and third in scoring in the Colonial Athletic Association.
The Cougars have made more free throws (161) than their opponents have attempted (139) and also lead the Colonial in 2-point shooting at 57.5 percent, which has helped mask its sub-par 3-point shooting at 29.4 percent.
Brevin Galloway, who has 20 of Charleston's 64 treys while shooting 39.2 percent from deep, is contributing 10.1 points per contest.
VCU gives Virginia tough battle before losing on road
VCU (7-3) is 5-0 at home this season, but also has a pair of high-profile wins outside Richmond to its credit, beating Temple on a neutral court and winning at Texas over former coach Shaka Smart.
The Rams were unable to make it back-to-back road wins as they held then-No. 4 Virginia to 29.5 percent shooting in a 57-49 loss last Sunday. Issac Vann was the only player in double figures as VCU shot under 30 percent for the second straight game and were outscored 19-6 over the final 6:48.
We rank eighth nationally in defensive efficiency, according to @kenpomeroy. We also rank:
No. 2️⃣ in 3-Point Defense
No. 2️⃣ in Effective FG %
No. 1️⃣9️⃣in Turnover %#ThisIsRamNation #LetsGoVCU pic.twitter.com/daTllYXbIh

— VCU Basketball (@VCU_Hoops) December 10, 2018
"They did a great job down the stretch of finding a way to win," coach Mike Rhoades told the Richmond Times-Dispatch. "I thought we beat ourselves down the stretch there. Fouled too much. Put them on the line and didn't execute down the stretch."
The discrepancy in free throws was also a key contributor to VCU's loss as Virginia had twice as many free throws made (26) as field goals (13). The Rams have held their last three opponents under 60 points and six overall while yielding 61.1 points on 35.9 percent shooting.
In their five home wins, they are forcing 21.4 turnovers per game while opponents have a 0.4 assist-to-turnover ratio.
Vann is second on the team in scoring at 11.9 points per game, trailing only Marcus Evans' 13.2 per contest. VCU continues to have its issues offensively, shooting just 38.6 percent — 28.5 percent from 3-point range — while averaging only 66.5 points.
Notable Trends
VCU is:
4-0-1 ATS in its last five games vs. above-.600 teams.
4-1-1 ATS in its last six home games.
9-3 ATS in its last 12 games as a favorite between 0.5 and 6.5 points.
Over/Under:
The under is 5-1 in its last six home games.
The under is 8-1 in its last nine games vs. above-.600 teams.
The under is 13-3 in its last 16 non-conference games.
Charleston is:
4-10 ATS in its last 14 games as an underdog.
1-8 ATS in its last nine games as an underdog between 0.5 and 6.5 points.
1-7 ATS in its last eight road games as an underdog between 0.5 and 6.5 points.
Over/Under:
The under is 4-1 in its last five road games.
The under is 4-0 in its last four games vs. above-.600 teams.
The under is 10-2 in its last 12 road games after three or more consecutive home games.
The Bottom Line What to bet on this game.
Full-Game Side Bet
VCU is not going to shoot horribly forever, and while Charleston is yielding a respectable 66.8 points per game, opponents are shooting 43.7 percent. The key for the Rams will be to cut down on their turnovers since they commit one just under every five possessions while turning the Siegel Center into a wall of noise.
But it will be the Rams' defense who will key this win, taking Charleston out of its comfort zone inside the arc. VCU is a top-10 defensive team nationally, and if it can fluster Riller and disrupt his offensive distribution, it should result in a victory.
Prediction: Pick: VCU -6.5
Full-Game Total Pick
This is a game where the first to 60 will likely emerge as a winner. The Rams have already split four games when held under 60 points while the Cougars have lost both such contests they have been involved in. VCU's defense should cause enough issues to keep the scoring down, and its lack of top-notch shooting will help it stay under the total as well.
Prediction: Pick: UNDER 128.5 points
Half-Time Side Pick
Charleston is arguably the best opponent to have visited VCU in the early part of this schedule, but the Rams have played lights out at home in the first 20 minutes, leading by double figures in all five games by the halftime horn. The chance to get VCU giving only a single possession against a team that has played only one true road game is too good to look past.
Prediction: Pick: VCU -3
Half-Time Total Bet
VCU's high-quality defense is the main driver of this pick, with the Rams not giving up more than 31 first-half points this season. If the Cougars extend themselves defensively and force turnovers, it may be a struggle for both teams to reach 30 points in the opening 20 minutes.
Prediction: Pick: UNDER 60.5 points