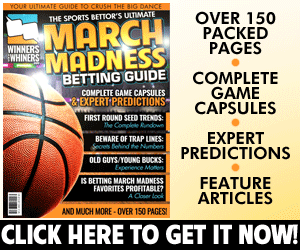 Featured Video from Scott Steehn
Check out our best bets in today's Fab Five:
Cincinnati at No. 18 Mississippi State
When and Where: Saturday, Dec. 15, Humphrey Coliseum, Starkville, Miss., 8:30 p.m. EST.
Looking to crack the AP Top 25, Cincinnati goes south in search of its 10th consecutive victory Saturday night when it faces an 18th-ranked Mississippi State team riding a five-game run of its own.
Bearcats seeking national attention
Cincinnati (9-1), which has posted back-to-back 30-win seasons and reached the NCAA Tournament each of the last eight years, has largely been forgotten thus far following its season-opening 64-56 home loss to Ohio State.
The Bearcats have been unbeaten since and are coming off arguably their biggest win of the season, a 62-47 stifling of crosstown rival Xavier last Saturday in which they limited the Musketeers to 35.3 percent shooting.
Despite holding opponents to 56.4 points per game and 38.2 percent shooting, Cincinnati coach Mick Cronin is impressed with what he's seen of Mississippi State on tape.
"Their stats from the last five games are making me rethink the game schedule," he joked to Cincinnati.com. "It's unbelievable. Their whole team is shooting 43 percent (of three-points shots) in their last five (games). We haven't seen that since Notre Dame in the Big East."
"I don't know how many people are going to win in Starkville this year. If we're one of the teams that goes down there and gets a win it'll be huge for us." – @CoachCroninUC

Full presser: https://t.co/Hgm1YqKiRz#Bearcats pic.twitter.com/1pwFRhY0NV

— Cincinnati Men's Hoops (@GoBearcatsMBB) December 12, 2018
This is the back end of a home-and-home series started last season when Cincinnati posted a 66-50 victory at BB&T Arena at Northern Kentucky University while its on-campus Fifth Third Arena was under renovation. The Bearcats limited the Bulldogs to 30.2 percent shooting in that game, including 6 of 21 from 3-point range.
"In fairness to Lamar Peters, he just didn't have a good game (last year)," Cronin said, referring to the fact the Bulldogs guard went 0 for 7 from beyond the arc and missed all 11 of his shots. "He's making shots this year that he didn't make last year."
Jarron Cumberland is growing into his role as Cincinnati's go-to scorer, averaging a team-high 15.3 points, and shooting better from 3-point range (44.0 percent) than overall (41.3). Tre Scott and Keith Williams are also in double figures at 10.9 and 10.7 points per game, respectively.
Cincinnati is forcing 15.4 turnovers per game on top of its already-stingy shooting defense and has a rebound margin of plus-6.7 per game.
Peters, Bulldogs ready for redemption versus Bearcats
The 18th-ranked Bulldogs have not forgotten about last season's loss, especially Peters. The junior is second on the team in scoring at 14.1 points per game and has shot 43.9 percent from 3-point range (30 for 69), keying a perimeter attack connecting at a 42.7 percent clip over the last five games.
"I've never had a group work this hard collectively on their shot. I love it."#HailState🐶 pic.twitter.com/F649P4NDGE

— HailState 🐶 (@HailState) December 14, 2018
"He's becoming a man in his own shoes," senior forward Aric Holman told the Jackson Clarion Ledger. "He's understanding things. He's working harder than ever. Me and the team are so proud of him right now because of the strides he's taken over the last two or three years."
Holman is averaging 10.7 points and a team-high 8.6 rebounds for Mississippi State, which saved its most prolific 3-point barrage for its last game, an 82-71 victory over Clemson last Saturday in Newark, N.J.
The Bulldogs went 19 of 30 from 3-point range, setting a school record for makes, and Peters matched a career best by hitting eight of them en route to a career-best 28 points.
Quinndary Weatherspoon added 20 points while making 4 of 7 from deep, picking up his younger brother Nick, who missed all three of his shots and finished with two points and six assists. The elder Weatherspoon leads Mississippi State in scoring at 16.8 points per game, and Peters is also averaging a team-best 5.7 assists.
The Bulldogs have yet to play a close game at "The Hump," winning all five of them by double digits while averaging 85.8 points and outscoring opponents by 22 per contest.
Notable Trends
Mississippi State is:
12-4 ATS in its last 16 games vs. above-.600 teams.
7-3-1 ATS in its last 11 games vs. above-.500 teams.
Over/Under:
The under is 8-2 in its last 10 games vs. above-.600 teams.
The under is 4-1 in its last five games as a favorite between 0.5 and 6.5 points.
The under is 4-1 in its last five games following an ATS win.
Cincinnati is:
1-5 ATS in its last six games as an underdog.
1-5 ATS in its last six games as a road underdog.
1-5 ATS in its last six games as a road underdog between 0.5 and 6.5 points.
Over/Under:
The under is 40-10-1 in its last 51 road games.
The under is 9-3-1 in its last 13 games as a road underdog.
The under is 4-1 in its last five games vs. above-.600 teams.
The Bottom Line What to bet on this game.
Full-Game Side Bet
The easy way out of this game would be to say Mississippi State is out to avenge last season's defeat, and while there's some of it, the Bulldogs are the pick here because they have more offensive options than the Bearcats and are at home.
Mississippi State showed a lot in its win over Clemson and also has victories at Dayton and versus Saint Mary's on a neutral court. It also played tough in its only loss to Arizona State in Las Vegas and is ready for this game. The fact this line has dropped more than two points in the overnight makes the Bulldogs a stronger pick.
Prediction: Pick: Mississippi State -2.5
Full-Game Total Pick
While all this talk of Mississippi State and 3-point shooting is nice, a game between teams coached by Cronin and Ben Howland usually devolve into a rock fight of two strong defenses. Given last season's contest, it has the feel of another game in which the first team to 60 will win.
Prediction: Pick: UNDER 130 points
Half-Time Side Pick
Given the tight spread, the Bearcats are worth a flyer considering they have not trailed after 20 minutes at any point during their winning streak. Cincinnati also has been ahead at halftime in its three games at road and neutral sites during that run, and the Bulldogs have trailed at half in two of their last three contests.
Prediction: Pick: Cincinnati +1.5
Half-Time Total Bet
This is a confidence pick in the quality of both defenses, especially since Cincinnati's has traveled well and allowed 26.7 first-half points in its road and neutral-site games.
Prediction: Pick: UNDER 61 points