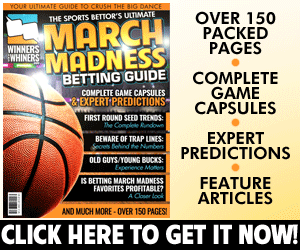 Featured Video from Scott Steehn
Check out our best bets in today's Fab Five:
UCSB at Rice
When and Where: Saturday, Dec. 15, Tudor Fieldhouse, Houston, Texas, 3 p.m. EST.
Looking for a helpful road win, UC Santa Barbara seeks a seventh victory in eight games Saturday when it faces struggling Rice.
Gauchos look to improve to 2-2 on road
UC Santa Barbara (7-2) has not been to the NCAA Tournament since 2011 and has not made a postseason appearance since 2015. The Gauchos are trying to position themselves to end both those droughts ahead of Big West play, starting a two-game road swing with this contest.
The Gauchos have been idle since a 55-45 win over Arkansas-Pine Bluff last Saturday, improving to 3-0 at home. Freshman Amadou Sow had 12 points and 11 rebounds for his first double-double as UCSB held the Golden Lions to 33.3 percent shooting.
That is the kind of play coach Joe Pasternack wants to take on the road — UCSB is 1-2 in true road contests and lost 67-63 at Washington in its last such game.
Back on the road #GoGauchos ✈️✈️ pic.twitter.com/pQJaH8h6wC

— UCSB Mens Basketball (@UCSBbasketball) December 14, 2018
The Gauchos' start is all the more impressive considering leading returning scorer Max Heidegger has yet to play a minute this season. Heidegger, a first-team all-Big West selection who averaged 19.1 points and set a school record with 95 3-pointers in 2017-18, has been dealing with post-concussion symptoms and continues to be listed as day-to-day.
"Everybody talks about his scoring but he can really defend," Pasternack told the LA Daily News last week about the junior guard. "He's fearless and one of the top players in our conference."
Ar'mond Davis has picked up some of the scoring load, averaging a team-high 14.3 points for UCSB. The Gauchos, though, have struggled on the perimeter without Heidegger, hitting just 32.2 percent of their 3-point shots.
JaQuori McLaughlin (11.1 ppg) and Devearl Ramsey (10.1) are also in double figures, but UCSB is also playing solid defense — it has limited opponents to 60.3 points per game and 36.5 percent shooting. The Gauchos are also third in the country in 3-point defensive field goal percentage (24.5).
Rice has successful tune-up after exam break
Hidden in Rice's 4-6 overall record is a pair of wins against non-Division I teams as Scott Pera's team has taken its lumps on the road. Five of those defeats have come outside Tudor Fieldhouse, where the Owls showed some rust in their first game in 12 days Thursday night.
Rice held off Division II St. Edwards 78-73 as Chris Mullins came off the bench to score a career-high 24 points, including the game-tying basket before hitting a pair of go-ahead free throws with under a minute to play.
Check out the top plays from today's win over @SEUMBasketball!#GoOwls👐 x #TheRiceWay pic.twitter.com/lz3F6rsxwi

— Rice Basketball (@RiceBasketball) December 13, 2018
Jack Williams added all of his career- high-tying 17 points in the second half and pulled down eight rebounds for Rice, which allowed the Hilltoppers to shoot 47.5 percent. The Owls have allowed 73 or more points in their last seven games and 78.4 per contest overall.
"I'm really pleased with how we defended down the stretch," Pera told Rice's official website. "We got multiple stops when we had to have them. Our guys really dug in, in a situation where we had not played very good defense most of the second half. (St. Edward's) was really taking it to us and getting the shots they wanted.
"For our guys to really dig their heels in and get the stops they needed; obviously, Chris (Mullins) made a huge play. Jack (Williams) played great post defense at the end and made some big free throws. A lot of credit goes to them."
While Rice has struggled defensively, it does have a solid offense that is averaging 74.4 points and 8.3 3-pointers. Ako Adams leads four players in double figures at 12.4 points per game and also has a team-best 3.3 assists per contest. Williams is contributing 10.6 points and a team-leading 7.2 rebounds per game.
Notable Trends
Rice is:
1-5 ATS in its last six games vs. above-.600 teams.
1-3-1 ATS in its last five games as a home underdog.
3-9-1 ATS in its last 13 games following a straight up win.
Over/Under:
UC Santa Barbara is:
5-2 ATS in its last seven games as a road favorite between 0.5 and 6.5 points.
7-3 ATS in its last 10 games as a road favorite.
10-3 ATS in its last 13 games following an ATS loss.
Over/Under:
The under is 5-0 in its last five non-conference games.
The under is 5-1 in its last six games as a favorite.
The under is 4-0 in its last four games following a straight up win.
The Bottom Line What to bet on this game.
Full-Game Side Bet
The Gauchos have thrived without Heidegger in large part due to their defense, which should carry the day here against a Rice team that likes to operate an up-tempo offense that is not always efficient.
Davis and McLaughlin should be able to continue carrying the bulk of the offense for UCSB, and Heidegger's return should it come in this game would be a bonus.
Prediction: Pick: UCSB -5.5
Full-Game Total Pick
Despite Rice's porous defense, the expectation is UCSB will play a mature road game and establish its tempo at Tudor Fieldhouse. Additionally, the Owls are not a good foul shooting team and do not get to the foul line enough to offset the expected struggles they will have against the Gauchos perimeter defense.
Prediction: Pick: UNDER 142 points
Half-Time Side Pick
Though the Gauchos have only led at halftime once in their three road games, Rice's poor recent form in the opening 20 minutes — the Owls trailed by double digits at halftime in their previous four games versus Division I opponents — is too much to overcome.
Prediction: Pick: UCSB -3
Half-Time Total Bet
UCSB has failed to crack 60 in the first half of its last three games, and totaled 64 or fewer in two of its three road games. Despite their up-tempo offense, Rice has not topped 31 points in any of its last four games. The Gauchos are in good form and should dictate tempo well enough for the under to deliver.
Prediction: Pick: UNDER 67.5 points