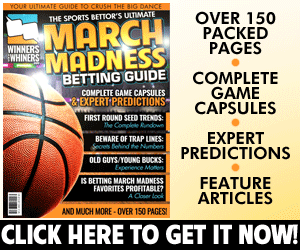 Featured Video from Scott Steehn
Check out our best bets in today's Fab Five:
Utah at No. 19 Kentucky
When and Where: Saturday, Dec. 15, Rupp Arena, Lexington, Ky., 5 p.m. EST.
The talent is clearly there for No. 19 Kentucky, but the cohesiveness and chemistry is still a work in progress.
The Wildcats have been stewing for a week since their last-second loss to Seton Hall and look to stay perfect at Rupp Arena on Saturday when they host Utah.
Utes struggling to make their mark
Utah (4-4) is playing its second true road game of the season, with the first a 78-69 loss at Minnesota on Nov. 12. The Utes have yet to post a marquee victory, with the best of their four wins a 75-66 victory over WAC preseason favorite Grand Canyon in the Wooden Legacy.
Next stop Lexington, KY. 🛫 #GoUtes🏀🔴 pic.twitter.com/XavbY7YI9m

— Utah Basketball (@UtahMBB) December 13, 2018
Larry Krystkowiak's team missed out on a name win last time out, losing 74-59 to in-state rival BYU last Saturday in the Beehive Classic in Salt Lake City. Sedrick Barefield scored 16 points and Timmy Allen added 13 off the bench, but the Utes shot a season-low 36.5 percent and had no answer for BYU's Yoeli Childs, who racked up 31 points and 11 rebounds.
Krystkowiak has struggled to get his team on the same page offensively. While Utah is averaging 14.1 assists, 1.1 off last season's mark, he feels there is too much individual play on that side of the court. Barefield and Donny Tillman may have been the most guilty of those sins of commission versus BYU, making just 8 of 26 shots between them.
"It's not part of Utah basketball," Krystkowiak told the Salt Lake Tribune earlier this week. "It's not the way I want to coach; it's not the way players want to play. … We have no chance when we get in the mindset that we're going to go try to do it ourselves."
Barefield and Tillman are Utah's top two scorers at 14.0 and 11.2 points per game, respectively. Utah is shooting 36.0 percent from 3-point range, an area it can potentially exploit since Kentucky is allowing opponents to connect on 40 percent of their shots from beyond the arc.
Utah went 2-3 against AP Top 25 teams last season, but both wins came on the road — at Arizona and at Saint Mary's.
Kentucky to honor '93 Final Four team
Kentucky is honoring its 1993 Final Four team at this game, one of its six teams during a 12-year span from 1993 to 2005 that eliminated Utah from the NCAA Tournament.
Feeling a little nostalgic today. We couldn't throw it back to previous UK-Utah matchups without showing title No. 7⃣. #TBT pic.twitter.com/hUefj9KLkY

— Kentucky Basketball (@KentuckyMBB) December 13, 2018
The Wildcats have not been to the Final Four since their undefeated 2014-15 squad lost to Wisconsin in the national semifinals, and while this team may have the talent to get to Minneapolis come April, it does need to work out the kinks.
John Calipari's squad lost for the second time in as many games outside Lexington last Saturday, absorbing an 84-83 overtime defeat to Seton Hall at Madison Square Garden in New York. Keldon Johnson forced the extra period with a halfcourt heave for Kentucky, but that shoddy perimeter defense proved to be its undoing as Myles Cale hit a game-winning 3-pointer with eight seconds to play.
With yet another freshman-dominant team, Calipari is willing to deal with the growing pains that come in November and December provided his kiddie corps are learning as they play.
"I like the fact, I told them after the game, we fought.  We fought," Calipari said post-game. "That was good.  I thought we started the second half and we just kind of did what we had been doing, which is let guys beat us to balls and all that and all of a sudden it's anybody's ball game.  But at the end, I thought the second part of the second half, we fought."
During the week, Calipari had an internal fire to put out Quade Green announced his decision to transfer out of the program. The sophomore guard averaged 8.0 points and made 11 of 23 from 3-point range coming off the bench for Kentucky but was averaging less than 18 minutes per game.
"I met with Quade and we talked through a lot of different things," Calipari said. "The thing that struck me most is what a great kid Quade is. He felt like he was in a position that he couldn't overcome and he had the maturity to come in and sit down and talk through it with me.
"Quade has my full support with this decision. We haven't had many kids leave, but when we do, we always support them and, in just about every case, stay in touch with each other. I hope that will be the case with Quade."
Green's departure could mean more minutes for redshirt freshman Jemarl Baker, who was recently cleared to play after missing the first eight games with a knee injury. Baker was considered one of the best 3-point shooters nationally in last season's class, and could help a Kentucky team shooting just 34 percent from beyond the arc and averaging only 5.5 makes from 3-point range.
Kentucky, though, does have plenty of quality options offensively. Johnson is averaging a team-high 15.2 points, closely followed by Reid Travis (14.4) and PJ Washington (14.0). Tyler Herro is also in double figures at 11.6 points per game, but where the Wildcats have excelled this season is on the glass.
They are outrebounding opponents by 15.2 per contest, and their 13.8 offensive rebounds per game is tied for 22nd nationally.
Notable Trends
Kentucky is:
6-2 ATS in its last eight games vs. teams with a sub-.500 road record.
5-2 ATS in its last seven Saturday games.
Over/Under:
The under is 4-0 in its last four home games.
The under is 5-1 in its last six games following an ATS loss.
The under is 4-1 in its last five non-conference games.
Utah is:
1-6 ATS in its last seven games vs. above-.500 teams.
0-5 ATS in its last five games vs. above-.600 teams.
Over/Under:
The under is 7-1 in its last eight games following a straight up loss.
The under is 4-0 in its last four Saturday games.
The Bottom Line What to bet on this game.
Full-Game Side Bet
It may take a while for Kentucky to get going as it goes through its first game without Green in the rotation, but the Wildcats are such a phenomenal offensive rebounding team that their lack of consistent perimeter shooting will not be too much of a detriment in this game.
Utah's inability to get on track offensively will likely loom large in this game. Kentucky has the length and athleticism to speed things up, two things the Utes will struggle with given their offensive breakdowns of late while playing hero ball. Utah has solid 3-point shooting, but it is not a key component of its offense where it can barrage the Wildcats with them.
Prediction: Pick: Kentucky -14.5
Full-Game Total Pick
There is always a fear the Wildcats will "put it together" for long stretches of play, and suddenly they are at the 90-point mark with three minutes to play and cruising past the over. But the Utes fared well enough in their lone road game and have played enough contests at neutral sites this season where they should be able to keep Kentucky down to a degree as its offense will likely struggle to keep up.
Prediction: Pick: UNDER 146.5 points
Half-Time Side Pick
There are three factors at play here for taking Kentucky: one is the Wildcats are coming off a loss, two is it trailed at halftime in its last home game and three is the hoopla surrounding the '93 team ceremonies. Calipari has not complained about his team, he has merely made observations, which lends to the belief he understands this team. Utah's lack of offense also adds to the pick, though this will likely be close in the final minutes of the opening 20.
Prediction: Pick: Kentucky -8.5
Half-Time Total Bet
This pick is contingent on Utah's struggles continuing on offense and having problems dealing with Kentucky's length. If the Wildcats hold the Utes under 30 points, the under should hit in this case.
Prediction: Pick: UNDER 68.5 points