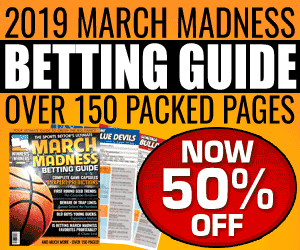 Featured Video from Scott Steehn
For our three Best Bets today, check out our brief video:
Bradley at Georgia Southern
When and Where: Tuesday, Dec. 18, Hanner Fieldhouse, Statesboro, Ga., 7:30 p.m. EST.
Georgia Southern looks to avenge its loss to Bradley from last season Tuesday night when it hosts the Braves to complete their home-and-home series.
Bradley trying to shake off recent struggles
The Braves (7-4), who reached the Missouri Valley Conference tournament final last season, have dropped three of four after a 6-1 start and trying to bounce back from Saturday's 73-66 home loss to Eastern Illinois.
Braves drop a tough decision to the Panthers on Saturday night, 73-66. Time to get back to work, refocus and regroup at Georgia Southern on Tuesday night. pic.twitter.com/lj0YAoblep

— Bradley Basketball (@bradleyumbb) December 16, 2018
Koch Bar scored 13 points and Darrell Brown added 12 for Bradley, which failed to contain the Panthers on the perimeter as they made 13 of 24 from 3-point range. That has been a sore spot of late for the Braves, who have given up 12 or more treys in two of their last three games and yielded nine or more in three of their four defeats.
"We came out the second half a little too casual," coach Brian Wardle told the Peoria Journal-Star. "I take full responsibility for that. Halftime was good. I thought we were motivated to come out, but they punched us in the mouth. They played tough and played harder."
Brown, who topped 1,000 points for his career earlier this month, is averaging a team-high 15.1 points and has made 44.6 percent of his 3-point shots. He has made at least two treys in his last seven games, and Brown is also averaging a team-best 3.9 assists.
Elijah Childs is contributing 12.9 points and a team-leading 8.4 rebounds per game, and while he is the only other Bradley player in double figures, three players are averaging 9.5 points apiece.
Freshman Ari Boya made his debut in Saturday's loss, totaling six points, four rebounds and two blocks in nine minutes. The 7-foot-1 center missed the first 10 games due to injury.
Brown had 19 points in last season's 62-57 home victory over Georgia Southern as Bradley overcame 33.9 percent shooting by holding the Eagles to 28.8 percent overall shooting and 4 for 27 from 3-point range.
Eagles trying to re-discover play from Bahamas title
Georgia Southern (7-3) has gone 2-3 since winning the Islands of the Bahamas Showcase last month, with one of those wins coming against a non-Division I opponent and two of the losses coming on the road.
The victory over the non-Division I team came in its last game, a 101-64 thrashing of Brewton-Parker on Friday night. Ike Smith scored 18 points to lead seven players in double figures for the Eagles as no player logged more than 30 minutes and eight scored at least nine points.
Eagles lead the country in field goal percentage (.523) and rank ninth in scoring (89.7 ppg)! Bradley visits Hanner Tuesday at 7:30 p.m. in the last home game of the calendar year. One of only 10 chances left to see one of the best senior classes in school history in Hanner!

— GS Men's Basketball (@GSAthletics_MBB) December 17, 2018
Georgia Southern's Division I-leading field goal percentage is all the more impressive considering the Eagles are shooting just 28.6 percent from 3-point range. That means Mark Byington's team is shooting a blistering 60.3 percent from inside the arc as Tookie Brown (16.5 ppg), Smith (14.7) and Quan Jackson (14.5) account for more than half of their 89.7 points per game.
"We had eight days off so I was able to get a lot of shots up," Smith told Georgia Southern's official website after Friday's win. "Coach's big thing is to be confident. If you are open, take it with confidence so that's what I've been doing.
"We have a really good team coming in here Tuesday in Bradley so we're going to have to prepare and be ready."
The only Eagles player who appears immune to their perimeter woes is David-Lee Jones, who is averaging 9.6 points while making 15 of 28 from 3-point range and shooting 58.9 percent overall.
Smith, Brown and Jackson combined for just 14 points in last season's defeat while shooting 6 of 22 from the floor.
Notable Trends
Georgia Southern is:
6-0 ATS in its last six games after scoring 100 or more points in its previous game.
8-2 ATS in its last 10 games as a home favorite between 0.5-6.5 points.
5-1-1 ATS in its last seven home games.
Over/Under:
The over is 10-1 in its last 11 games following a win by 20 or more points.
The over is 6-2 in its last eight home games.
The over is 7-1 in its last eight games after scoring 100 or more points in its previous game.
Bradley is:
3-9 ATS in its last 12 games as a road underdog.
7-18-1 ATS in its last 26 games as a road underdog between 0.5-6.5 points.
0-5-1 ATS in its last six games when an opponent scores 100 or more points in its previous game.
Over/Under:
The over is 5-2 in its last seven games as a road underdog.
The over is 16-7 in its last 23 games as an underdog between 0.5-6.5 points.
The over is 13-5 in its last 18 games as a road underdog between 0.5-6.5 points.
The Bottom Line What to bet on this game.
Full-Game Side Bet
After getting itself right with a blowout victory against an overmatched opponent, the belief is Georgia Southern is going to stay true to its fast-paced tempo and turn this game into a track meet. That is something Bradley has had trouble with previously in losses at IUPUI and at home to New Mexico.
This may be a case where Wardle uses the 7-1 Boya as a tempo-changer given Georgia Southern's proficiency inside the arc, but the Eagles should have enough in them to not only win outright but help carry the over.
Prediction: Pick: Georgia Southern -5
Full-Game Total Pick
The Braves have struggled to keep up with faster teams, and Georgia Southern may be the fastest-paced team they play all season as the Eagles are averaging nearly 80 possessions compared to their 67 per contest.
Prediction: Pick: OVER 154.5 points
Half-Time Side Pick
This is as much a pick for Georgia Southern as it is against Bradley because the Braves have trailed after 20 minutes in all three of its games against mid-major teams who play an up-tempo style, with two of those contests on the road. The belief is also the Eagles will not shoot under 30 percent against them like they did in Peoria last season.
Prediction: Pick: Georgia Southern -3
Half-Time Total Bet
This will be close, but Bradley's defense has not carried to the road in those contests at UIC and IUPUI, with the first-half totals hitting 76 and 82, respectively. The Braves were also part of a 73-point first half at home in the other game versus New Mexico. Though Georgia Southern has topped 100 points in its two wins against non-Division I teams, it has scored at least 50 in a half in each of its last three games.
Prediction: Pick: OVER 72.5 points