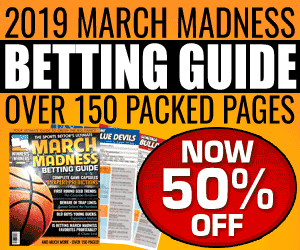 Featured Video from Scott Steehn
For our three Best Bets today, check out our brief video:
East Carolina at Charlotte
When and Where: Tuesday, Dec. 18, Halton Arena, Charlotte, N.C., 7:30 p.m. EST.
After taking a break for exams, in-state rivals East Carolina and Charlotte are looking to build some momentum Tuesday night when the host 49ers look for a third straight win over the Pirates.
ECU hoping Williams and Gardner can form 1-2 punch
East Carolina (6-4) went into its exam break with wins in back-to-back games as coach Joe Dooley appears to have a foundation in place with freshman forward Jayden Gardner and sophomore Shawn Williams.
Pirates making most of long layoff, focusing on skill development – https://t.co/tXE3L1ikw3 pic.twitter.com/M3qztsvLV8

— ECU Men's Basketball (@ecubasketball) December 12, 2018
Gardner had 22 points and eight rebounds in ECU's 70-47 victory over Maryland-Eastern Shore on Dec. 6, continuing an impressive eight-game run in which he has averaged 22.3 points and 9.1 rebounds while posting four double-doubles. Overall, the 6-foot-6 Gardner is averaging team-bests of 19.0 points and 8.6 rebounds while shooting 57.3 percent.
"I think the big thing is we've been able to spend a lot of time shooting," Dooley told the Daily Reflector about what his team worked on during the break. "We are young and their bodies have hit the wall a little bit. During the last couple of days we haven't done a ton of contact stuff, but we'll get back to being ourselves these next couple days and then get a day off and get back to grinding."
Williams, who served a five-game suspension at the start of the season for violating team rules, is averaging 13.2 points. The 2017-18 AAC Rookie of the Year has yet to find his perimeter shooting stroke, having made just 31.4 percent (11 for 35) from 3-point range after connecting at 36.7 percent last season.
Williams went 1 for 11 in last season's 69-50 home loss to Charlotte in which ECU was outscored 43-19 in the second half.
Seth LeDay is contributing 13.0 points and 7.9 rebounds for ECU, which has lost both its road games this season at Georgia Tech and UNC-Wilmington.
49ers stills searching for offense
Charlotte (2-5) is averaging 58.9 points, the seventh-lowest mark in Division I entering play Monday. Senior guard Jon Davis is carrying the 49ers offense, averaging 20.4 points and is the only player in double figures for Ron Sanchez's team.
The 49ers have also been idle since Dec. 6, but a snowstorm in the North Carolina area postponed their game scheduled for Dec. 9 against South Florida. They are already 0-2 against in-state rivals this season, losing to both Davidson and Wake Forest as part of a three-game road swing.
The 80-56 defeat to the Demon Deacons was Charlotte's most recent contest as its shooting woes continued. The 49ers were 3 for 18 from 3-point range and are shooting just 27.9 percent from beyond the arc overall. Davis has a team-high 11 3-pointers, but even he is not immune to the team's shooting struggles as he has made just 30.6 percent.
Like his counterpart Dooley, Sanchez may have a freshman to build around in Malik Martin — averaging 9.3 points and 4.0 rebounds despite shooting just 35.0 percent thus far.
Malik Martin (@TheProdigy__ ): Comes from a Basketball Family

Story – https://t.co/3qwf8RDRgr pic.twitter.com/c6Xp0fbZF5

— Charlotte Men's Basketball (@CharlotteMBB) December 13, 2018
"He is growing as a player, but he is, right now, exactly what we thought he would be," Sanchez said about Martin to the school's official website. "What we're trying to find is multiple guys that can help us offensively. To have to depend on Jon all the time is going to be really hard. If we can get Jon in double figures and two more guys in double figures, now we can become a balanced team. I think it works in our favor."
Charlotte has split its four home games, most notably beating Oklahoma State. Davis had only nine points in last season's win at Charlotte, which got 30 points from since-transferred guard Andrien White.
Notable Trends
Charlotte is:
6-13 ATS in its last 19 games as a home underdog.
8-25 ATS in its last 33 games vs. above-.500 teams.
General:
The underdog is 1-4 in the last five games between the teams.
Over/Under:
The under is 4-0 in its last four home games vs. East Carolina.
The under is 7-3 in its last 10 games vs. East Carolina.
East Carolina is:
4-0 ATS in its last four games vs. sub-.400 teams.
6-2 ATS in its last eight games vs. sub-.500 teams.
5-2 ATS in its last seven games as a favorite.
Over/Under:
The under is 4-0 in its last four games following a straight up win.
The under is 16-5 in its last 21 games vs. Conference USA teams.
The under is 5-1 in its last six games after allowing 50 or fewer points in the previous game.
The Bottom Line What to bet on this game.
Full-Game Side Bet
While the 49ers have the capability to surprise, as evidenced by their win over Oklahoma State, the Pirates have the look of a team who is further along when lining these in-state rivals up side by side. East Carolina also has a chance to pound the offensive boards with both Gardner and LeDay, and those second-chance points will be the difference for the Pirates getting the win this time around.
Prediction: Pick: East Carolina -1
Full-Game Total Pick
The over/under has plummeted six points down from its open from 137 to its current 131, so hopefully, you got in here at 135. Charlotte has yet to score more than 69 points this season, and both teams are shooting sub-30 percent from 3-point range. This game has all the feel of a rock fight with neither offense aesthetically appealing.
Prediction: Pick: UNDER 135 points
Half-Time Side Pick
The Pirates are one of the best defensive teams in the country in terms of both 3-point percentage and effective field goal percentage. They also have enough interior offense plus Williams on the wing to offset Davis if he gets hot from the perimeter.
Prediction: Pick: East Carolina +0.5 (-115)
Half-Time Total Bet
The teams have failed to crack 60 points in the first half of the last two meetings with 57 points last season and 49 in 2016. If the Pirates let Charlotte control the tempo, there will not be enough quality offensive possessions for the over to hit.
Prediction: Pick: UNDER 61 points