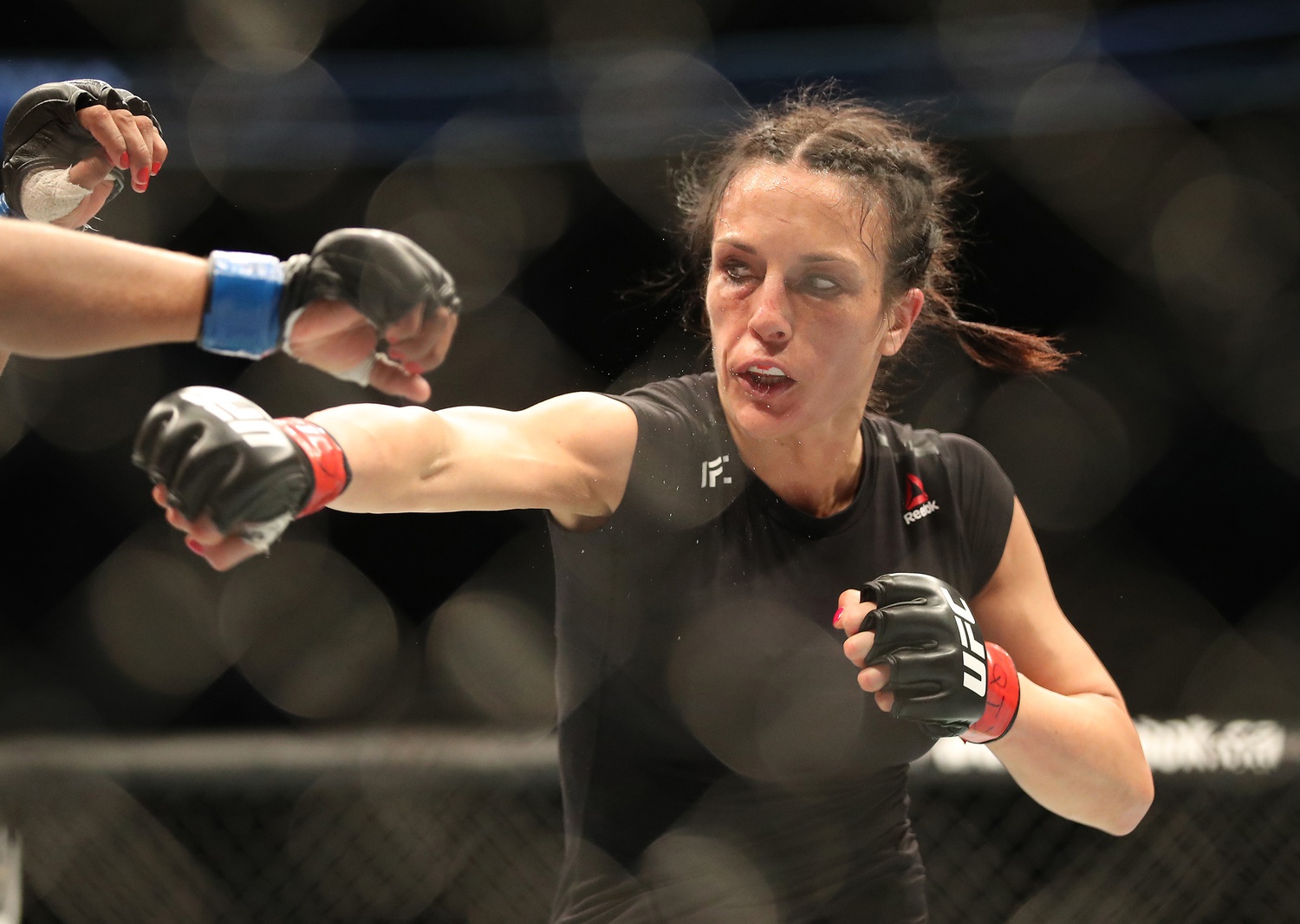 Image licensed from USA Today Sports
It's a fantastic week for fight gamblers, with plenty of good betting opportunities on UFC on Fox 31 as well as two Bellator cards in Hawaii. One of the fights that stands out to is a flyweight title bout between Ilima-Lei Macfarlane and Valerie Letourneau.
A slick Hawaiian jiu-jitsu practitioner
A brown belt at the world renowned 10th Planet Jiu-Jitsu, Macfarlane has racked up six submission victories in a row. While she hasn't been facing world class competition, it's clear the Hawaiian has a legitimate ground game. As with many pure grapplers, she tends to favor submissions over positions. She looks good as long as she's finishing fights but this approach may cost her at some stage in her career.
Although she was an accomplished collegiate wrestler, I'm not overly impressed by her takedowns. I don't see her shooting many technical single or double legs - she prefers to just physically drag opponents to the mat.
On the feet, Macfarlane's striking is still a work in progress. She likes to plant her feet and trade as well as punch her way into the clinch (so she can execute takedowns). I think she's open to counters and susceptible to leg kicks.
As an undefeated fighter performing in front of her home crowd, I expect Macfarlane to come out aggressive and look for a submission finish (as always).
Will the Canadian veteran finally achieve gold?
In the UFC, Valerie Letourneau fought for the strawweight title. Although she was outclassed over five rounds by the reigning champion and now American Top Team teammate, Joanna Jedrzejczyk, Letourneau showed grit and determination in that performance.
Evidently the Canadian is a lot more comfortable at flyweight, where she can focus on the fight instead of the torturous weight cut. Since moving to Bellator, her last two fights have been her best.
While Letourneau has been guilty of swinging and hitting air in the past, her accuracy and shot selection looked much better against Kristina Williams. I liked the way she mixed in more body and leg kicks in with her traditional boxing-centric attack. If this stays standing, I absolutely feel that Letourneau is the more nuanced striker.
While she doesn't have the jiu-jitsu or wrestling accolades of her opponent, Letourneau is a competent grappler. She's been a purple belt since 2009 and has been training no-gi ever since. I also liked the way she shot a takedown on Williams in round three to steal the decision in what was a competitive fight.
Who wins?
Macfarlane is a lethal finisher on the mat, and over five rounds she may get that one window of opportunity for her to retain the belt. However, I don't think she's as well-rounded as her opponent.
I believe Letourneau can stuff takedowns and land the cleaner strikes. If this does go to the mat, the Canadian is no slouch and can probably fend off submission attempts. I'm going with the underdog here.
Pick: Valerie Letourneau +150
Free Ultimate Guide to MMA Betting
Free Ultimate Guide to MMA Betting
You want to win? This guide was created for you as The Bible for the MMA Sports Bettor. The most compherensive collection of strategies, tips, and techniques to consistently grow your bankroll.
Download it now!
You want to win? This guide was created for you as The Bible for the MMA Sports Bettor.
Download it now!