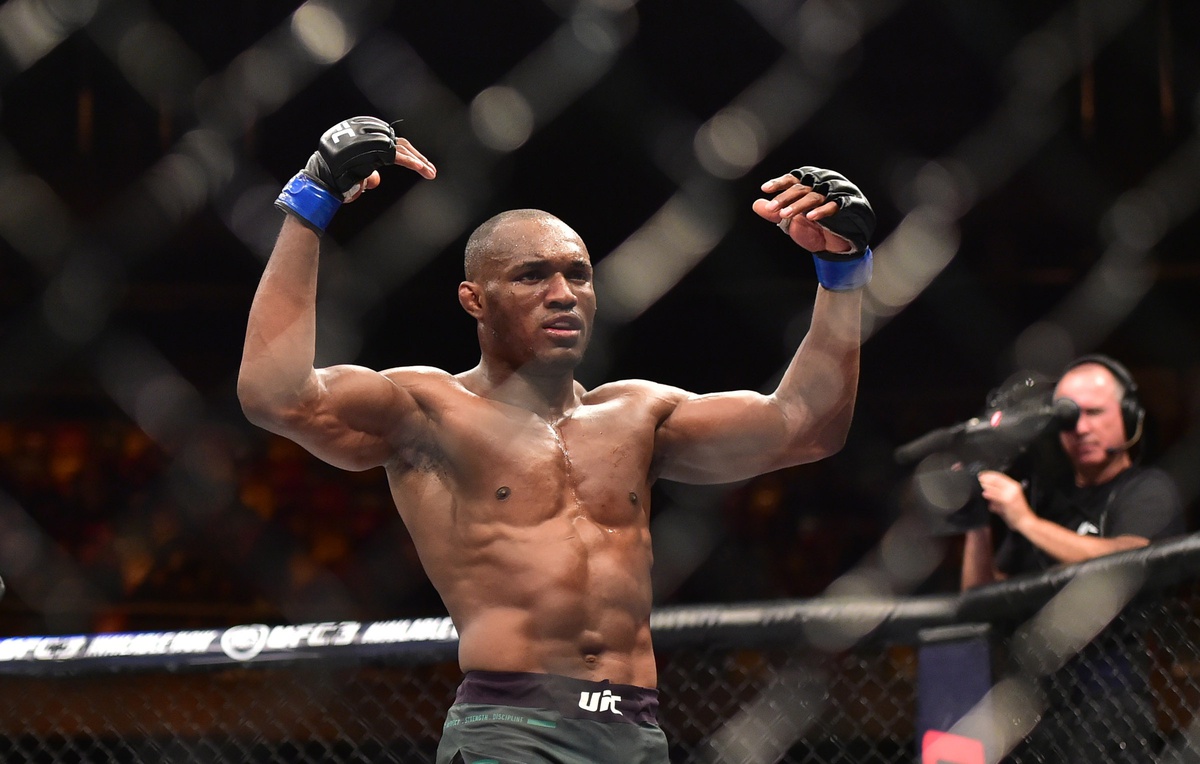 Image licensed from USA Today Sports
To cap off this season of The Ultimate Fighter, welterweight contenders, Rafael dos Anjos and Kamaru Usman will square off in a main event bout with title implications. Dos Anjos, who adjusted beautifully to his transition to welterweight, is coming off a loss to Colby Covington for the interim title. He needs a win in this one to keep his name in the title picture. Usman has been lobbying for a title shot for quite some time now and if he beats dos Anjos, it will be impossible to say he does not deserve it. He is 8-0 in the UFC with a 12 fight winning streak as a professional.
A similar task in front of dos Anjos
Since making the transition from lightweight to welterweight, Rafael dos Anjos (28-10) has looked rejuvenated. He started his welterweight career with three straight wins over Tarec Saffiedine, Neil Magny, and Robbie Lawler before dropping the interim title fight to Colby Covington. At welterweight, we have seen crisp and accurate striking from dos Anjos despite a lack of knockout power. The huge punches have not come against the larger competition but his consistency is there. Dos Anjos has also never looked better on the ground. The black belt blew through Neil Magny to get a submission and is capable of doing so to many more.
After a closely contested five rounds that ended in the unanimous decision loss to Covington in June, Rafael dos Anjos comes back to the octagon against another pressure wrestler. This time Kamaru Usman will be across from him, bringing similar pressure in another five round fight. In that Covington fight, dos Anjos found some success with his striking and with pressure of his own. It seemed that on the few occasions dos Anjos was the one pushing the pressure, he got the better of the exchanges. When Covington was the one walking forward, the fight would slip away and exhaustion would set in.
Rafael dos Anjos has excellent defensive wrestling and stuffed plenty of takedowns in his last fight. Still, the sheer volume of takedown attempts by Covington caused dos Anjos to end up on the mat far more often than he would like. Against a fighter like Usman, he will need to manage the distance and try turning this into a technical brawl. The low calf kick could be the friend of the Brazilian in this one. Limiting Usman's movement will be huge in turning this into a striking match which keeping the kick low will limit lower the risk of it being caught for a takedown. In his last fight, we saw dos Anjos land some big shots on the feet against Covington, he was just too smothered to have enough chances to land more.
Usman takes aim at the belt
Over three years after winning his season of The Ultimate Fighter, Kamaru Usman (13-1) is still undefeated as a member of the UFC in a stacked welterweight division. During that time he has earned wins over quality opponents including Leon Edwards, Warlley Alves, Sean Strickland, Sergio Moraes, and Demian Maia. With one more win, his UFC winning streak, the largest in the division will be pushed to nine in a row. Anything less than a title shot seems unfair to the ever-consistent Usman. As a former NCAA Division II National Champion, Usman has used his wrestling, both offensively and defensively, to dominate UFC opposition.
One of the best examples of Usman's brutal wrestling pressure is his fight against Sean Strickland. At the time, Strickland was one of the other brightest prospects in the division with only one loss on his record. Usman moved forward for the entirety of the fight and dominated from start to finish, barely allowing Strickland to throw strikes. When matched up with possibly the most dangerous jiu-jitsu practitioner in the UFC, Demian Maia on short notice, we saw Usman's defensive wrestling come into play. He stuffed every single takedown attempt and kept the fight on the feet where he pieced up Maia over five rounds to earn the win. This was a good reminder of the fact that Usman has solid striking to go along with his world-class wrestling.
When one sees six decision wins on Usman's record in his eight UFC victories, it is easy to forget about the type of power he possesses. One could argue that his striking is significantly more powerful and precise that Colby Covington's, dos Anjos' last opponent. Out first real look at Usman's striking was against Sergio Moraes. Usman hit Moraes with a shot that turned him into a folding chair and ended the fight with no more necessary strikes. If he can have success on the ground and force dos Anjos to keep his hands low to defend the takedown, a big shot could come over the top and put an end to this one.
Prediction
Rafael dos Anjos is in an awkward position against this type of wrestler. He is a black belt and great on the ground but he tends to tire when top pressure is put on him. He also has excellent leg kicks but those cannot be thrown as often against an opponent that can shoot for a takedown mid-kick. The best bet for Rafael dos Anjos is likely to keep this one on the feet or find a way to sweep a takedown and go for a quick submission. If there is no sub there, he needs to get back up as quickly as possible and repeat.
Usman needs to keep dos Anjos moving backwards. When dos Anjos is the one moving forward and putting the pressure on, he is as dangerous as anyone. As much as they dislike each other, Usman and Covington are similar fighters so he could learn a lot from the Covington fight. If he can clinch with dos Anjos against the fence, the takedown will be there every time. This kind of pressure will wear on dos Anjos over five rounds and Usman will pick up a unanimous decision win.
Pick: Kamaru Usman (odds yet to be released)
Free Ultimate Guide to MMA Betting
Free Ultimate Guide to MMA Betting
You want to win? This guide was created for you as The Bible for the MMA Sports Bettor. The most compherensive collection of strategies, tips, and techniques to consistently grow your bankroll.
Download it now!
You want to win? This guide was created for you as The Bible for the MMA Sports Bettor.
Download it now!