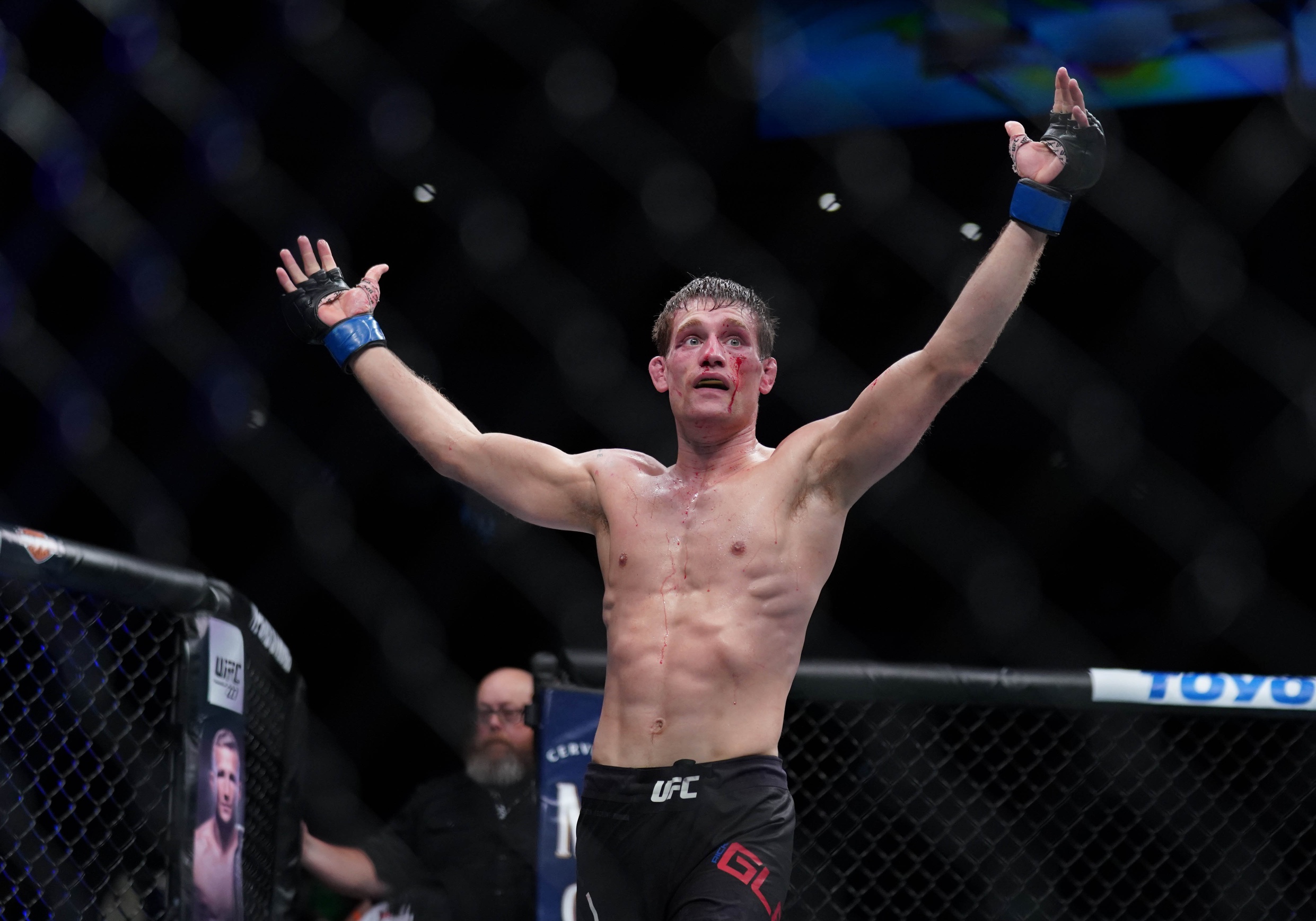 Image licensed from USA Today Sports
This weekend we have two stacked UFC cards with plenty of betting opportunities. One of the fights that stands out is a featherweight showdown between gritty Team Alpha Male fighter, Rick Glenn, and former LFA champion, Kevin Aguilar.
How do you Kill a Zombie?
Rick "The Gladiator" Glenn isn't the most refined striker, but he's relentless with forward pressure - no matter how many times you punch him him the face! A lanky and awkward southpaw, Glenn's upper body is in perpetual motion and he varies his shot selection. One of his best strikes is his left body kick, which will be there against Kevin Aguilar who fights out of the orthodox stance.
A gritty and grimy combatant, Glenn's style works because of his granite chin and superb cardio. Much like his teammate, Darren Elkins, we've seen Glenn's opponents gas themselves out by throwing too many strikes and then getting deterred when the finish doesn't materialize.
While Glenn predominantly likes to strike, we may see him wrestle given Aguilar's susceptibility to takedowns. He landed some double legs against an extremely gassed Gavin Tucker and landed a savage onslaught from top position. If he does come with a grappling game plan, he's at the perfect camp to prepare him.
In terms of technical striking, Glenn may be at a disadvantage and it's likely he'll have to battle through early adversity in order to emerge victorious. This won't be anything new for "The Gladiator".
Will Aguilar Rise to the Occasion?
Earning spectacular knockout victories over the likes of Thanh Le and Damon Jackson, it's no surprise there's a lot of hype around Kevin Aguilar. A boxing-centric striker, Aguilar has a smooth jab and counters well. Despite being the shorter man, Aguilar will have a four-inch reach advantage.
In his most recent Contender Series fight, Aguilar didn't perform to the best of his abilities. Although he took the fight on short notice, he should have probably done better against Joey Gomez. Aguilar was taken down numerous times and while he landed the cleaner strikes - the decision easily could have gone to Gomez.
If Aguilar can control the center of the octagon and force Glenn into a technical boxing match, he will have the advantage. That's easier said than done however - Glenn has a reputation for breaking opponents.
Who Wins?
If Glenn didn't have such a good chin, I would favor Aguilar. "The Gladiator" eats a lot of shots and Aguilar has serious knockout power for a featherweight.
As it is, I think Glenn can survive the early storm, fire off left kicks to the body, land elbows in the clinch and perhaps mix in some takedowns. If you're using a bookmaker that offers live betting, there might be an opportunity to bet Rick Glenn at a great price after round one.
Pick: Rick Glenn +100
Free Ultimate Guide to MMA Betting
Free Ultimate Guide to MMA Betting
You want to win? This guide was created for you as The Bible for the MMA Sports Bettor. The most compherensive collection of strategies, tips, and techniques to consistently grow your bankroll.
Download it now!
You want to win? This guide was created for you as The Bible for the MMA Sports Bettor.
Download it now!