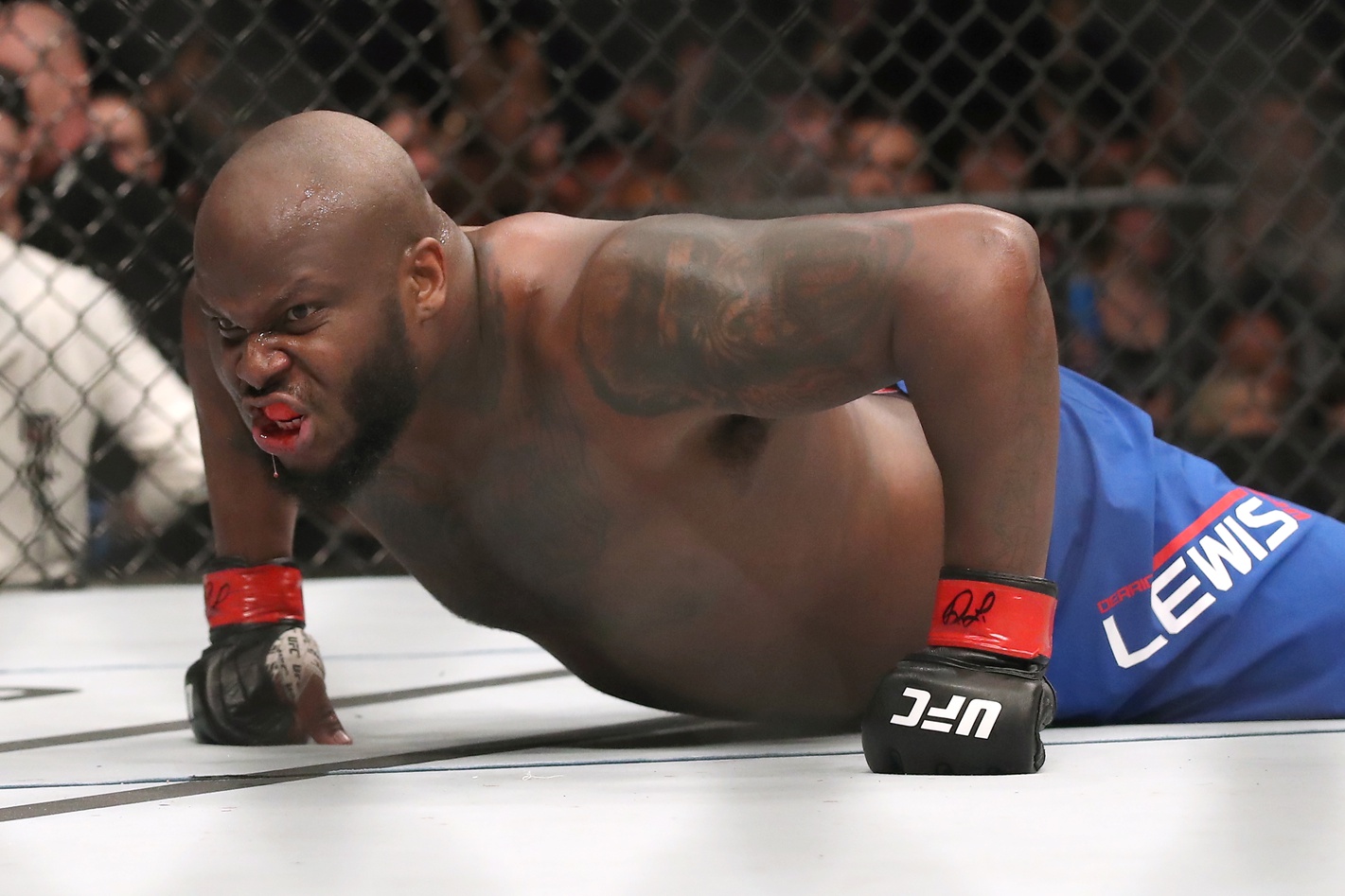 Image licensed from USA Today Sports
Derrick "The Black Beast" Lewis and Alexander "Drago" Volkov will face off on the main card of UFC 229 in a heavyweight bout with title implications. It is very likely that after the Brock Lesnar circus runs its course, the winner of this fight will get a title shot unless the UFC shows Curtis Blaydes some love for once. This fight is has a high probability of fireworks considering the 37 combined knockouts between these two fighters. Anyone can end this fight with one punch so bathroom breaks are not advised.
Can Derrick Lewis go deep?
Derrick Lewis (20-5, 1 NC) is one of the most entertaining fighters and personalities in the UFC. Seeing Lewis win usually means a devastating knockout along with a hilarious post-fight speech. However, Lewis is no longer just an entertaining fighter who lingers in the rankings. He has won Nine of his last 10 fights, six of which came by knockout. His only loss was to Mark Hunt which is always a forgivable offense. Lewis holds notable wins over Roy Nelson, Shamil Abdurakhimov, Travis Browne, Marcin Tybura, and Francis Ngannou (yikes).
Speaking of that Francis Ngannou fight, there is more to think about than one of the biggest letdowns of a fight in UFC history. Lewis claimed he held back in that fight not only because he wanted to counterpunch, but because his problematic back was acting up. This is the same issue that took him out of a fight with Fabricio Werdum and could be a hindrance deep in a fight against an explosive fighter like Volkov, especially if he ends up on the mat.
The best chances for Derrick Lewis could come early in this fight. There is speculation that Volkov will look to use some wrestling so if Lewis can get a knockout ahead of any takedowns, that would solve that problem. Alexander Volkov usually wins his fights but he also usually takes some hard shots. Taking a shot from Derrick Lewis is not an option. If "The Black Beast" connects, he will put his opponent away. While Derrick Lewis should look for a shot early, he needs to be patient enough to wait for Volkov's defense to drop so he can pick his shot.
The heavyweight dark horse
Alexander Volkov (30-6) has quietly been climbing the UFC Heavyweight rankings without drawing too much attention to himself. A win over Lewis could put him right in position for the title. Volkov, the former Bellator Heavyweight Champion has been enjoying his time in the UFC where he is 4-0 with recent knockout wins over Stefan Struve and Fabricio Werdum. Adding Lewis to his list would secure his spot as one of the elite heavyweights on the planet.
One knock on Volkov's game is that he always seems to take some damage. He was bloodied before knocking out Werdum but if Lewis connects, a comeback is not an option. He will be unconscious. Defensive fighting will be very important for the Russian in this one. A wild theory is that Lewis, who felt ashamed for his last fight, could come out of the gates a little too strong, looking to make the fight exciting. That could open up the chance for Volkov to counterpunch and take home the win.
The ground game of Volkov could become a factor, especially if Lewis starts to touch him on the feet. As a purple belt, he is no submission artist, but he certainly has the skills to keep a striker like Lewis on the mat to win rounds. If he can get Derrick Lewis stuck on his back and transition into mount, the inexperienced grappler may not be able to escape, resulting in a TKO win for Volkov. Alexander Volkov is the fighter with options is what is expected to be a striking match.
Prediction
Both of these fighters can end the day with a single punch and both have been on a roll lately. Unfortunately, Lewis's recent issues with his back are very concerning in a fight like this, especially considering its potential to hit the floor. Volkov has proven his elite and precise striking but his ground game is not bad either. Volkov should be able to do enough to get the win and maybe even earn himself a title shot.
Pick: Alexander Volkov -172
Free Ultimate Guide to MMA Betting
Free Ultimate Guide to MMA Betting
You want to win? This guide was created for you as The Bible for the MMA Sports Bettor. The most compherensive collection of strategies, tips, and techniques to consistently grow your bankroll.
Download it now!
You want to win? This guide was created for you as The Bible for the MMA Sports Bettor.
Download it now!