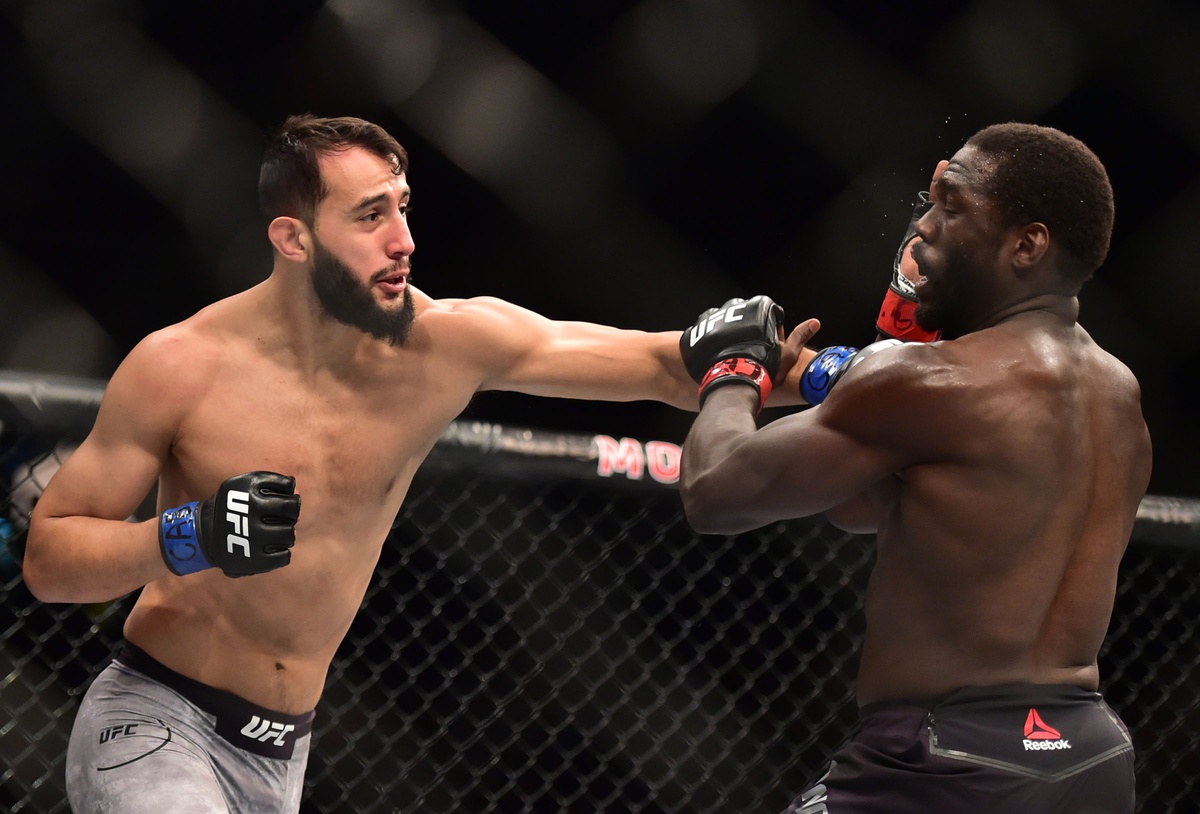 Image licensed from USA Today Sports
This Saturday night on the main card of UFC 229, we will see two ranked light heavyweights, one proven veteran and one highly praised prospect, square off in the octagon. Ovince Saint Preux (OSP) is currently ranked seventh in the division. He has been climbing back toward contention since dropping a title fight two Jon Jones to start a three fight skid. Dominick Reyes comes into this one as an undefeated prospect who has already shot up to No. 12 in the light heavyweight rankings after three fights in the UFC. On Saturday, we will see if Reyes can usher in a new generation or if OSP can prove that he still has a shot at the belt.
Saint Preux stays active and on a roll
After losing to Jon Jones then dropping two more to Jimi Manuwa and Volkan Oezdemir, it looked like Ovince Saint Preux's (22-11) chance for a title may have come and gone. He proved that to be far from the truth as OSP returned with an amazing Von Flue Choke victory over Marcos Rogerio de Lima in his return. Saint Preux proceeded to fight four times in the span of nine months, winning three of them. The results included another Von Flue choke to finish Yushin Okami, a head kick knockout of Corey anderson, and a straight armbar finish of another prospect, Tyson Pedro. The lone loss came by guillotine to Ilir Latifi.
Of course, the biggest factor in this fight is the ground game of OSP. Despite his status as a brown belt in Brazilian Jiu-Jitsu, Saint Preux is known for some of the most creative submissions in the UFC. There have been four Von Flue choke finishes in the history of the company and OSP holds three of them. His straight armbar against Tyson Pedro was also very innovative and unexpected from his position. With seven submissions in his career, there is a good chance that OSP will completely outclass Reyes, a blue belt, if the fight goes to the ground.
Ovince Saint Preux is a very well-rounded fighter that can finish anyone on the feet or on the ground. 11 of his 22 wins can be attributed to knockouts, most of which are clean KO's rather than the TKO variety. Reyes is very hyped up for his power but we have seen Saint Preux get hit and still set up finishes like his head kick of Corey Anderson and his armbar of Tyson Pedro. In his 11 losses, OSP was submitted twice and knocked out twice, proving that he is not an easy man to finish. As a young prospect, Dominick Reyes needs to have all his bases covered or OSP could end this one quickly.
Reyes looks to make it six straight in the first round
Since leaving the world of football and dedicating his career to MMA, UFC light heavyweight prospect, Dominick Reyes (9-0) has been on a tear. This will be the first test of his career to see where he stacks up against the elite fighters in the division. Wins over Jared Cannonier and Jeremy Kimbrel have proven him a worthy contender, but the crafty veteran and former title contender, OSP is an entirely different task.
As a professional fighter, Reyes is not paid hourly and he certainly fights like someone whose time is valuable. Only one of his nine career bouts has made it out of the first round. Four of them have been ended inside of one minute. We can likely expect Reyes to come out quickly and pressure OSP for an early finish. An optimistic Reyes fan will see that Saint Preux has been wobbled by big shots courtesy of Corey Anderson and Tyson Pedro early in recent fights. The pessimistic fan will add that OSP survived those shots and remained clear headed enough to finish both of those fights. If Reyes has a chance early, he needs to take it or he risks being dragged into deep waters with a veteran with a very deep toolbox.
Dominick Reyes is one of those fighters that can end any fight in the blink of an eye. If he can keep this fight standing, he has a great chance to find a home for a power shot and put OSP out. Though he does have a UFC finish by rear-naked choke, we do not have too much evidence of Reyes' ground game but against such a great submission artist like Saint Preux, his strength will not be enough. If Reyes lands a shot and puts OSP down, he cannot go diving in like Tyson Pedro did or he will run the risk of being submitted. Instead, Reyes needs to strike with calculated urgency to end this fight early, but without recklessly chasing a knockout.
Prediction
Ovince Saint Preux is a great striker but if he can get this fight to the ground, he will be far more comfortable. Standing with Reyes is simply too dangerous. OSP needs to feel his opponent out early on and see if he can drag the Reyes, who is used to only fighting for a couple of minutes, into a second and third round. If he can tire Reyes out, getting the fight to the ground and securing another submission may be far easier.
Dominick Reyes needs to be patient but still fight with a sense of urgency. Each minute that comes off the clock is pushes the momentum in the favor of Saint Preux. With that being said, if he wobbles OSP, he should not go jumping in unless there is a clear finish on the other side. When Corey Anderson tried, he got kicked in the head and When Pedro tried, he ended up tapping. This is a huge jump in competition for an inexperienced fighter like Reyes. Dominick Reyes has a very bright future but the full toolbox of OSP as such a sizable underdog is too much to pass up.
Pick: Ovince Saint Preux +185
Free Ultimate Guide to MMA Betting
Free Ultimate Guide to MMA Betting
You want to win? This guide was created for you as The Bible for the MMA Sports Bettor. The most compherensive collection of strategies, tips, and techniques to consistently grow your bankroll.
Download it now!
You want to win? This guide was created for you as The Bible for the MMA Sports Bettor.
Download it now!