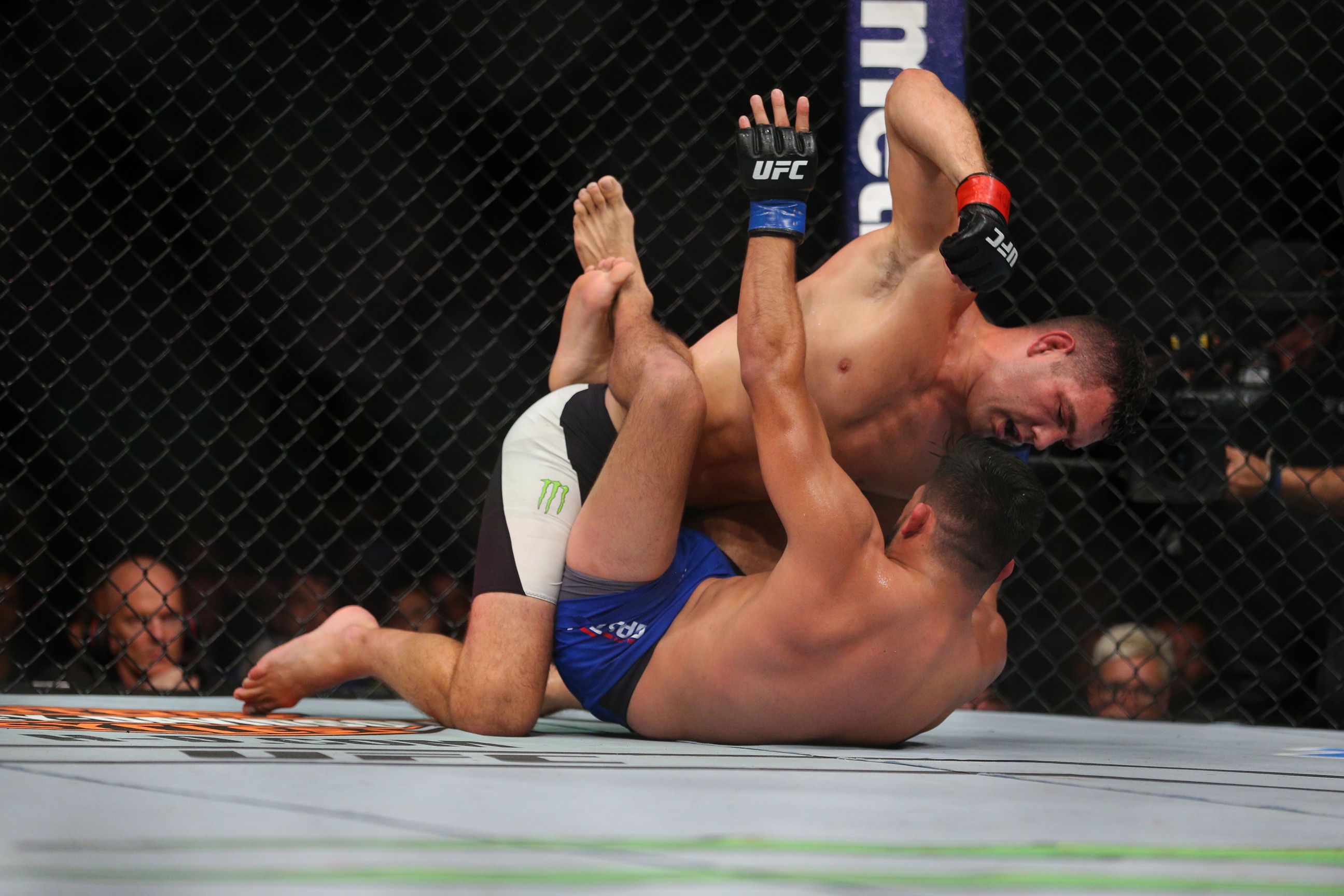 Image licensed from USA Today Sports
After an injury to Luke Rockhold forced him out of his bout with Chris Weidman, Ronaldo "Jacare" Souza was removed from his fight with David Branch to create the new middleweight co-main event. This card is serving as clarification for the top of the middleweight division and we could see one of these fighters earn a title shot on short notice by the end of the night. This classic wrestler vs. grappler matchup is not what we expected but it is still an outstanding matchup between two of the very best at 185 pounds.
Another Brazilian legend tests Weidman
Chris Weidman (14-3) has taken out the best Brazilian middleweights ever to grace the octagon. After an early win over Demian Maia, he won the title from Anderson Silva and defended it in two strange and unforgettable fights before defending against Lyoto Machida and Vitor Belfort. After picking up the first loss of his MMA career and losing the belt to Luke Rockhold, Weidman went on a bit of a skid. He was knocked out twice more by Yoel Romero and Gegard Mousasi and some considered Chris Weidman's time as a contender to be over. That proved to be untrue when Weidman submitted current contender, Kelvin Gastelum in July of 2017. After considerable recovery time, Weidman has a chance to build off that win and put himself back in line for the belt.
Weidman's most recent fight, though it was over a year ago was very telling of his mental rebound and his ground game. After three straight losses we had to wonder if he lost some confidence but Weidman looked better than ever when he defeated Kelvin Gastelum in New York. Not that MMA math should ever be used but Weidman looked far more comfortable fighting the rising Gastelum than Souza did and proved how good his ground game is in the process. If this fight goes to the ground, do not expect Jacare to knife through Weidman's guard.
Chris Weidman matches up well with Jacare because of his wrestling background. The former Division I wrestler is not easy to get to the mat as we saw against Demian Maia. Maia went zero for seven on takedown attempts against Weidman. In an unusual strategy against Maia, Weidman, a black belt himself, trusted his ground game enough to take the jiu-jitsu expert to the mat on four occasions. Jacare is obviously a better striker than Maia but Weidman would love to strike with the Brazilian and get himself in place for some ground and pound.  
Jacare guns for another prestigious belt
At 38 years old, there are few milestones left for Ronaldo "Jacare" Souza (25-6, 1 NC) to accomplish in martial arts. The sixth degree Brazilian Jiu-Jitsu black belt is a multiple time world grappling champion and has earned titles in DREAM and Strikeforce before joining the UFC in 2013. Since then, he has really not slowed down, going 8-3 under the UFC banner with two of those losses coming by split decision. His most recent fight against Kelvin Gastelum was essentially a toss of the coin and could have gone either way with no complaints. Because of how close that fight was, Jacare will have a reasonable claim to a title shot if he can get past Chris Weidman.
Jacare is known for his grappling but he is an incredibly well-rounded fighter with solid striking. In his career, Souza has wins by submission and seven by knockout. Notable knockout finishes came against outstanding strikers including Derek Brunson (twice), Vitor Belfort, and Yushin Okami. Souza has fought killers throughout his entire career and holds submission wins over the likes of Robbie Lawler, Gegard Mousasi, and Tim Boetsch. With this kind of resume, we can be certain that Jacare will not crumble under the pressure. He is ready for Weidman, even on short notice.
It will be interesting to see how Souza approaches this fight against a strong wrestler in Weidman. He is not especially known for his submissions from the back and has zero triangle wins on his record. Weidman has proven that he can fight from the top against high-level grapplers without putting himself in danger so Souza will likely be safest on the feet until a clear-cut opportunity to score a takedown presents itself. If he finds a way to get Weidman on his back, Souza will need to secure a submission or he may not get another chance.
Prediction
Chris Weidman's striking ability along with his top pressure as a wrestler make him a big favorite in this one. His takedown defense is amazing so it is not likely that Souza will be able to blow through him into a submission in a three-round fight. As long as he can avoid getting caught on the feet and is smart with his ground and pound, this is a favorable matchup for Chris Weidman to come back and campaign for a title shot.
Pick: Chris Weidman -171
Check out our free Ultimate Guide to MMA Betting.
Free Ultimate Guide to MMA Betting
Free Ultimate Guide to MMA Betting
You want to win? This guide was created for you as The Bible for the MMA Sports Bettor. The most compherensive collection of strategies, tips, and techniques to consistently grow your bankroll.
Download it now!
You want to win? This guide was created for you as The Bible for the MMA Sports Bettor.
Download it now!