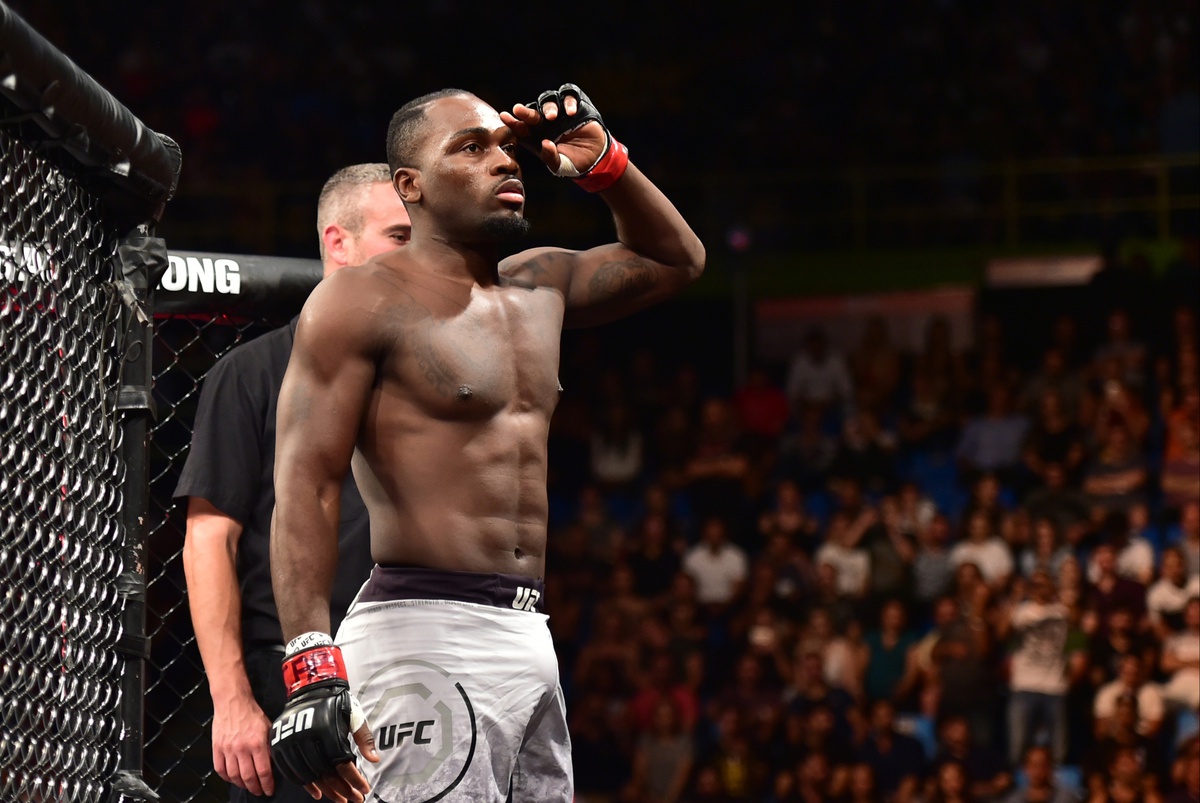 Image licensed from USA Today Sports
After months of buildup and bad blood, top 10 middleweights, Derek Brunson and Israel Adesanya will finally share the cage at UFC 230 at Madison Square Garden. Rising star, No. 9 Israel Adesanya is receiving tons of attention for his flashy knockouts, eccentric personality, and potential star power. He will have the biggest test of his career when he shares the cage with No. 6 Derek Brunson, a proven veteran with knockout power and a wrestling background.
Brunson still not out of contention
Early this year, Derek Brunson (18-6) suffered a head kick knockout loss to Jacare Souza in a fight that could have earned him a title shot had the fight gone his way. Luckily, a win over surging contender, Israel Adesanya would likely put him right back in the mix. As the sixth ranked contender in the division, Brunson has only lost to former (and current) champions and Yoel Romero during his UFC tenure. With wins over the likes of Lyoto Machida, Uriah Hall, and Lorenz Larkin, the experienced Brunson will not be intimidated by the striking credentials of Adesanya.
Adesanya is not the only man in this fight with devastating knockout power. Derek Brunson has finished 10 of his 18 wins by knockout and adds another four by submission. He recently knocked out Dan Kelly and Lyoto Machida in the first round in scary fashion. As long as Brunson can make Adesanya see the takedown as a threat, he may have an opening for a huge shot. What Brunson absolutely cannot do is go marching into the pocket with his chin in the air like we have seen him do in the past. His reckless style has gotten him starched by Jacare Souza, Robert Whittaker, and Yoel Romero. The loss to Whittaker is a particularly good example because Brunson found success on the feet, he became overzealous and put himself in a dangerous position. If he does anything of the sort against a champion kickboxer like Adesanya, Brunson will find himself on his back in no time.
To win this fight, Brunson needs to incorporate his wrestling. We have seen him stand up for the most part in the UFC but he was a three-time Division II All-American wrestler in college. Adesanya is a blue belt in jiu-jitsu and does not have the wrestling credentials to compete with Brunson. We saw Adesanya struggle on the mat against Marvin Vettori, and though he was able to use his explosion to get up, that will not be enough against a wrestler of Brunson's caliber. Landing an early takedown will give Derek Brunson success on the feet if it forces Adesanya to hesitate throwing kicks. With the right timing, he could finish this one on the mat.
"The Last Stylebender" inches toward UFC stardom
Israel Adesanya (14-0) is poised to be a mega-star in the UFC if he can get his hands on the belt. The former Glory kickboxer is undefeated as an MMA fighter and has quickly drawn a crowd with his flashy striking, knockout power, and charisma. He will need more than hype to deal with Derek Brunson. It is no secret that Adesanya wants to turn this into a striking match. In his 14 career wins, he has 12 knockouts with only the last two making it to the final horn. Adesanya's dominant decision victory over his first ranked opponent, Brad Tavares, was a bit of a coming out party as a legitimate contender. A win over Brunson would put him a step closer to his title shot.
Distance and takedown defense are the keys to victory for Adesanya in this fight. The long middleweight needs to keep this fight on the feet so keeping Brunson on his heels with his jab and front kick will keep him far away enough to avoid the takedown. Showing a knee on takedown attempts could also discourage Brunson from shooting too often. As a kickboxer, Adesanya has excellent timing with his knees and all it takes is one shot on a reckless takedown to put Brunson away.
Establishing distance in the first round could bring out the chin up and charging version of Brunson that we have seen in the past. Peppering in leg kicks will also restrict Brunson's movement and make him a sitting duck for Adesanya. Though he is relatively new to MMA, Adesanya is an incredibly experienced fighter and will be patient enough to pick his shots. He knows how to use his distance and throw the knockout blow at the right time. If Adesanya can stay off his back, his striking cannot be stopped.
Prediction
Israel Adesanya is an amazing fighter and exciting to watch but having him as a -350 favorite is a bit excessive. Brunson is no doubt at a striking disadvantage but he has the ability to put anyone away. Even if he does not get a takedown, the threat of wrestling will change Adesanya's striking. This is not a kickboxing match and fainted takedowns can change everything. Once Brunson finally lands a takedown, he has a great chance to wear Adesanya down over three rounds. As long as you trust Brunson to use his wrestling credentials and to not throw recklessly, he is too good of a +290 dog to pass up.
Pick: Derek Brunson +290
Check out our free Ultimate Guide to MMA Betting.
Free Ultimate Guide to MMA Betting
Free Ultimate Guide to MMA Betting
You want to win? This guide was created for you as The Bible for the MMA Sports Bettor. The most compherensive collection of strategies, tips, and techniques to consistently grow your bankroll.
Download it now!
You want to win? This guide was created for you as The Bible for the MMA Sports Bettor.
Download it now!