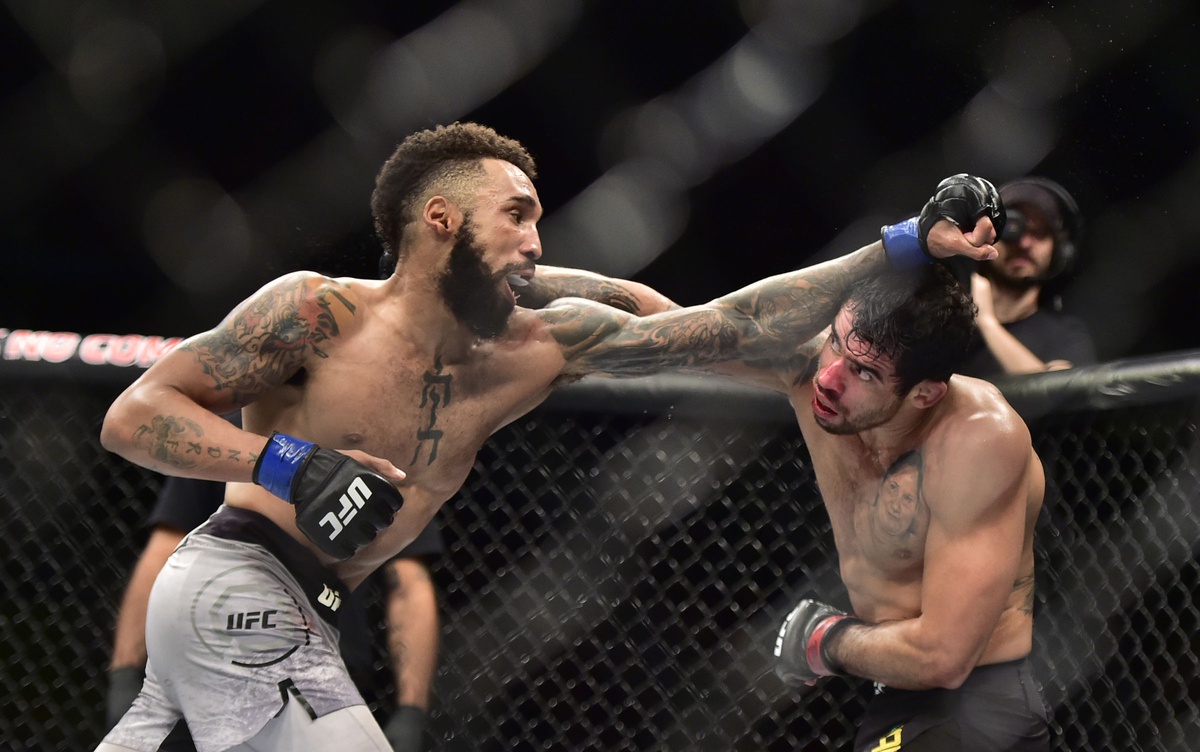 Image licensed from USA Today Sports
UFC 232 looks like a great card with many betting opportunities. Coming out of one of Europe's top MMA promotions, Cage Warriors, Nathaniel "The Prospect" Wood aims to work his way to the top of the UFC's stacked bantamweight division. Trying to stop him will be Andre Ewell, a rangy boxing stylist coming off a win over former champion, Renan Barao.
How Good is Nathaniel Wood?
Under the tutelage of former contender, Brad Pickett, Wood looked dominant on the regional circuit and managed to secure a submission victory in his UFC debut against Brazilian veteran, Johnny Eduardo.
However, Wood had to battle through adversity in round one against Eduardo, absorbing a number of unanswered strikes. It was a bizarre decision by the Brazilian muay thai striker to shoot a takedown in round two, as this allowed Wood to latch onto a D'Arce choke and finish the fight. Wood is able to secure submissions if the opportunity presents itself, but predominantly he likes to stay standing.
Wood is a competent boxer in the pocket, throwing fluid combinations and packing legitimate power for a bantamweight. He also has some nasty low kicks (especially to the calf) which may be useful in this contest, as he will need to negate a significant height and reach disadvantage. Wood stands 5'6 with a 69-inch reach whereas Ewell is 5'11 with a 75-inch reach.
Can Andre Ewell Maintain Distance?
You could call Andre Ewell one dimensional, as he's essentially a boxer wearing MMA gloves. Given his height and reach advantage over most bantamweights, Ewell is great at keeping opponents at the end of his punches. A smooth southpaw striker, he primarily throws a 1-2 down the pipe and is precise with his technique.
Cardio seems to be a key strength of Ewell, as he dominated rounds two and three in his last contest once Renan Barao started to fade. His main weakness is his takedown defense, which is often the case for fighters with a long and narrow frame. Still, Wood doesn't typically shoot takedowns so the grappling may be a non-issue here.
Ewell should dominate at range, but will he be able to keep the shorter Wood at bay? I've seen Ewell stick and move effectively in previous bouts, and he has enough power in his shots to deter a pressure fighter.
Who Wins?
While this fight looks competitive and could certainly go either way, I'm inclined to side with the taller, rangier southpaw fighter that looks like a natural bantamweight. Wood could probably make flyweight if he wanted and will be undersized in this contest.
Wood's striking defense is porous and I can see Ewell picking him him apart at range. I also see value on Andre Ewell by KO at +400
Pick: Andre Ewell -110
Free Ultimate Guide to MMA Betting
Free Ultimate Guide to MMA Betting
You want to win? This guide was created for you as The Bible for the MMA Sports Bettor. The most compherensive collection of strategies, tips, and techniques to consistently grow your bankroll.
Download it now!
You want to win? This guide was created for you as The Bible for the MMA Sports Bettor.
Download it now!