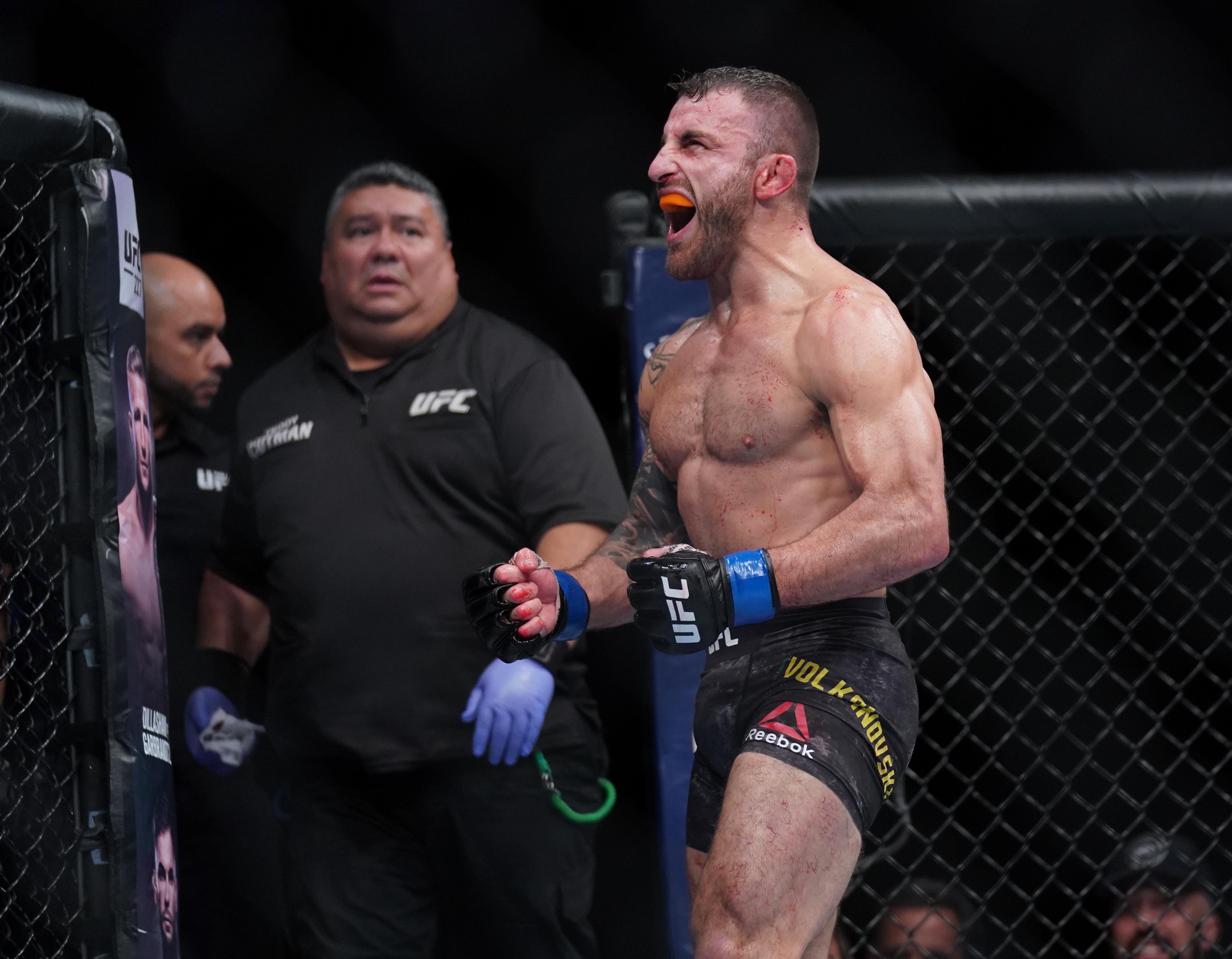 Image licensed from USA Today Sports
A high-profile matchup in the featherweight division will take place at UFC 232 in Las Vegas when proven veteran Chad Mendes takes on an up and coming talent in Alexander Volkanovski. These top 10 featherweights have their eyes on the title and a win for either would put them in position for top contender fight. Though there are differences in the game of these two men, they both win fights through pressure and dictating the pace. Whichever fighter can impose his pace on the other will come out with the win.
Mendes returns in impressive fashion
From the end of 2015 until the summer of 2018, the UFC was without Chad Mendes for the first time in years. After serving his suspension for testing positive for a growth hormone stimulator that he claims was in his skin cream. Mendes returned from the unfortunate suspension in style with a first round TKO over a ranked opponent in Myles Jury. He will try to repeat that impressive performance by derailing the strong hype train that is Alexander Volkanovski. To take out the surging Australian, Mendes will need to assert his pressure and gain top position. Volkanovski is a terrific wrestler, but Mendes is elite on the ground. When he gets on top of people, very few can get back up.
While the wrestling of Mendes is likely to be as good as ever, we have not seen it in action since the summer of 2015 when he lost his interim title shot to Conor McGregor. In that fight, he battered McGregor from the top before eventually gassing due to taking the fight on short notice. The two fights we have seen Mendes in since have taken place largely on the feet. He was knocked out by Frankie Edgar and knocked out Myles Jury, both in the first round. Mendes was having success on the feet in both of those fights and did not try to make them into grappling matches. If Mendes wants to win this fight, he should recognize where his strengths are and capitalize on them. Raining elbows from the top is a far better plan than boxing in range with Volkanovski.
If the fight does stay on the feet, we know what to expect from Chad Mendes. He has a brutal leg kick that could be instrumental in slowing Volkanovski down. He also has massive power in his overhand shots that can put down anyone in the division. Once that shot lands and Mendes sees a downed opponent, he is in mount in no time to finish off the fight. Despite being the same height as his opponent for a change, Mendes still has a sizable reach disadvantage in this fight. On the feet, he will look to get on the inside for some dirty boxing against the cage before shooting a takedown.
Volkanovski inches toward the elite
A win over Darren Elkins is incredibly impressive but taking down Chad Mendes would put Alexander Volkanovski right there with the very best fighters in the featherweight division. In his last two fights, we have seen Volkanovski spoil the undefeated record of Jeremy Kennedy and put on a dominant showing to snap the six fight winning streak of Darren Elkins. In both of those fights, he dominated men known for their grappling with his pressure. Volkanovski's past as a 200+ pound rugby player and Australian jiu-jitsu and wrestling champion make him a nightmare in close quarters. He was able to stop Elkins' takedowns and impose his will in that fight and will look to do the same against another dominant wrestler in Chad Mendes.
While Australia is not a hotbed for wrestling talent, Volkanovski still excels in the area. It is not just that he is able to score takedowns, but what he is able to do with them. The Aussie has some of the most brutal ground and pound in the featherweight division. The fight with Jeremy Kennedy comes to mind as Volkanovski brutalized the body of the Canadian on the ground with punches that sounded like gunshots. Volkanovski does have three submissions on his record as a BJJ brown belt but tends to finish more fights through ground and pound. As a wrestler, Mendes is not known for his dangerous guard so whichever fighter ends up on top is in great position to get their hand raised.
If this fight stays on the feet for the majority of the three rounds, you will hear no complaints from Alexander Volkanovski. He has solid and creative kickboxing and a far deeper arsenal than Chad Mendes. If the striking is done in close quarters, Volkanovski loves to throw a spinning back elbow that he has wobbled multiple opponents with. Given Medes' preference to strike up close, this shot could be huge for Volkanovski. He has to be careful not to force it though, or he could end up off-balance and make the takedown that much easier for Mendes.  
Prediction
These two fighters have similar body types and similar pressure oriented games. Yes, Chad Mendes is a far more proven veteran but Volkanovski is undefeated in the UFC, on a 15 fight winning streak overall, and has never fought an opponent with a losing record. The fact that he is a moderate underdog is a bit surprising. Volkanovski has most of what Mendes has but is a more complete mixed martial artist. He is more creative on the feet and does not give up much in the wrestling department. The way that Volkanovski beat Elkins and Kennedy at their own games so dominantly is enough for me to take him at excellent odds.
Pick: Alexander Volkanovski +144
Free Ultimate Guide to MMA Betting
Free Ultimate Guide to MMA Betting
You want to win? This guide was created for you as The Bible for the MMA Sports Bettor. The most compherensive collection of strategies, tips, and techniques to consistently grow your bankroll.
Download it now!
You want to win? This guide was created for you as The Bible for the MMA Sports Bettor.
Download it now!