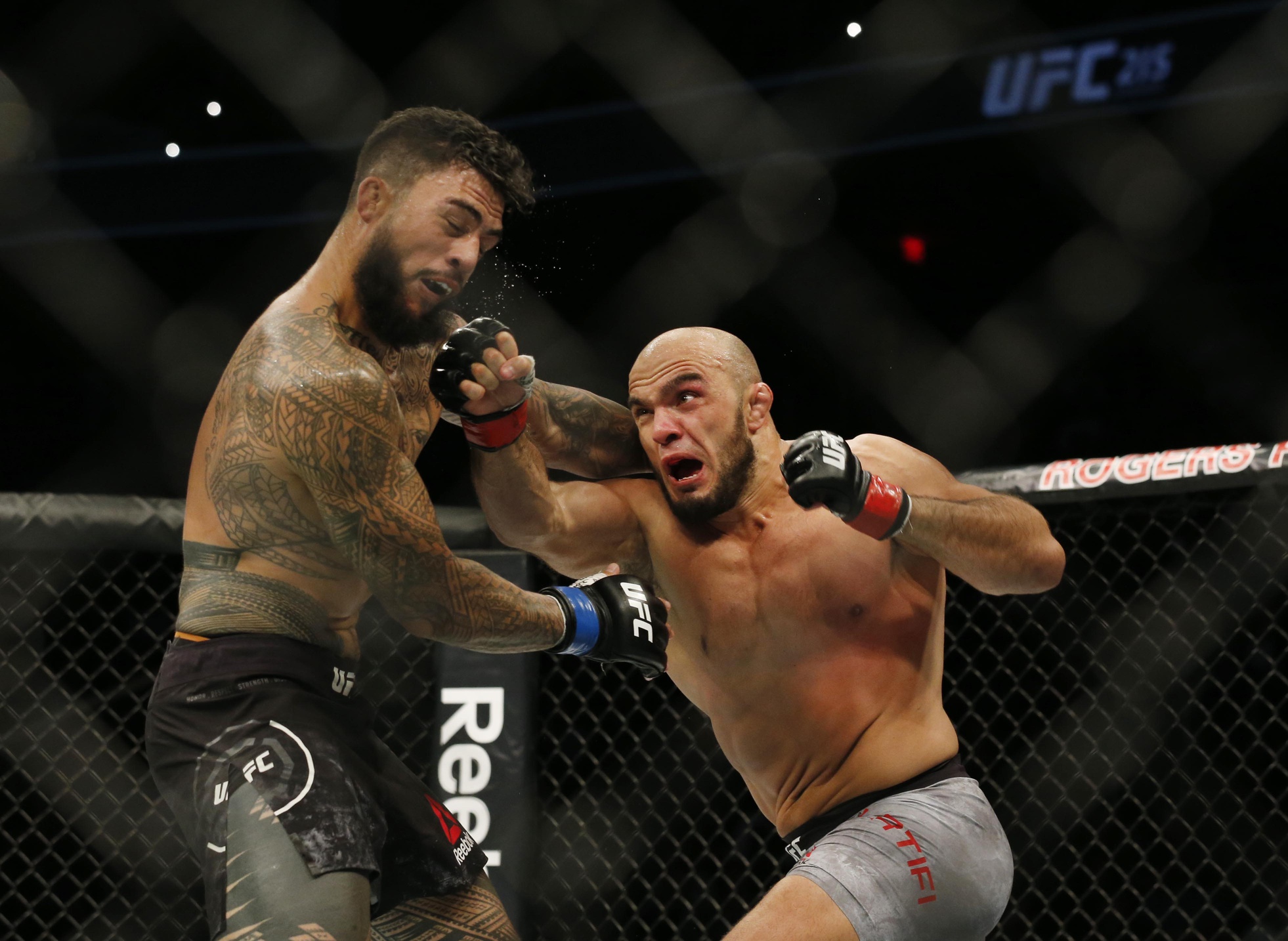 Image licensed from USA Today Sports
When Ilir Latifi and Corey Anderson step into the octagon on the main card of UFC 232, a shot to fight for the number one contender spot could surely be on the line. Both men have won two fights in a row and have their eyes on the belt as top 10 contenders. Both of these fighters are high level wrestlers so the fight could take place anywhere. With a ton of power, grappling ability, and durability between them, this fight could last 15 minutes just as easily as it could last 15 seconds.
Latifi demands a title shot
In his last win over Ovince Saint Preux, Ilir Latifi called out champion, Daniel Cormier. The callout was essentially dismissed and never made it much further than that night. A win over Corey Anderson would make it three in a row and certainly give Latifi reason to take another shot at the champion. Overall, the Swedish fighters has won six of his last seven fights, finishing four of them and proving he can go the distance with elite competition in the other two. This has shown us that Latifi is more than just a wrestler with a power shot, he is an all-around mixed martial artist who can finish the fight in countless ways.
We saw some of that creativity come into play when Latifi defeated a streaking Ovince Saint Preux February of 2018. In what started as a back and forth battle at a high pace, Latifi stumbled Saint Preux with one of his classic power shots. Rather than swarm in for the kill, Latifi recognized that as long as a Ovince Saint Preux is still able to throw, he is still dangerous. Latifi cinched in a standing guillotine choke that put OSP to sleep, ending the fight. In just a matter of minutes, Latifi proved that he could outstrike the elite strikers of the division and that he could submit one of the most creative submission artists in all of the UFC.
Ilir Latifi is one of those guys whose wrestling is so elite that it opens up opportunities for the knockout punch. Much like Yoel Romero, if Latifi can get his opponent worried about takedowns, all he needs is the slightest opening for a punch to end the fight. In this fight, fainting takedowns early will be key. If Anderson becomes worried about being put on his back, he may guard his lower half, giving Latifi a chance to come over the top with a bomb. In his career, Latifi has picked up five knockout victories. Four of them came in the first round. In this fight, the first round knockout should not be the game plan. Latifi needs to be patient against another high level wrestler to avoid being dumped on his back.
Anderson cracks the top 10
A knockout loss to Jimi Manuwa set Corey Anderson back in 2017. He looked like he was well on his way to redeeming himself later that year, beating up on Ovince Saint Preux for two straight rounds. Unfortunately, that all changed with one head kick. Anderson has since turned his fortunes around, winning two straight against Patrick Cummins and Glover Teixeira. Both of those fights ended in unanimous decision wins for Anderson. He has finally begun to use his wrestling to grind out wins with his pressure rather than get baited into a fire fight with elite strikers. Anderson's best bet for this fight is to take it to Latifi's guard and make it as boring as possible to avoid that power shot.
This is one of those fights where takedown defense will be just as important as offensive wrestling. As much as Anderson will want to take this fight to the ground on his terms, the last thing he wants is Ilir Latifi on top of him. Anderson is not known for a dangerous guard and does not have a single submission win on his MMA record. He has also never been submitted but Latifi is more likely to look to pound him out with strikes. If Anderson finds himself on his back, exploding up as soon as possible is imperative to keep this fight going.
The difference in power is another reason that Corey Anderson needs to keep this fight slow and grinding. He is likely not going to finish Ilir Latifi. As a professional, Anderson has just four finishes in his 11 wins. Only two of those fights came in the UFC. His only real hope of finishing Latifi is to get him stuck on the bottom and force the referee to stop it. Unfortunately, Latifi is just to strong and explosive of a wrestler to make that happen. This means that Anderson needs to point strike from the outside when the fight is on the feet unless he can get into a clinch against the cage and slow the fight down. As long as Anderson can be the one to get the takedown and stays busy on top, he has a shot to get the win.
Prediction
Because of Ilir Latifi's status as a world class wrestler, Anderson's usual advantage is negated. The fighter who can impose their will and get the other on his back will have a huge advantage here. Ilir Latifi is also the man with the striking and creativity advantage. He is the kind of fighter that can end any fight at any time by knockout or submission. Anderson's biggest hope here is to grind out a decision win. This makes Latifi the rightful favorite.
Pick: Ilir Latifi -167
Free Ultimate Guide to MMA Betting
Free Ultimate Guide to MMA Betting
You want to win? This guide was created for you as The Bible for the MMA Sports Bettor. The most compherensive collection of strategies, tips, and techniques to consistently grow your bankroll.
Download it now!
You want to win? This guide was created for you as The Bible for the MMA Sports Bettor.
Download it now!