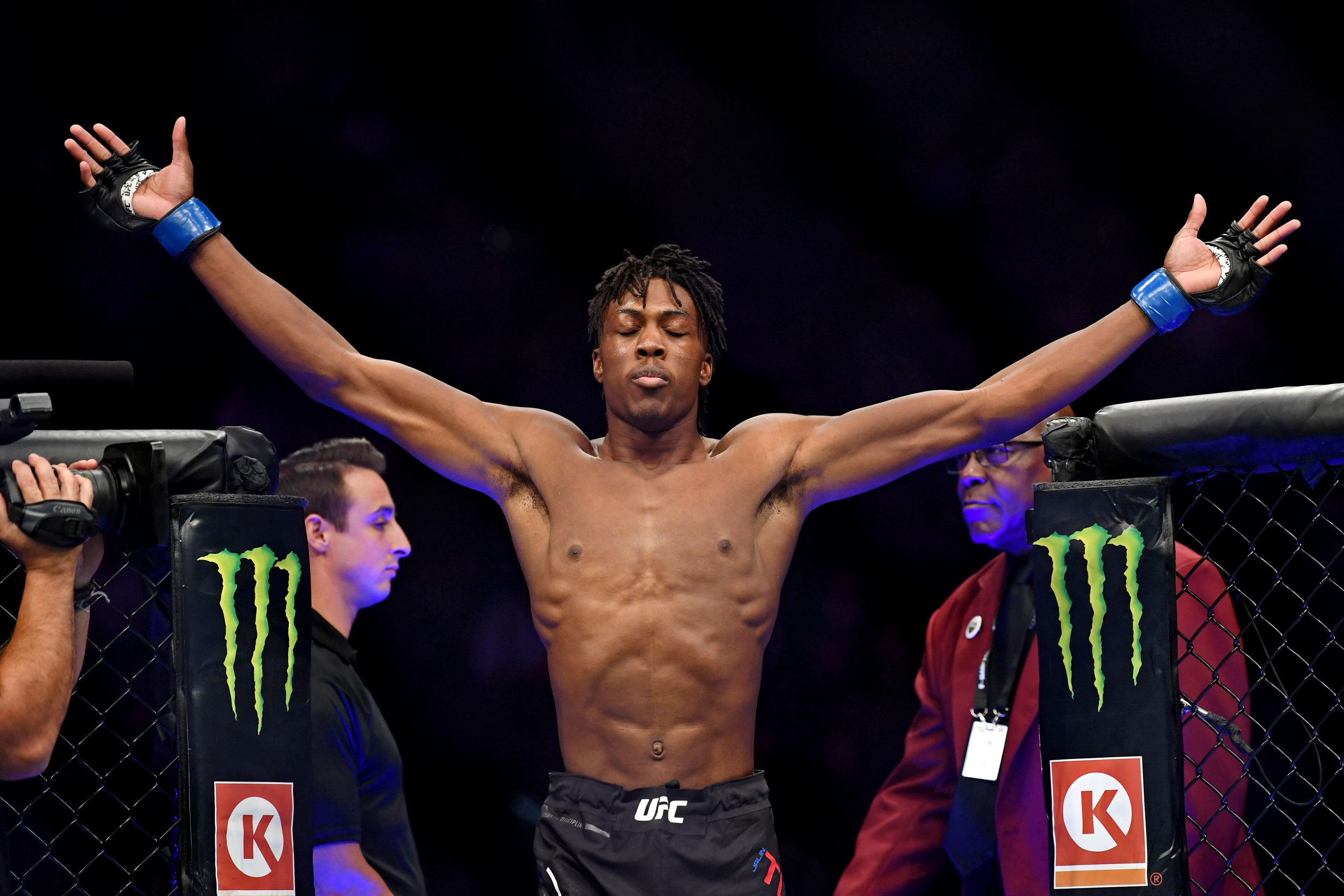 Image licensed from USA Today Sports
After an injury to Alex Gorgees, Australian veteran Callan Potter gets a short notice call up to the UFC. He faces an exciting young prospect in Jalin Turner, who might be the largest lightweight on the entire roster.
Callan Potter
At 34-years-of-age, Callan Potter has been grinding away on the Australian regional circuit for years. Aside from a fast submission loss to a jiu-jitsu virtuoso in Marcin Held, Potter is undefeated since 2015 - although his level of opposition hasn't been the highest.
Potter isn't the most technical, fast or athletic striker. In the footage I've seen, he wades forward like a zombie, swinging wildly and absorbing shots. He will be at a severe disadvantage at range and will look to punch his way into the clinch as soon as possible.
The Australian is a jiu-jitsu black belt and looks serviceable on the mat (when he's fresh, at least). However, I'm not overly confident he'll be able to score takedowns. He's not the type of fighter to shoot a blast double leg in open space, but can muscle opponents to the mat if he's able to clinch with them.
He seems like a tough dude, so eating some shots in order to clinch up with Turner will be part of the deal if he hopes to win this fight. We've seen him fade in his regional footage, so his gas tank definitely bears watching since he's taking this match on short notice.
Jalin Turner
Although coming off a disappointing knockout loss in his last contest, it's excusable as he moved up a weight class and took on one of the most dangerous contenders in this division, Vicente Luque. Before he got dropped, he actually held a very good account of himself - tagging Luque repeatedly.
A tall and rangy combatant, Turner's striking is his best asset. Primarily fighting southpaw (but occasionally switching to orthodox), Turner throws smooth punching combinations to the head and body and has some deadly kicks in his arsenal too. While he's not the most defensively minded striker, I don't think he'll pay for it in this match-up. If Turner can maintain distance, he will enjoy a significant advantage in hand speed and overall striking technique.
The question mark for Turner is weather he can stuff the takedowns. In a regional fight a couple of years ago with Andrew Lagdaan, Turner gave up a lot of control time on the mat and ultimately dropped a decision. Still, the American fighter is a jiu-jitsu purple belt and his grappling has looked improved in the glimpses we've seen since then.
Turner is only 23-years-of-age so there's a good chance he's evolving from fight to fight. He already has a great foundation to work with so his ceiling could be high.
Who Wins?
Anyone who steps inside a cage to do battle with another trained athlete deserves respect, but I'm not sure Callan Potter can hang with this level of competition. Jalin Turner looks like a legitimate prospect and I think he probably starches the Australian fighter, much to the misery of the Melbourne crowd.
If you want to use Jalin Turner as a parlay leg at -250, I can't blame you. In terms of a straight bet, I don't mind Turner by KO at -149 as I feel this represents the most likely outcome for the fight.
Pick: Jalin Turner -250
Check out my other UFC 234 picks.
Free Ultimate Guide to MMA Betting
Free Ultimate Guide to MMA Betting
You want to win? This guide was created for you as The Bible for the MMA Sports Bettor. The most compherensive collection of strategies, tips, and techniques to consistently grow your bankroll.
Download it now!
You want to win? This guide was created for you as The Bible for the MMA Sports Bettor.
Download it now!