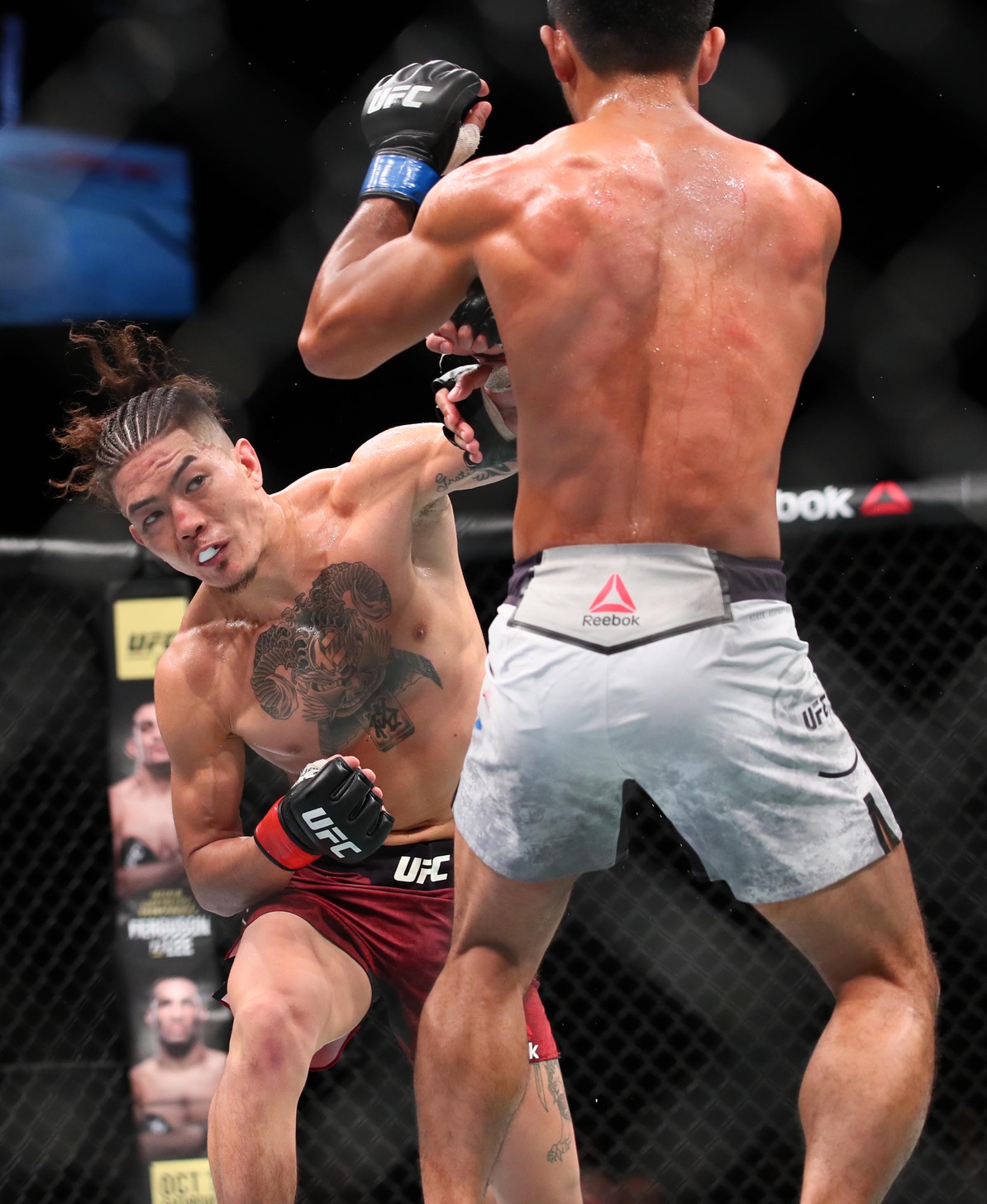 Image licensed from USA Today Sports
UFC 234 is a great card from top to bottom. From a betting perspective, I'm intrigued by the bantamweight clash between Teruto Ishihara and Kyung Ho Kang. The former is fighting for his job whereas the latter has already cemented his position in the division.
Teruto Ishihara
After a draw with Mizuto Hirota in his UFC debut, Teruto Ishihara looked to be a promising prospect as he knocked out Julian Erosa and Horacio Gutierrez in consecutive fights. Since then, the flamboyant Japanese fighter has fallen on tough times and a drop from featherweight to bantamweight hasn't helped.
A powerful southpaw, Ishihara is extremely left side dominant (although he does also have a good right hook). He packs a punch and can counter opponents moving backwards. He typically throws single strikes and is always hunting for the kill shot. I feel if he developed a clean 1-2 like another southpaw on this card, Kelvin Gastelum, it would be to his benefit - but that's easy for me to say as I drink beer and eat pizza while sitting on the internet.
We've seen Ishihara unload in round one and then fade later in fights. It's imperative he manages his energy efficiently because his opponent has good cardio. It's also imperative that he stays off his back, because the ground game is his biggest disadvantage in this match-up.
Kyung Ho Kang
Unlike Ishihara who is more loose and free flowing on the feet, Kyung Ho Kang is tight and technical. He keeps his hands high and has a decent jab - although that wasn't a factor against his last southpaw opponent, Guido Cannetti. In that contest, Kang absorbed a number of left kicks and was rocked by a big left hand. Ultimately he was able to get the fight to the floor where he scored a submission, and he'll be looking to do the same this weekend.
Kang is excellent at lulling opponents into a striking contests and then surprising them with takedowns. On the mat, the Korean is a fantastic positional grappler and is a dangerous submission threat too. If he lands takedowns, it's likely Ishihara won't be getting up for the rest of the round.
Against an explosive puncher, it's essential Kang gets out of the first round. I anticipate he'll shoot takedowns early or at least try to grind Ishihara against the fence. Doing anything he can to drain his opponent's gas tank would be wise.
Who Wins?
Based on the recent performances of both fighters, it's easy to see why Kang is a favorite. However, the Korean's moneyline is currently -450, so you're looking at an implied probability of 81.82%. I think that's a bit ridiculous.
Although Kang has a good chin, it's entirely feasible Ishihara scores a first one knockout or strikes his way to a decision. Aside from when he got smothered by Gray Maynard (who is an extremely physical wrestler), Ishihara hasn't looked out of his depths in terms of defensive grappling.
If the Japanese fighter performs to the best of his abilities, this is absolutely a winnable fight for him and +360 is a generous price.
Pick: Teruto Ishihara +360
Check out my other UFC 234 picks.
Free Ultimate Guide to MMA Betting
Free Ultimate Guide to MMA Betting
You want to win? This guide was created for you as The Bible for the MMA Sports Bettor. The most compherensive collection of strategies, tips, and techniques to consistently grow your bankroll.
Download it now!
You want to win? This guide was created for you as The Bible for the MMA Sports Bettor.
Download it now!