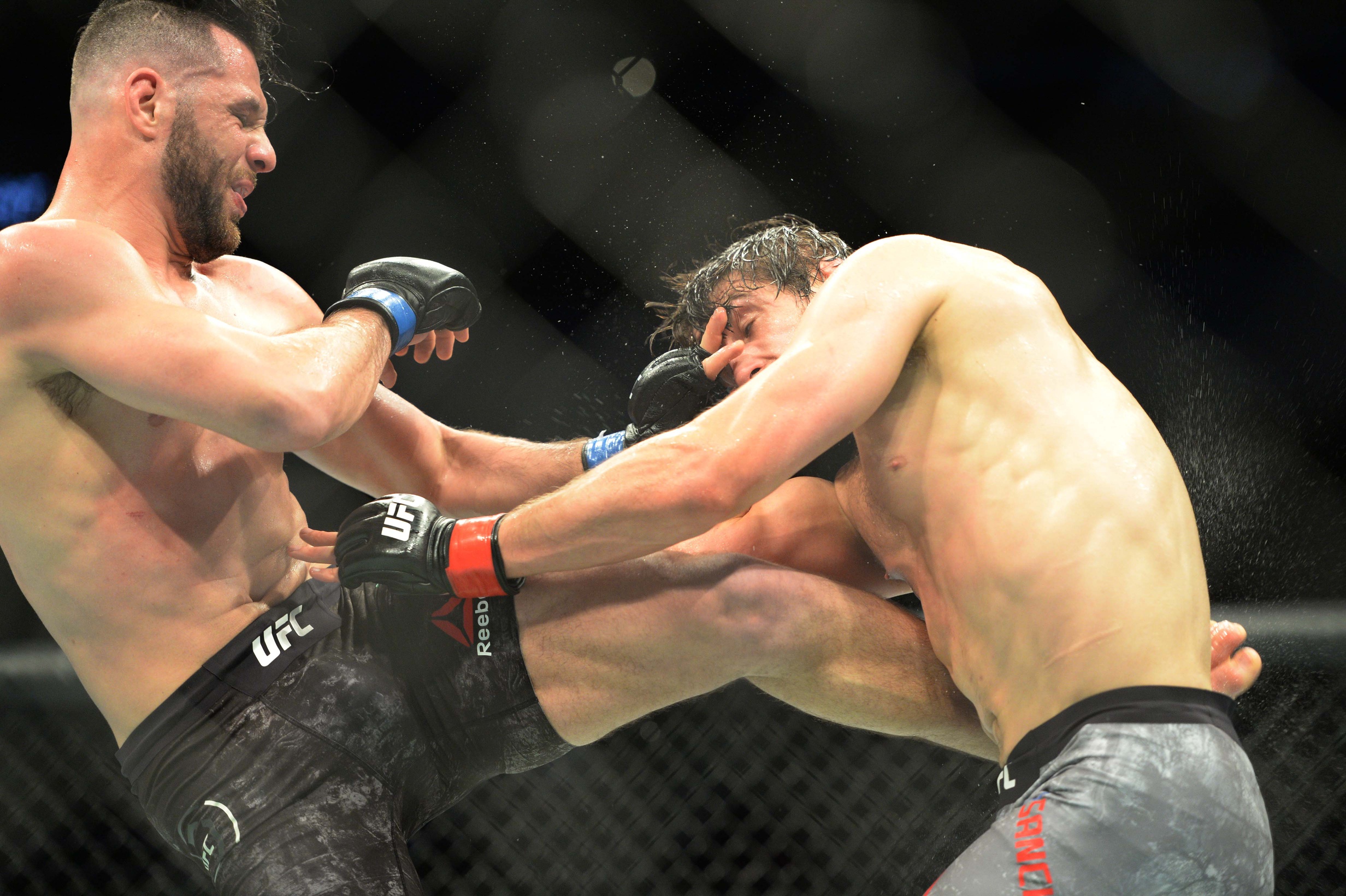 Image licensed from USA Today Sports
After winning emphatically on Dana White's Contender Series, Anthony "Fluffy" Hernandez gets his call to the UFC. Hernandez has been racking up first round stoppage victories on the regional circuit and has a lot of hype around him. He'll be facing Markus Perez, a tough jiu-jitsu black belt with an underwhelming 1-2 UFC record.
How Good is "Fluffy"?
As is sometimes the case when assessing prospects, it's hard to determine how good Hernandez is because he's been fighting lower level opposition. Aside from Brendan Allen, none of his past opponents looked remotely capable of giving him a competitive fight. In his last contest, Hernandez starched a rich kid from Beverly Hills (I'm not hating, I wish I was a rich kid from Beverly Hills).
Although undersized for middleweight and still carrying some body fat, Hernandez seems to be a well-rounded fighter. His boxing looks decent and he has a smothering top game. However, he can lose out in scrambles (as we saw against Allen) and this may be a problem against a black belt like Perez.
Another red flag for Hernandez is that many of his victories have come by way of guillotine choke. You can catch regional level opponents with this submission, but as we've seen time and time again in the UFC - a failed guillotine attempt will result in a loss of position and Perez could make him pay for it.
Hernandez looks to have the cardio advantage but this may be somewhat mitigated by fighting in a humid Brazilian arena. Being the away fighter in Brazil is never easy, especially in your UFC debut.
Perez May be Better Than his Record Suggests
Racking up two losses in three UFC fights is not ideal for Markus Perez, but both losses were on short notice in tough stylistic match-ups. Against Andrew Sanchez, a decorated wrestler with solid boxing, Perez gave a good account of himself. As a southpaw fighter, Perez found a home for the left body kick and this attack will also be there against Hernandez who fights orthodox.
Perez is wild on the feet and uses a lot of unorthodox attacks. It would be good if he could focus more on his striking fundamental - perhaps he will now that he's training at American Top Team. Marcos Rogerio is a solid kickboxer and is a main training partner for Perez.
On the mat, Perez is a legitimate submission threat. He caught Ian Heinisch in an arm triangle from bottom position and Hernandez will have to be aware at all times when tying up with him. While not facing the highest level of opposition, Perez put on a comprehensive grappling performance against James Bochnovic - dismantling him in one round.
We've seen Perez fade in fights, so this bears watching. It's possible he has cardio issues, but it's also possible he could maintain a pace for three rounds he focused on throwing energy efficient strikes.
Who Wins?
It's difficult to envision how this fight will play out. Hernandez might be more technical on the feet, but Perez can certainly cause damage with his strikes. I feel Perez has the superior ground game and won't get caught in a guillotine like some of the other guys Hernandez has faced.
I like the fact Perez has three UFC fights under his belt and will have the crowd behind him in Brazil. For this reason, I'm going with the underdog here.
Pick: Markus Perez +150
Check out my other plays for UFC Fight Night 144.
Free Ultimate Guide to MMA Betting
Free Ultimate Guide to MMA Betting
You want to win? This guide was created for you as The Bible for the MMA Sports Bettor. The most compherensive collection of strategies, tips, and techniques to consistently grow your bankroll.
Download it now!
You want to win? This guide was created for you as The Bible for the MMA Sports Bettor.
Download it now!