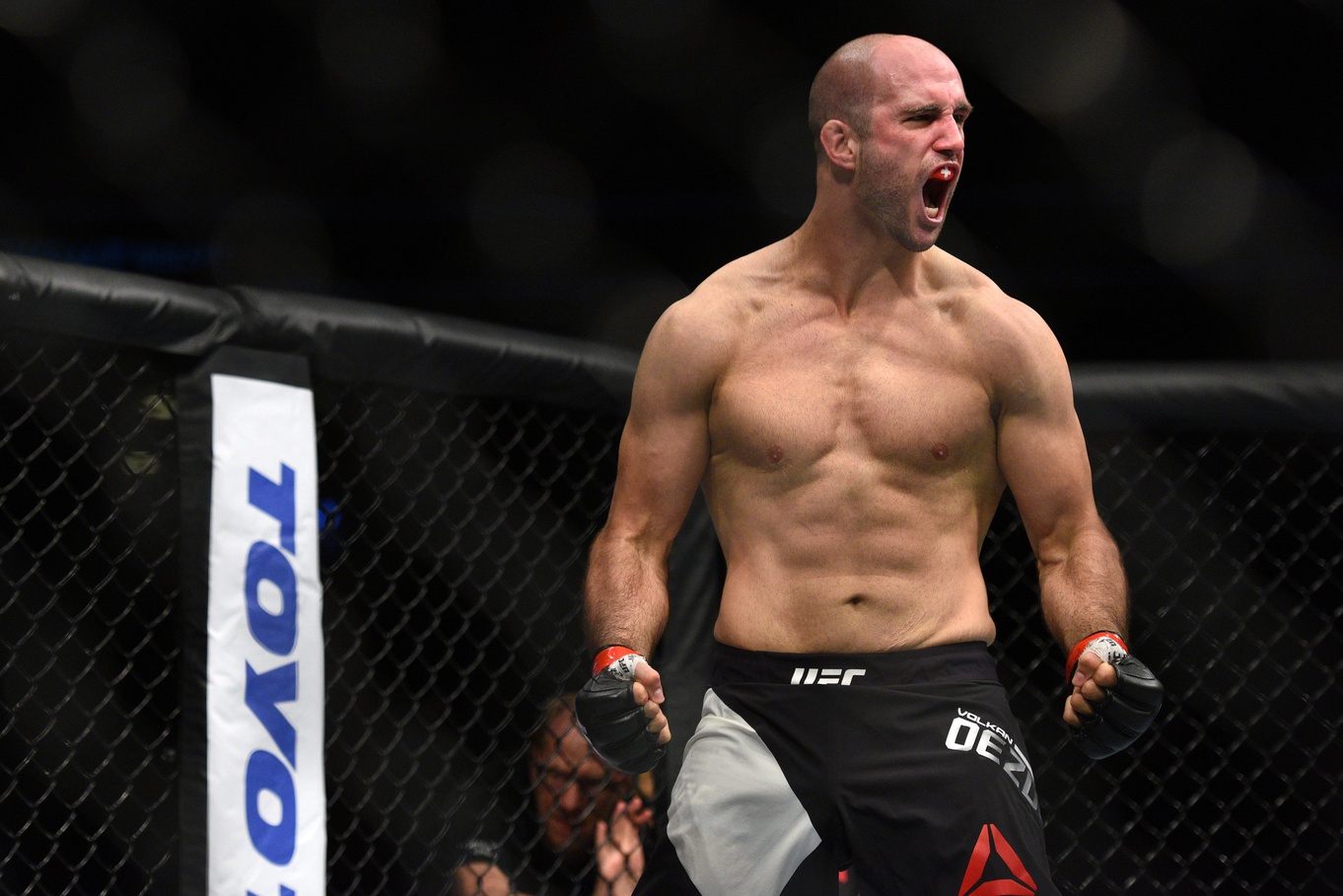 Image licensed from USA Today Sports
After three long weeks, the UFC is finally back in Moncton, New Brunswick, Canada this Saturday night when two top-10 light heavyweight contenders square off in the main event of UFC Fight Night 138. Volkan "No Time" Oezdemir will look to get back to his old, devastating ways in his first fight back since losing a title shot to current champion, Daniel Cormier. Anthony "Lionheart" Smith, a career middleweight has burst onto the light heavyweight scene and could earn a fast-track to the title with a win over an opponent of Oezdemir's caliber. When these two heavy-hitters are locked in the cage on Saturday night, we are surely in for a show.
Volkan's first chance to bounce back
When Volkan Oezdemir (15-2) signed up to meet Daniel Cormier inside the Octagon to fight for the UFC Light Heavyweight title this January, his confidence was unflappable. He had already begun his UFC career with three straight wins over top contenders in Ovince Saint Preux, Misha Cirkunov, and Jimi Manuwa. He finished Cirkunov and Manuwa in a total of 1:10 and was fast-tracked to the title shot against DC. That feeling of invincibility quickly dissipated as Cormier proved to be the better fighter, sinking in a deep rear-naked choke to end the first round before dominating Volkan with his wrestling and earning a TKO in the second. After a fight in which Oezdemir all but lost twice, it will be interesting to see if we see another Francis Ngannou situation or if he will storm back to the top as a new fighter.
The threat with Volkan Oezdemir is always his hands. The Swiss knockout artist has stopped 11 of his wins by knockout and has only heard the final horn on three occasions. To make matters even more interesting, all 11 of his knockouts have come in the first round, and seven of them were over within the first minute of the fight. Anthony Smith is not a fighter that does not get hit. If Volkan can time his right hand, he could make it yet another quick night at the office.
While he does get tons of quick finishes, Volkan Oezdemir is far from a brute-strength brawler. He has technical striking and the ability to pick his shots rather than force anything. Volkan spent time as a professional kickboxer and compiled a 5-0 record over some of the most technical and elite strikers around. The only place Oezdemir is likely outclassed here is on the ground. Smith has a brown belt in jiu-jitsu and could try to make this a grappling match if Volkan gets the better of the striking exchanges.
Smith gets a new shot in a new division
Anthony "Lionheart" Smith (30-13) has had his ups and downs through his ten years as a professional fighter. He found some success at middleweight in recent years, securing three straight wins but was set back by a loss to Thiago Santos. After making the move to light heavyweight, Smith has appeared to fight to his full potential. He first caught the attention of UFC fans when he made quick work of former champion, Rashad Evans, in his debut, knocking him out in under a minute. His legend-killing tour continued as he spoiled the return of Shogun Rua, knocking him out in 1:29. Now, with a dangerous fighter in his prime in front of him, we will find out if Smith is a legitimate title contender or if he may have been rushed a bit after taking out two big names past their prime.
This fight will be Anthony Smith's second consecutive main event. Through a long career, he is no stranger to pressure and will not crack under the lights. In the last ten years, "Lionheart" has knocked out 17 fighters and submitted ten more. Since entering the UFC though, Smith has become a striker primarily and has not yet secured a submission with the promotion. As the superior grappler and seeing how lost Volkan looked on the ground against Cormier, Smith may want to dust off his gi and try taking things to the mat if he cannot handle Volkan on the feet.
Anthony Smith is not to be taken lightly as a striker, however. He throws devastating kicks, knees, and elbows. With this full toolbox, Smith will be able to compete with Volkan on the feet and can freely throw his kicks without the fear of a takedown. Leg kicks would be a great start to give himself a more stationary target, and if he can land some early kicks to the body of Volkan, he may be able to lower his hands to open up the head shot in the hypothetical later rounds. Of course, the big catch is that the fight has to make it out of the first round for his diverse striking to pay off.
Prediction
Smith does have a solid grappling background, but it is hard to see this being anything other than a striking match with some clinching from Smith. When those clinches come, both fighters better be careful on the way out. Either fighter can put the other one away at any time, but Oezdemir is the one with the legitimate one-punch knockout power. It is hard to put too much stock in Smith right now after his wins over Evans and Rua. They were both impressive wins, but neither of those men are what they used to be. This is an excellent opportunity for Smith at light heavyweight, and he is experienced enough to handle it, Oezdemir just has more quality wins under his belt at the weight class and is the overall more dangerous striker.
Pick: Volkan Oezdemir -175
Check out our free Ultimate Guide to MMA Betting.
Free Ultimate Guide to MMA Betting
Free Ultimate Guide to MMA Betting
You want to win? This guide was created for you as The Bible for the MMA Sports Bettor. The most compherensive collection of strategies, tips, and techniques to consistently grow your bankroll.
Download it now!
You want to win? This guide was created for you as The Bible for the MMA Sports Bettor.
Download it now!