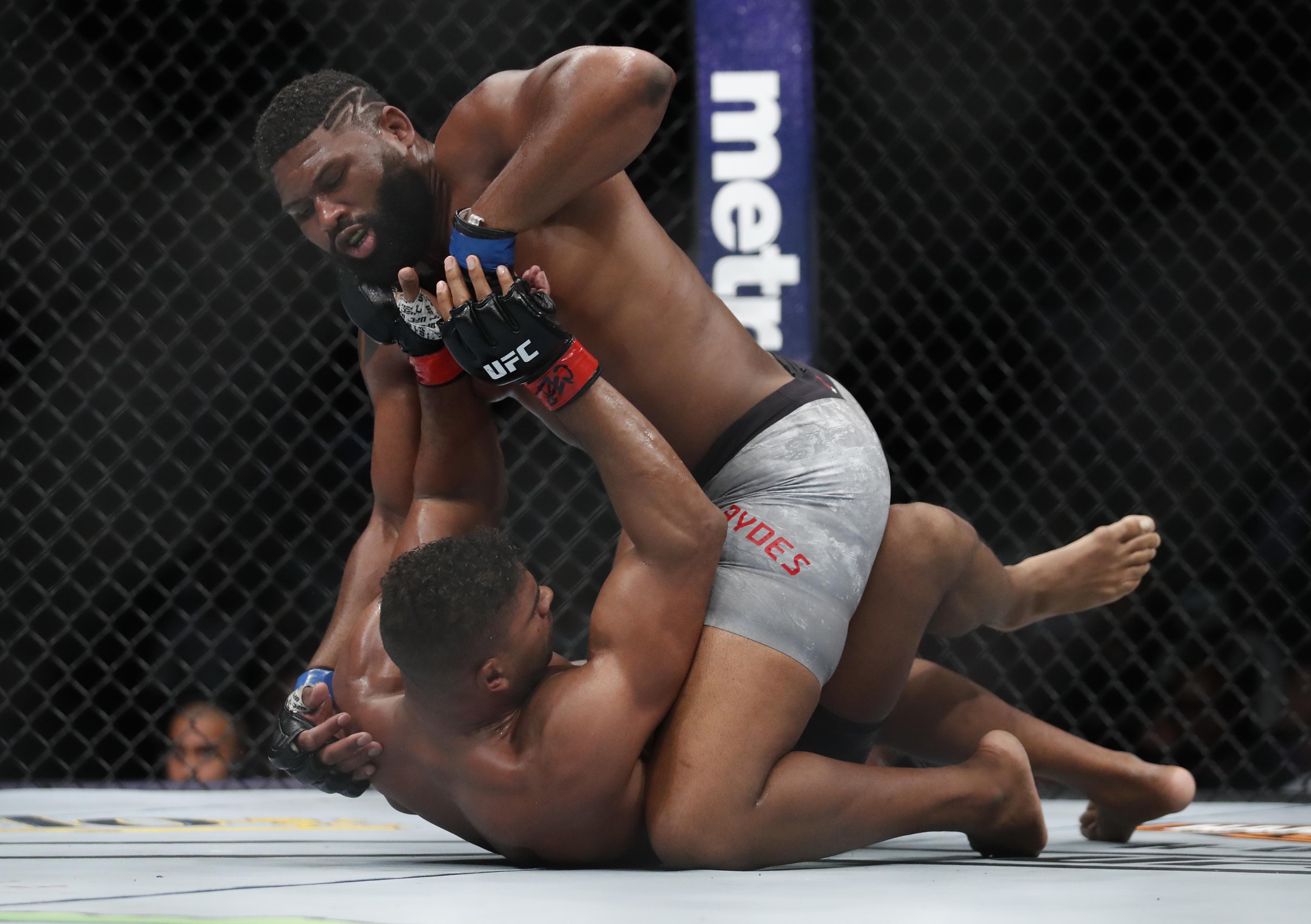 Image licensed from USA Today Sports
At long last, Francis Ngannou and Curtis Blaydes will meet again in the octagon. This time, they will face off in China as two of the top contenders in the heavyweight division. In their first meeting, they were two exciting prospects that few knew much about. Blaydes was an undefeated UFC newcomer while Ngannou was in the second fight of his young UFC career. Ngannou ultimately won that match up due to doctor stoppage when Blayes' eye became swollen completely shut but both men had their moments. The rematch, under very different circumstances is sure to be an interesting one.
UFC Will Ngannou ever be the same?
The first time Francis Ngannou fought Curtis Blaydes, his career was just getting underway. He had just begun to build his invincible mystique that was capped off by a monumental knockout ofAlistair Overeem. It was just one fight later that Stipe Miocic effectively broke Francis Ngannou. As the champion dragged "The Predator" to the mat time and time again, we saw Ngannou tire. We saw his mile high confidence leave his body in real time. One would think that was just one fight but his next performance against Derrick Lewis was even more telling. Francis Ngannou looked afraid to throw a punch in the most hype-crushing fight of all time. If Francis Ngannou does not show some confidence in his abilities against Blaydes, questions about his career will start to pour in.
The biggest factor in this fight is an obvious one. Can Francis Ngannou stay on his feet? In the first fight between these two, Ngannou was taken down a few times but overall, his takedown defense and ability to get to his feet was solid. Though, if the Miocic fight is any indication, his takedown defense becomes a thing of the past when he gets tired as does his ability to get back up. After his last fight, Ngannou might feel pressure to be aggressive early, but if he overdoes it, he will end up exhausted by the second, during which he will get pounded out on the ground.
For Francis Ngannou to win this fight, he needs to hurt Curtis Blaydes and he needs to do it early. Closing up his eye in the first fight did the job but as stated before, Ngannou cannot chase the quick finish. At some point, he is bound to have an opening to land a shot and he has to take it. Even if he can daze Blaydes without finishing him, staying on his feet will become exponentially easier. It is no secret what Francis Ngannou wants to do every fight. He wants to knock your head off in the first round and go home. He is more than capable of doing so to Blaydes but to have a chance, he needs to get past his last two fights.
Blaydes' chance to demand a title shot
Curtis Blaydes has a great case for a title shot as it is with recent wins over Alexey Oleynik, Mark Hunt, and Alistair Overeem. Unfortunately with the Brock Lesnar fiasco going on at the top of the division, his name has not even come up in the conversation. Still, after his UFC debut loss to Ngannou, Blaydes is an undefeated fighter who has proven he can beat both elite strikers and elite grapplers. The first fight with Francis Ngannou was just the sixth of Blaydes' professional career and he has certainly improved since that hard-fought battle. This Saturday, Blaydes will look to prove that he has climbed to the top of the sport while Ngannou has fallen off since his brilliant start.
The path to victory has never been clearer for a fighter. Curtis Blaydes needs to take Francis Ngannou to the ground and smother him for three rounds to get the win. Regardless of his recent results, standing with Francis Ngannou is not an option. While the takedown defense of "The Predator" is not bad when he is fresh, it wanes in the later rounds. Even if Blaydes does not land the takedown right away, forcing Ngannou to fend off attempts over and over will tire him out and make the job easier. Stipe Miocic laid out the perfect blueprint on how to deal with the dangerous Ngannou and Blaydes has the skill-set to follow it.
When Curtis Blaydes lands the inevitable takedown, he needs to be patient. Ngannou has unbelievable power from anywhere so throwing volume at him on the ground could get him clipped and in trouble. If Blaydes can lay on him and find open strikes when they present themselves, he will be in great shape to get his hand raised. Frankly put, the less exciting this fight is, the better that is for Curtis Blaydes. If this fight does get stopped, it could have a similar look to the Blaydes vs. Overeem fight. Ngannou has not proven that he has the skills to get off his back so if Blaydes mounts him, hellbows could pour in.
Prediction
Francis Ngannou is pretty much a mystery right now. He looked very lean coming into the Derrick Lewis fight, indicating he made an effort to improve his cardio but it was never tested in that uneventful bout. Blaydes, on the other hand, has looked unstoppable in his last few fights. His top pressure is so good that fans want him to fight Cormier. Stipe Miocic has excellent wrestling but Curtis Blaydes may be a step above. Even if Francis Ngannou has improved his takedown defense and wrestling, he has not had enough time to prepare for a pressure fighter like this. Unless he ends it early with a huge shot, it will be a long night for "The Predator."
Pick: Curtis Blaydes -186 (consider Blaydes by decision: to be updated when odds are released).
Free Ultimate Guide to MMA Betting
Free Ultimate Guide to MMA Betting
You want to win? This guide was created for you as The Bible for the MMA Sports Bettor. The most compherensive collection of strategies, tips, and techniques to consistently grow your bankroll.
Download it now!
You want to win? This guide was created for you as The Bible for the MMA Sports Bettor.
Download it now!