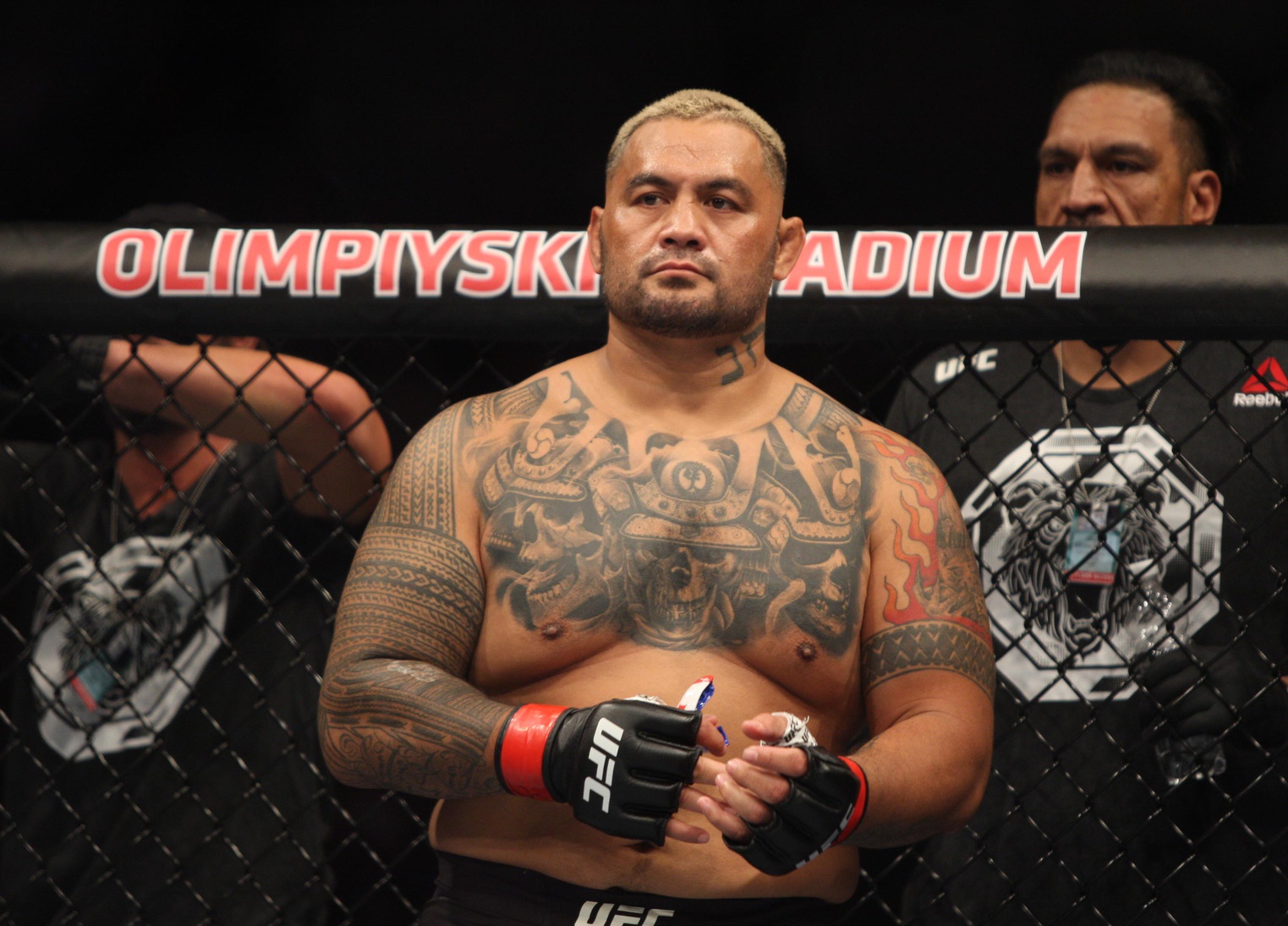 Image licensed from USA Today Sports
What could prove to be the final UFC fight of a legend, Mark Hunt, will take place in Australia surrounded by his home fans and teammates. His newest challenge will be an up and coming American prospect, Justin Willis who has rattle off eight consecutive wins since losing his first professional fight. Hunt has not been as consistent and this fight will determine if he ends up above or below the .500 mark. Regardless of the difference in records, every MMA fan knows that records mean nothing and that Mark Hunt is one of the most dangerous men in the world. He has fought the best heavyweights on the planet.
A huge opportunity for Willis
Justin Willis (8-1) has a massive opportunity in front of him. Winning eight in a row at heavyweight is nothing short of an incredible feat in itself. Knocking off someone like Mark Hunt for a ninth would put his name into the minds of far more fans and prove the worthiness of the ranking next to his name. A big hurdle for Willis will be the mental challenge of a fight like this. He is fighting a fan favorite in a possible retirement fight in hostile territory. Like most young heavyweights, there is a very high chance that Willis looks up to Hunt as a fighter as well. Putting all of these factors aside and performing to his best is not as easy as it sounds. As a former collegiate football player though, pressure is likely something Willis is used to, just not at this magnitude.
Even at the tail end of Hunt's career, he is a sizable jump in competition compared to what Willis has experienced so far. Willis' UFC career started with a decision win over James Mulheron and was followed up by a first round knockout of a much smaller Allen Crowder. The biggest win to date for Willis is his most recent fight, a unanimous decision win over Chase Sherman. In that fight, Willis displayed his full game, his striking power and accuracy was evident as dropped Shermon but his wrestling and knowledge was displayed as well. When he crumbled Shermon with a big shot, Willis did not force a finish. He threw what he had but when Shermon recovered, he backed off and went back to his game plan. That type of decision making will be huge if he hurts Hunt. Burning himself out will be a death sentence if he hurts Mark Hunt without finishing him.
Justin Willis displayed some solid wrestling in his last few fights which is a proven path to victory over Mark Hunt. Keeping the fight on the ground and grinding out a decision win over three rounds is definitely not what the Australian fans want, but it is certainly a great game plan for Willis if he can make it work. While we have seen Willis land takedowns, it is evident from his opponents returning to their feet and his lack of jiu-jitsu that he is not very experienced on the ground. Against a wily veteran like Hunt, he cannot be reckless with takedowns and get caught on the way in. Quite frankly, his best chance is to gain top position and lay on him in hopes of stealing a couple rounds. Even if Willis, an excellent striker, has success on the feet, it is never an idea to take the bazooka that is Mark Hunt's boxing out of his hands.
The possible finale for Mark Hunt
Mark Hunt (13-13-1, 1 NC) has been an MMA fan favorite for about 14 years now and a kickboxing favorite for years before that. Known for his walk-off knockouts, Hunt has finished 10 of his 13 wins with only five of his 27 career fights seeing the final bell. Hunt against another fighter who likes to stand and bang is always a cause for fireworks. The added bonus of it taking place in Australia on the same card as his training partners in a possible retirement fight ramps that up. Serving as the co-main event to his sparring partner and protege, Tai Tuivasa, Hunt is sure to come out swinging, even more so than usual.
Analyzing Mark Hunt's game plan and explaining to someone betting on MMA is a bit like explaining to a chemist what happens to water when it is put in a freezer. Step 1: punch face. Step 2: win? There is not much to what Mark Hunt does but he is so good at it that it has earned him wins over top fighters like Derrick Lewis, Frank Mir, Mirko Cro Cop, Wanderlei Silva, and Bigfoot Silva to name a few. As far as his striking defense goes, we have certainly seen holes in it as he has been knocked out five times. The catch is that all five of those knockouts came against excellent strikers like Alistair Overeem, Stipe Miocic, Junior dos Santos, and Melvin Manhoef. If Willis manages to join these fighters as the only men to KO Hunt, this will be a huge coming out party for him
With seven submission losses on his record, we all know that Hunt's grappling is an issue. In his last two fights, we saw him smothered by Curtis Blaydes for three rounds and submitted by Alexey Oleynik. Willis has a solid top game but the difference between he and the aforementioned names is that Willis is not world class in wrestling or jiu-jitsu as they are. The former football player does not have enough experience on the ground to keep Hunt there for three rounds. After spending so much time in the sport and being taking down many times, Hunt will be able to find his way to his feet if Willis gets him to the ground.
Prediction
If Justin Willis can take out Mark Hunt in Australia, his name will gain a ton of credibility. Unfortunately, he does not possess the style that we see defeat Hunt. His only chance is to take Hunt down over and over again early and hope he tires enough that he will eventually stay on his back. Chances are, Hunt will outclass Willis on the feet with his striking. He could get a finish any time this fight is on the feet with his power. Willis has not shown power but not the kind that can put away the hard-headed Hunt. His opponents tend to stay awake when he drops them and against Hunt, that is trouble. This is the rare occasion where Hunt is a candidate for a decision win but do not be surprised to see him get the KO.
Pick: Mark Hunt -112
Free Ultimate Guide to MMA Betting
Free Ultimate Guide to MMA Betting
You want to win? This guide was created for you as The Bible for the MMA Sports Bettor. The most compherensive collection of strategies, tips, and techniques to consistently grow your bankroll.
Download it now!
You want to win? This guide was created for you as The Bible for the MMA Sports Bettor.
Download it now!