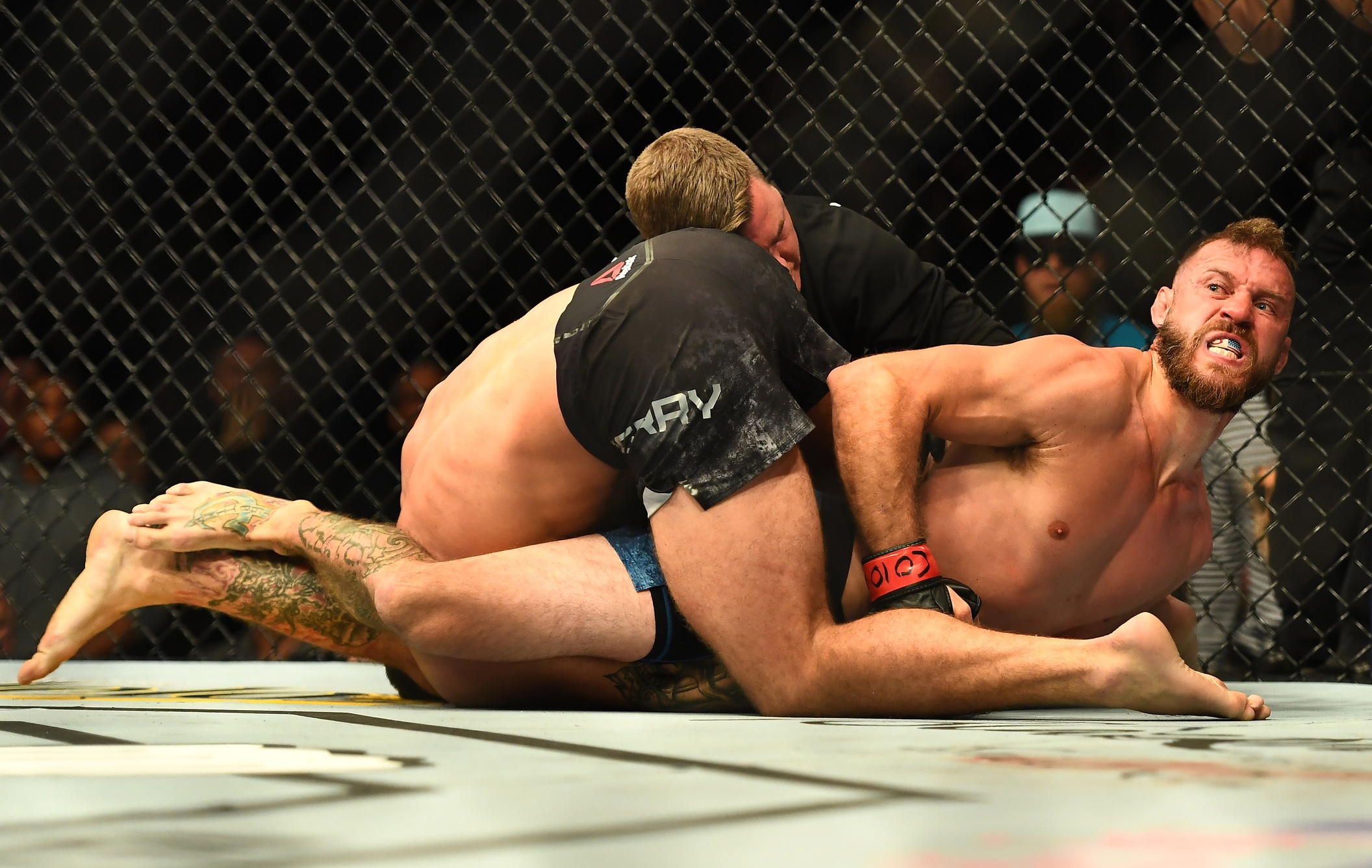 Image licensed from USA Today Sports
The UFC makes its debut on ESPN+ with an exciting card that will feature a title fight as well as this lightweight bout between the winningest man in the history of the organization and an promising young prospect. Donald Cerrone returns to the octagon for the 30th time. He will finally drop back down to his natural lightweight class. After rumors of a fight with Conor McGregor proved to be untrue, Cerrone signed a contract to fight yet another up and coming killer in Alexander Hernandez. Hernandez burst onto the scene by defeating two ranked opponents in his first two fights. He will look to keep his fast track to the top moving against one of the all-time greats.
Cowboy gonna Cowboy
This fight was signed just weeks after rumors of a McGregor fight flooded the internet. Everyone wanted to see that fight. The fans clambered for it, Cerrone asked for it, and the media saw the value in it. Right after Dana White denied that fight's possibility, Cerrone signed to fight Hernandez, likely before even reading his Wikipedia page. It always seems like a bad idea but no one is going to stop Cowboy from being Cowboy. Cerrone's trend of fighting top prospects has been a strange one yet he has proven that he can still hang in there. His defeat of Perry showed us that Donald can still be "Cowboy." This time around, Cowboy has to deal with a high level pressure wrestler with power in his hands. Thankfully, it will finally be at lightweight.
Last time we saw Cerrone in the octagon, he was ripping most of the tendons in Mike Perry's arm off the bone. That armbar was just his second win in his last six fights but it reminded us of just how dangerous Donald Cerrone is in all aspects of the sport. Hernandez loves to wrestle but any ill-advised takedown could cause him to end up in a similar position as Perry. With a black belt in Brazilian Jiu-Jitsu and 17 submission wins on his MMA record, Cerrone is far more credentialed in the submission department than Hernandez. When Hernandez goes for the inevitable takedown, look out for the dangers of Cerrone's guard.
The most dangerous part of Donald Cerrone's game is always his Muay Thai background. He has solid boxing and loves to work the body before going upstairs with a devastating head kick. Throughout his career, Cerrone has six wins via headkick, more than half the amount of total fights Hernandez has in his career. The kicks of Cerrone should be used to keep him on the outside. Against a pressure fighter like Hernandez, there are few weapons more valuable than distance strikes. Staying out of the clinch will keep Cerrone safe from being overpowered but he has to be careful not to throw a kick that can be caught by the wrestler, Hernandez.
Alexander Hernandez takes the fast track to the top
Very few fighters break into the UFC rankings after just one fight, much less in the lightweight division. Alexander Hernandez needed just 42 seconds to go from unknown fighter to ranked UFC Lightweight. In his debut, Hernandez flatlined Beneil Dariush in the first minute of the fight to burst onto the scene. While the fight earned Hernandez a number next to his name, it did not entirely answer how good he is. Sure the knockout was impressive, but 42 seconds is a very short amount of time to judge a fighter on. He was nice enough to answer all of those questions in his next fight against fellow hyped prospect and elite grappler Olivier Aubin-Mercier. He dominated through three rounds showing a well-rounded game and true dominance over another ranked opponent.
In that fight with OAM, Hernandez proved that he is much more than just a flash in the pan. He bested The Canadian Gangster in all aspects of the fight. In the striking department, Hernandez landed strikes to the body and was able to capitalize on knees in close. This pushed his opponent back to the cage and helped him work in the ground game. Throughout the fight, Hernandez landed four takedowns and more importantly, was able to keep his opponent there for an extended period of time. As we can see by his punching power and general physic, Hernandez is very strong and can smother leaner fighters like Cerrone.
For Hernandez to get a win, the less exciting this fight is, the better. He has the potential to put Cerrone away with one shot, but that does not mean he should be content to stay on the feet. Hernandez needs to pressure Cowboy against the cage to take away his kicks. Strikes against the fence will lead to easier takedowns for Hernandez where he can do damage in Cerrone's guard. We all know how dangerous Cerrone's guard can be but as long as Hernandez is aware of the triangle, he should be able to get away with plenty of control time and ground and pound.
Prediction
This fight is a tough one stylistically for Cerrone in his return to lightweight. He is up against a very well-rounded young fighter who has excellent wrestling and pressure. Cerrone has kick and submissions but if he is pressed against the cage forced to fight in a phone booth and stuff takedowns, all of his weapons are taken away. In his last fight, Hernandez proved that he is more than just a one hit wonder that caught Beneil Dariush. He is part of the next generation of well-rounded MMA fighters that can do it all on the feet or on the ground. Hernandez should grind out a win in this one.
Pick: Alexander Hernandez (odds pending)
Free Ultimate Guide to MMA Betting
Free Ultimate Guide to MMA Betting
You want to win? This guide was created for you as The Bible for the MMA Sports Bettor. The most compherensive collection of strategies, tips, and techniques to consistently grow your bankroll.
Download it now!
You want to win? This guide was created for you as The Bible for the MMA Sports Bettor.
Download it now!