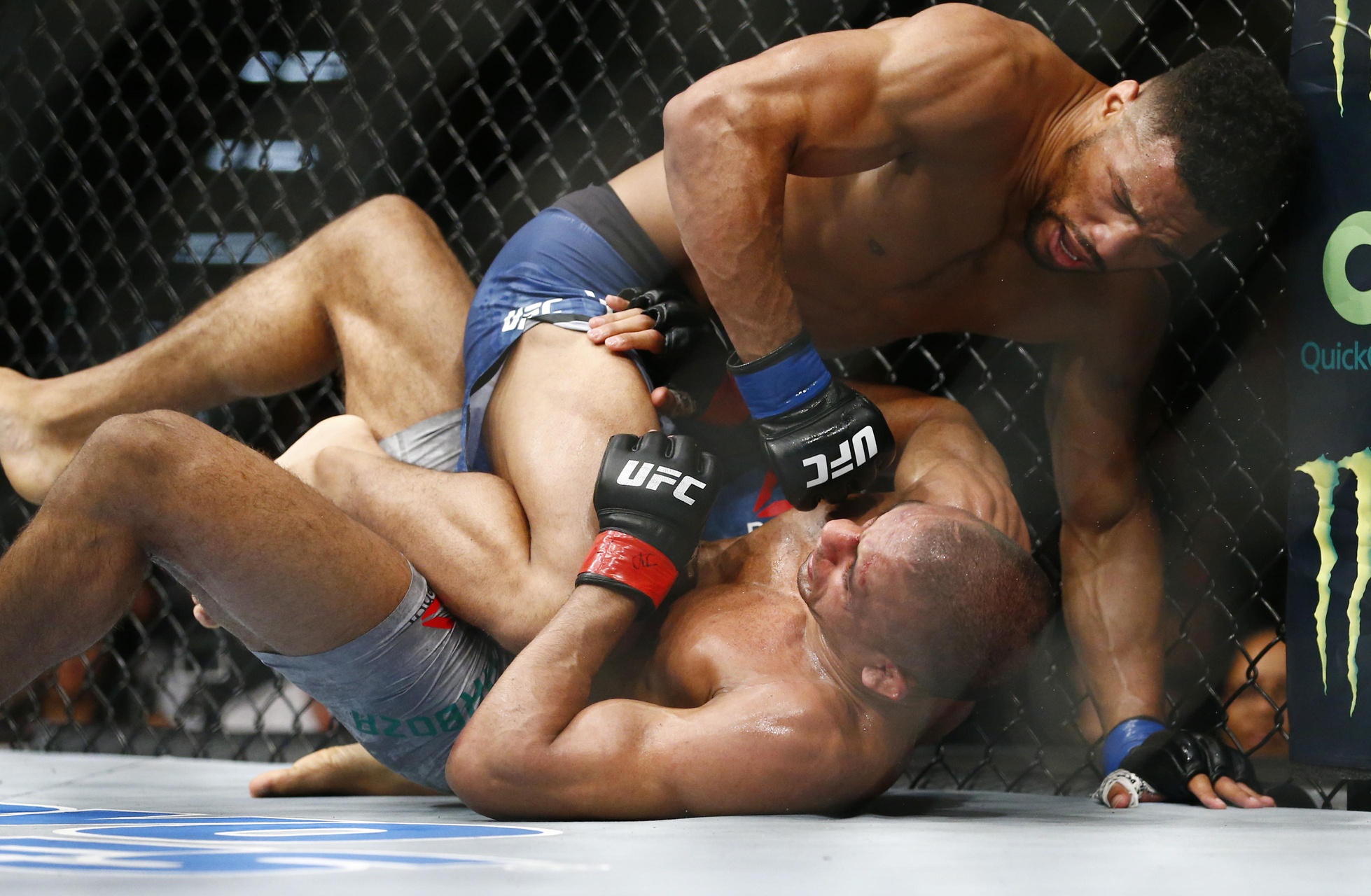 Image licensed from USA Today Sports
A lightweight rematch nearly five years in the making will take place this Saturday in Milwaukee in the main event of UFC on FOX 31. The first time Kevin Lee and Al Iaquinta met in the octagon, they were both relatively unknown but promising up and comers. Their prospect status proved to be worthy as they are both ranked in a stacked lightweight division. The first time around, Iaquinta got the better of Lee in a razor close unanimous decision. Iaquinta dominated the first round with his striking before Lee was equally as dominant with his grappling in the second. The third round was extremely close but Iaquinta pulled it out with volume striking in the last minute. This time around we get five rounds between these two now-veterans in a meaningful fight for the title picture.
Lee's path back to a belt
The last time we saw Kevin Lee, the biggest question was his ability to bounce back after an interim title shot loss to Tony Ferguson. The answer was: incredibly. Lee absolutely dominated Edson Barboza in Khabib-like fashion, forcing the doctor to stop the fight mid-way through the fifth round. He proved his ability to overcome adversity, surviving a wheel kick from Barboza that would have put most men on a highlight reel. Lee was on the wobbliest of legs that will be immortalized in meme history but still managed to take Barboza down and finish the fight.
His ability to take Barboza down while hurt in the way he was speaks volumes about Lee's wrestling. The former NCAA Division II All-American took Barboza down repeatedly and brutalized him through five rounds. We even saw Lee have success landing ground and pound on Tony Ferguson before getting trapped in that triangle. Al Iaquinta does not have the most dangerous guard in the division so Lee can feel comfortable laying in the guard of Iaquinta to do damage. If he cannot get the fight to the ground, he has shown major improvements in his striking since his UFC debut against Iaquinta at 21 years old so the fight should be relatively even in that regard.
When Lee gets the fight on the ground, no one is safe. Of his 17 professional wins, eight of them have come by submission and five of those were rear-naked chokes. In their first fight, Lee managed to take the back of Iaquinta and get under his chin but couldn't finish the job. Of course, there has been years of growth and four UFC RNC finishes for Lee since then. With five rounds to work with, the chances of Lee transitioning to the back on the ground are very high. These chances are even higher against an opponent in Iaquinta who tends to give up his back on his return to his feet.
Iaquinta's stock rises in defeat
This April in Brooklyn after a series of crazy events, Al Iaquinta ended up across the octagon from Khabib Nurmagomedov in a lightweight title fight on a day's notice. "Ragin'" Al, everybody's favorite crazy person, put forward an inspiring performance. I was in the audience for that fight and it was impossible not to be moved by the heart displayed by Iaquinta despite his being outclassed by Khabib. In this fight, we learned that he is not easy to finish and not easy to keep on the mat. There are not many people that get up from a Khabib takedown yet Iaquinta willed his way to his feet time and time again. As far as finishing Iaquinta goes; good luck. Aside from his loss to the champ, he has three submission losses. Two of those were chokes and on both occasions, Al opted to go to sleep rather than tap. If Lee wants to finish this man, he will likely have to put him out.
The Khabib fight made Al Iaquinta a bit of a spectacle and a hero simply for taking the fight. This overshadowed the body of work that he put in to get to that point. Before his loss in the title fight, Iaquinta was on a five-fight winning streak, taking out the likes of Rodrigo Damm, Ross Pearson, Joe Lauzon, Jorge Masvidal, and Diego Sanchez. Four of those five bouts ended in a KO/TKO win for the New Yorker. After those bouts, his ability to stay on his feet far more often than most against Nurmagomedov gives fans some hope that he will be able to stay on his feet against Kevin Lee.
If Al Iaquinta can keep this fight on the feet for the better part of the five rounds, he has a legitimate shot to win as a sizable underdog. In his first fight with Kevin Lee, he timed a left hand as Lee came in and dropped him, nearly finishing the fight early. With the improvements to Lee's striking, Iaquinta's striking defense will have to be more on point. Khabib repeatedly chewed him up with the jab. If he can close that cap and find Lee with those winging overhands he throws, he could get the win and break into the top five. If Iaquinta manages to drop Lee, the last thing he should do is chase him to the mat. As we saw against Barboza, Kevin Lee is a dangerous grappler regardless of how hurt he is. If "Ragin'" Al finds this kind of success with his boxing, he needs to keep calling Lee back to his feet until the ref stops it.
Prediction
Al Iaquinta's performance against Khabib Nurmagomedov was used by many as proof that Khabib is human and can be defeated. While Iaquinta certainly gave an inspiring performance, the reality is that he lost every round, including some 10-8. As we saw from both performances against Edson Barboza, Kevin Lee and Khabib have similar fighting styles. Kevin Lee has improved astronomically since the first time they fought and his dominance on the ground is a huge leg up.
The issue of Iaquinta's back is the deciding factor for me in this one. He is excellent at defending submissions but it is an issue that he ends up in so many submissions that require defending. We have already seen Lee with a very deep choke on Lee and this could happen again if he has not adjusted how he returns to his feet. Khabib was also inches away from latching onto his back on multiple occasions due to the tendency to turn his back while standing. That is the worst thing someone can do against an RNC specialist like Lee. Iaquinta's toughness does not allow him to tap but sometimes, a submission does not require a tap. Lee should get the win here. If you do not want to put money on such a large favorite, take a shot on Lee by submission.
Pick: Kevin Lee -290
Free Ultimate Guide to MMA Betting
Free Ultimate Guide to MMA Betting
You want to win? This guide was created for you as The Bible for the MMA Sports Bettor. The most compherensive collection of strategies, tips, and techniques to consistently grow your bankroll.
Download it now!
You want to win? This guide was created for you as The Bible for the MMA Sports Bettor.
Download it now!