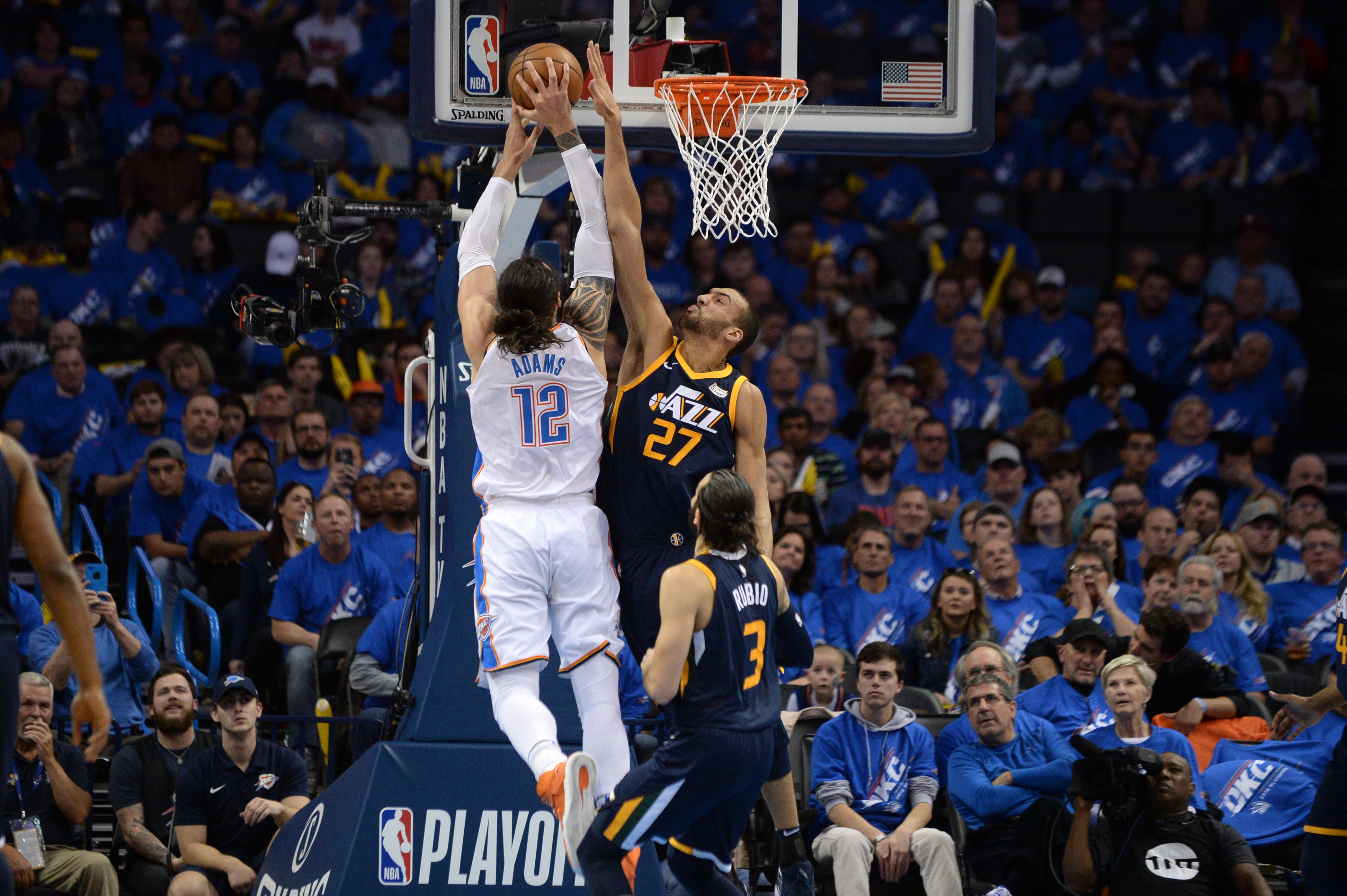 Image licensed from USA Today Sports
We're in the midst of the NBA preseason, so there's no better time to look at what to expect from the upcoming season. The draft and free agency are both behind us at this point. Teams are getting ready to figure out their rotations and prepping for the regular season, which gets underway on Tuesday, October 16. The Golden State Warriors are the two-time defending champions as they wiped out the Cavaliers in what was the fourth straight meeting between the teams in the NBA Finals. Golden State took three of those four meetings: can they continue their run of success this season or will someone else step up and knock them off their throne?
Today, we take a look at the Northwest Division. The division was the lone one in the league to have all five teams finish above .500, and four of the teams made the postseason. Denver finished 46-36 and ended up as the lone team to miss the postseason. The Nuggets were knocked out in a winner take all elimination game against Minnesota in the regular season finale for both teams. Had Denver played in the Eastern Conference, they would have been seeded sixth and made the postseason. The five teams in the division were separated by just three games last season: will history repeat itself in 2018-19? We'll take a look at the teams in order of last season's standings. Let's take a look without further ado.
Portland Trail Blazers
2017-18 Record: 49-33, 1st in Northwest Division
Playoff Status: Lost 4-0 to New Orleans in Western Conference first round
Portland won the Northwest Division title by beating Utah in their regular season finale last season. The Trail Blazers ran out of steam in the postseason as they were brushed aside by Anthony Davis and the Pelicans in the opening round. Portland wasn't overly active in free agency as their significant acquisitions were Seth Curry and Nik Stauskas. The Trail Blazers hoped to add some shooting to their bench group, but there's more needed. Portland drafted Anfernee Simons with the 24th overall pick: he was the first American to enter and be selected in a draft right after graduation from high school since the league implemented age restrictions in 2005. The Trail Blazers added Gary Trent Jr. with the 37th pick in the draft from Duke.
The Trail Blazers do have some pieces to replace in free agency as their bench group took a hit in the offseason. Portland saw Pat Connaughton sign a deal with the Bucks while Shabazz Napier and Ed Davis both went to Brooklyn. Georgios Papagiannis was waived after being picked up when Sacramento waived him back in March. Portland did re-sign Jusuf Nurkic to a healthy deal worth $48 million over four seasons. Whether the Trail Blazers can get enough frontcourt depth to help him out is something that will determine how things go for Portland this season.
The Trail Blazers finished last season 16th in the league in scoring with 105.6 points per game. The Trail Blazers were tied for 3rd in the league in rebounding as they collected 45.5 boards a night. Portland was 30th in the league in assists with 19.5 per contest. The Trail Blazers were above average defensively as they come in 5th in the league by allowing 103 points per game. Damian Lillard is leading the team in scoring for the Blazers as he rang up 26.9 points per game while dishing out 6.6 assists per contest. CJ McCollum (21.4 points) and Maurice Harkless are both veteran options for the Blazers. Al-Farouq Aminu (9.3 points, 7.6 rebounds), Jusuf Nurkic (14.3 points, nine rebounds), Meyers Leonard and Evan Turner (8.2 points, 3.1 rebounds) all contributed solidly on the offensive end for Portland's attack. Zach Collins and Caleb Swanigan have to take a step forward this season. Portland was tied for 19th in the league in field goal percentage by shooting 45.2 percent from the floor. The Trail Blazers were knocking down 10.3 three-pointers a night, which was tied for 16th in the league while ranking tied for 11th in the league by shooting 36.6 percent from downtown.
Terry Stotts is back for his seventh season coaching the Trail Blazers. He's going to have to get production from guys other than Lillard, McCollum, and Nurkic for the team to have a shot at another division crown. Despite making the postseason each of the last five years, the Trail Blazers have won just two playoff series in that span. One has to wonder if they don't have success in the playoffs there could be changes next offseason.
Oklahoma City Thunder
2017-18 Record: 48-34, 2nd in Northwest Division
Playoff Status: Lost 4-2 to Utah in Western Conference first round
Oklahoma City battled in the tight division race all season long and ended up a game behind the Trail Blazers in the Northwest Division. In the postseason, the Thunder became far too one-dimensional with Russell Westbrook trying to do everything on his own. It didn't pan out, and it led to a variety of changes. The Thunder did re-sign Paul George, Jerami Grant and Raymond Felton yet still find themselves deep in the luxury tax. Oklahoma City added Dennis Schroder, Timothy Luwawu-Cabarrot and Abdel Nader via trades while signing Nerlens Noel as a free agent. Carmelo Anthony is gone, as is Nick Collison, who is retired, and Kyle Singler, who was waived.
The Thunder was slightly above average offensively this season as they are 12th with an average of 107.9 points per game. Oklahoma City was 5th in the league in rebounding with 45.1 boards per contest. The Thunder was 28th in assists with 21.3 per game. Oklahoma City was 10th in the league in scoring defense as they allow 104.4 points a night. Russell Westbrook contributed a team-leading 25.4 points, 10.1 rebounds, 10.3 assists and 1.84 steals per game. Paul George added 21.9 points plus 5.7 boards, and 2.04 steals a contest in his first year with the team, and Steven Adams chipped in 13.9 points plus nine boards a night. Jerian Grant, Corey Brewer, Terrance Ferguson, Andre Roberson, Raymond Felton, Alex Abrines and Patrick Patterson have to make their presence known on both ends. Roberson missed the second half of the season last year after rupturing his patellar tendon on January 27th. Oklahoma City was 18th in the league in field goal percentage as the team shoots 45.3 percent from the floor. The Thunder was 15th with 10.7 made threes per game and stood tied for 23rd in three-point shooting at 35.4 percent.
Westbrook averaged a triple-double for the second consecutive season last year thanks to a big showing in the Thunder's regular-season finale against a Memphis team that was mailing it in. He underwent knee surgery last month and is expected to miss the entire preseason. He could potentially miss some regular season games as well depending on his recovery. Even when he returns, he can't play as he did against Utah in the playoffs where he acted as if the offense was a one-man show: he averaged 26.8 field goal attempts per game and shot just 39.8 percent from the field in that series. That included a 39-shot game in Game 5 and a 43-shot performance in the Game 6 eliminator.
Noel could be one of the best under the radar signings of the offseason as he can provide a rebounding presence in the second unit when Adams takes a seat. He'll also be an effective rim protector who can make life tough on opposing teams near the basket. That's something that Collison tried to provide last season, but he played just 15 games last season. The Thunder suffered when Adams was off the floor: that could change a bit this season.
Utah Jazz
2017-18 Record: 48-34, 3rd in Northwest Division
Playoff Status: Beat Oklahoma City 4-2 in Western Conference first round, lost 4-1 to Houston in Western Conference semifinals
Utah had arguably the quietest offseason around the league as they didn't chase after anyone, instead choosing to re-sign their guys to maintain consistency. The Jazz were possibly the hottest team in the league down the stretch last season. Utah was 19-28 on January 22nd after losing 104-90 on the road to the Hawks. Immediately after that loss, the Jazz reeled off 11 straight wins and had a stretch where they won 20 of 22. All told, Utah was 29-6 over their final 35 games to push from out of the playoff picture to ultimately finish fifth in the West due to tiebreakers. Rather than break up that continuity, the Jazz brought back Derrick Favors, Raul Neto, Georges Niang, and Dante Exum. The only departures were Jonas Jerebko and David Stockton, who were waived.
The Jazz finished the regular season last year 19th in the league in scoring offense with 104.1 points per game. Utah was in the lower half of the pack, ranking 20th in the league in rebounding with 43.3 boards per game. The Jazz were 21st in the league in assists with 22.4 per contest. Utah finished tied for 1st in the league in scoring defense as they allow 99.8 points per game. Ricky Rubio was a solid floor general in his first season with the Jazz with 13.1 points plus 5.3 assists and 1.57 steals per game on the year. Joe Ingles (11.5 points) and Rudy Gobert (13.5 points, 10.7 rebounds, 2.3 blocks) are solid options. Gobert missed 11 games with a tibia contusion and returned January 19 against the Knicks after missing 15 games with a PCL sprain. Derrick Favors (12.3 points, 7.2 rebounds), Dante Exum and Jae Crowder are other vital pieces for the Jazz. Alec Burks, Royce O'Neale, Donovan Mitchell (team-high 20.5 points) and Ekpe Udoh are contributors for coach Quin Snyder. Utah was 13th in the league as they shoot 46.2 percent from the floor. The Jazz were tied for 13th in the league in threes per game as they knocked down 10.8 triples a night. Utah was tied for 11th in the league in three-point shooting as they knock down 36.6 percent from beyond the arc.
Snyder has his entire roster from last season back except for Jerebko, who was a fringe role player at best. The Jazz will benefit from the athleticism that Grayson Allen brings to the table while Jairus Lyles and Naz Mitrou-Long add some depth in the backcourt. If Gobert continues to evolve on the offensive end and stays healthy this season, the Jazz could take the division title and potentially be a thorn in the side of the Rockets and Warriors come postseason time. You know the Jazz can play defense, the question is, can they generate enough offense to be a viable contender?
Minnesota Timberwolves
2017-18 Record: 47-35, 4th in Northwest Division
Playoff Status: Lost 4-1 to Houston in Western Conference first round
Minnesota snapped the league's longest postseason drought last season. Even though their postseason trip was short-lived as they went down to Houston in five games, the fact remains that the Timberwolves were a team on the rise last season. Whether that arc still is on the upswing or not will depend a lot about what happens with Jimmy Butler. He has approached the team about a trade, but the team hasn't received an offer that meets their standards. The report is that the team wants to deal Gorgui Dieng and his oversized contract as part of any deal. Minnesota's lone changes to date were the retirement of Cole Aldrich and Nemanja Bjelica signing with the Kings. The Timberwolves signed Anthony Tolliver, Luol Deng, and James Nunnally as free agents. Tolliver is the biggest piece as he'll provide a perimeter threat on the bench unit.
The Timberwolves finished last season 8th in scoring with 109.5 points a game. Minnesota was 24th in rebounding with 42 boards a night and 18th in assists by dishing out 22.7 dimes per contest. The Timberwolves were 17th in scoring defense as they allow 107.3 points per game. Andrew Wiggins was third on Minnesota with 17.7 points plus 4.4 boards a game. Karl-Anthony Towns averaged 21.3 points plus 12.3 rebounds, Jamal Crawford adds 10.3 points a night, Jimmy Butler kicked in a team-leading 22.2 points and 5.3 rebounds while Jeff Teague added 14.2 points plus seven assists a contest: he missed seven games with a sprained MCL. Minnesota has to get production from Gorgui Dieng, Derrick Rose, Taj Gibson (12.2 points, 7.1 rebounds), Tyus Jones and Tolliver as their bench group. Butler missed six weeks with a torn meniscus in his knee down the stretch last season. The Timberwolves were tied for 4th in the league in field goal percentage as the team shot 47.6 percent from the floor. Minnesota was 30th in the league in threes with eight per game and was 19th in the league in three-point shooting as they hit 35.7 percent of their attempts from downtown.
Minnesota is going to have to decide how to handle the Butler situation. He's due to become a free agent after this season, and it seems the chances of him sticking around after the deal is over are slim to none. He's said his primary targets are the Knicks, Clippers, and Lakers but it's unclear if any of those teams have the necessary pieces to try and swing a deal for Butler. The Clippers have been engaged in trade talks but they don't want to let go of Tobias Harris, who is a piece that Minnesota would want to center their return around. How things play out, both with Butler and this season overall, could go a long way to determining whether Tom Thibodeau returns next year or not.
Denver Nuggets
2017-18 Record: 46-36, 4th in Northwest Division
Playoff Status: Did Not Qualify
Denver was the lone team in the division not to make the playoffs but they still finished 10 games above .500 on the season. The Nuggets lost what boiled down to an eliminator game with Minnesota in overtime in Game 82 of the season. Denver jettisoned some rotation pieces in the offseason as Kenneth Faried, Wilson Chandler and Darrell Arthur were all traded while Devin Harris signed with Dallas in free agency. The Nuggets re-signed Will Barton, Torrey Craig, Nikola Jokic and Monte Morris while getting Isaiah Thomas as a free agent. In addition, Denver drafted Michael Porter Jr. 14th overall along with Thomas Welsh at 58th overall to provide another big man.
The Nuggets were 6th in the league in scoring offense with an average of 110 points per game. Denver was currently 7th in the league in rebounding with 44.5 rebounds per contest. The Nuggets were 5th in the league by dishing out 25.2 assists per game. Denver was 22nd in scoring defense as they allow 108.5 points per contest. Paul Millsap put up 14.6 points plus 6.4 rebounds a game in his first season with Denver. He missed 44 games after having wrist surgery to repair a tendon. Will Barton contributed 15.7 points a night while Nikola Jokic kicked in 18.5 points, 10.7 rebounds and 6.1 assists a game. Gary Harris (17.5 points) and Jamal Murray (16.7 points) each were solid contributors offensively as well. Mason Plumlee and Trey Lyles (9.9 points) have to step up when called upon. The Nuggets were 10th in the league in field goal percentage by shooting 47 percent from the field. Denver was tied for 6th in the league by sinking 11.5 threes per game and was 7th in the league in three-point shooting by sinking 37.1 percent from beyond the arc.
Moving Faried and Chandler in separate deals helped create much-needed cap space for the Nuggets. It also helped them retain the dynamic scoring wing Barton, who may well have left via free agency otherwise. If Porter Jr. can stay healthy and avoid future back surgeries, he'll be a viable piece for years to come. The addition of Thomas takes pressure off the Harris/Murray backcourt as he can score and distribute with the second unit. The biggest thing for Denver is health: Harris missed 15 games last season: 11 of those came in the final month of the season. Millsap missed nearly three months after his wrist surgery. If Denver can avoid major injuries, they'll be a tough opponent again in the division. The big question is this: in the crowded Western Conference picture, will it be enough to secure a playoff spot? That will have to wait to be determined.
Outlook
When four of the teams made the playoffs last season and all five finished double-digit games above the .500 mark, that's something to be proud of. These teams beat up on each other in the regular season: they were 198-132 in non-division games last season. Out of the teams in the division, Utah is likely the best bet to win the division. They have the same rotation for the most part from a season ago and they were one of the hottest teams in the league over the last couple months of the season. Given another year of experience, you have to lean toward the Jazz for the division crown.
As for the rest of the division, Oklahoma City seems poised to make the postseason. Despite being in luxury tax hell, the Thunder did bring in another point guard in Schroder to help ease the pressure on Westbrook. George re-signed during the offseason, as did Grant, and they'll have Roberson hopefully back for the full season as a lockdown defender. Portland has to find some secondary pieces to help their dynamic backcourt of Lillard and McCollum along with Nurkic. The Trail Blazers saw their frontcourt group thinned out in the offseason and young guys like Collins and Swanigan are going to have to step up to replace the departed pieces.
Denver is going to be battling with Portland for a playoff spot. The Nuggets did a good job clearing some cap space by moving the bloated Faried and Chandler deals. Bringing in Thomas is a nice boost for the bench group and his experience should only benefit Harris and Murray in the backcourt. As for Minnesota, they have the talent to work with right now but their big problem is what happens with Butler. The longer he's on the team with his trade demands and the acrimony that comes with not wanting to play for the team long-term, the tougher things will be for Minnesota. Should the team struggle, Thibodeau could well lose his job as well. With the Lakers adding James and the Clippers trying to be aggressive to add pieces to their rotation, it's going to be an uphill climb for the division to end up with more than three teams in the playoffs this season more than likely.
What's your take on how things shake out in the Northwest Division this season?