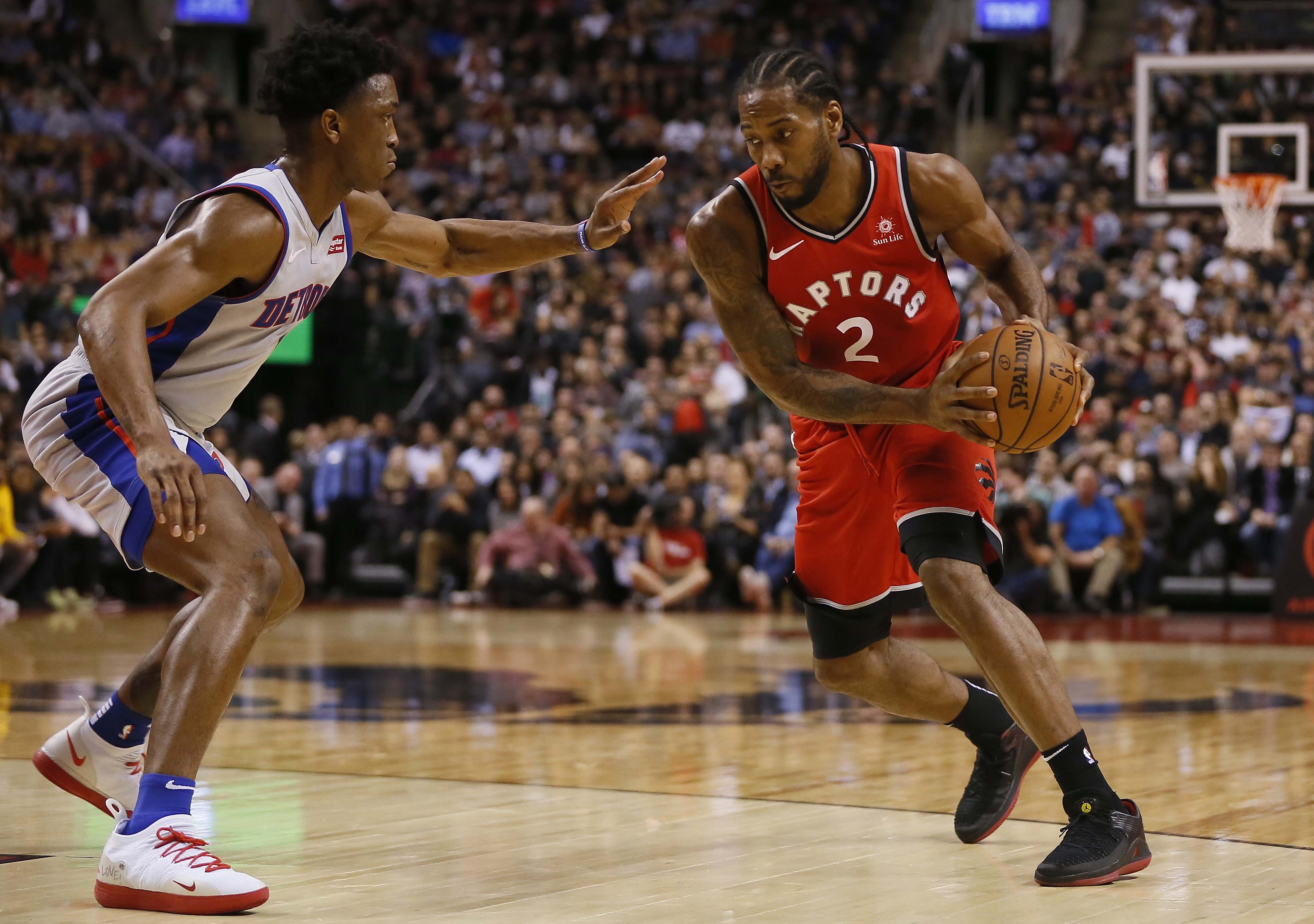 Image licensed from USA Today Sports
We are entering the 5th week of the NBA season and, while it's early, it might be safe to make a few bold statements. There are a handful of really good teams, a lot of mediocre ones, and a few teams that don't even merit wasting valuable cyberspace on. Let's have a look at this week's NBA power rankings.
Toronto Raptors (12-2)
Toronto is coming off a home loss to the Pelicans in which they had their four-game ATS streak broken. Still, they have racked up 12 wins against a pair of losses and have been quite profitable ATS over the past two weeks. They play Detroit at home before embarking on a four-game road trip which should produce more wins.
Golden State Warriors (11-2)
Golden State bounced back from their home loss to the Bucks with their ninth win in their last ten games. They have been a covering machine going 8-2 ATS in their last ten but they are dealing with a couple of key injuries. They have some very winnable games this week even if they are a little hobbled.
Portland Trailblazers (10-3)
The Trailblazers have been on fire winning seven of their last eight games both SU and ATS. They currently have the league's longest current winning streak which sits at four games and their 9.6 scoring differential is one of the best in the league. Portland will face some tough competition this week but they will be playing in front of their home crowd.
Milwaukee Bucks (10-3)
Milwaukee started the season like a bat out of hell but they stumbled a bit last week and are just 3-3 in their last six games. Still, they own the best point differential in the league, they're healthy and have the luxury of playing their next six games at home including meetings with Denver and Portland.
Denver Nuggets (9-4)
Denver is another squad that started very strong but they really laid an egg last week with three straight losses. They play at home against Houston and then Atlanta before hitting the road for three games. A couple of losses this week would surely hurt their cause and negate their hot start.
Oklahoma City Thunder (8-5)
The Thunder started very slowly but have gone 8-1 SU and 7-2 ATS in their last nine games which puts them in the thick of things in the Northwest Division. Some people may point to the fact that they have been playing bad opponents but that doesn't take away from their success especially when it comes to covering spreads.
Indiana Pacers (8-6)
Losing three of their last four games both SU and ATS has prevented them from catching up with the Bucks who also had a bad week. Miami and Atlanta might just be what they need to get some momentum going before they host Utah later this week.
Philadelphia 76ers (9-6)
With seven wins in their last ten games, the Sixers suddenly have on of the league's better records. However, things aren't as good as they may appear as they have a negative point differential and they have been awful on the road where they will play two of their three games this week.
Los Angeles Clippers (7-5)
The Clippers have definitely improved their position over the past four games in which they are 3-1 SU and ATS but they have struggled on the road so far and that's where they are headed later in the week. Shai Gilgeous-Alexander has done an admirable job filling in for the injured Avery Bradley.
10.Boston Celtics (7-6)
It would be easy to make up a few excuses for the Celtics recent cold snap during which they have a single win to show for their last five games. However, that would be pointless. The Celtics absolutely need to turn it around at home against Chicago and then against Toronto and Utah before they hit the road.
San Antonio Spurs (7-4)
San Antonio got back on track with a win over the Rockets after a couple embarrassing losses to Miami and Orlando. We will see how they fare on the road in the next week as they face some pretty tough competition in the Clippers and Pelicans. Let's not forget about their home game against Golden State. It could be a tough week.
Memphis Grizzlies (7-5)
Memphis has struggled to find consistency this year but they are still winning more games than they are losing. They will need to rise to the challenges that are heading their way this week especially with the number of injuries that they are dealing with. They are still one of the worst rebounding teams in the league.
Charlotte Hornets (7-6)
Charlotte is benefiting from playing in a weak division but their 9-4 ATS record and 7.3 point differential shows that they are doing something right. They should be able to come out of Cleveland with a win this week but they will then face three good teams at home. Enjoy the trip to Cleveland fellas!!
Utah Jazz (7-6)
If anything, the Utah Jazz have been streaky. They have gone above. .500 by winning their last three straight against some pretty tough competition. Now they will head out on the road where they have been quite good so far. Unfortunately, they will be in deep versus Philly, Boston, and Indiana.
New Orleans Pelicans (7-6)
The Pelicans have put together a three-game winning streak after a horrific six-game skid which completely erased their strong start. Wins against Chicago and Phoenix might not be anything special but they can be pretty happy about their decisive win in Toronto. They have a busy week ahead in which they play in Minnesota before returning home for three games.
Los Angeles Lakers (7-6)
The Lakers got off to a slow start to the year but they now have a winning record thanks to winning five of their last six games. They aren't winning by many points but they are doing enough nonetheless. If they can get the home win versus the red-hot Blazers then they are in a great position to reel off even more wins in the coming week.
Sacramento Kings (7-6)
The Kings put a five-win streak together a couple of weeks ago but they have struggled ever since with a pair of wins in their last five games. Despite the slide, they have been treating their spread backers quite well recently.  Sacramento has a really tough schedule over the next two weeks with stops in Memphis, Houston, Utah, and Golden State with a home game versus Oklahoma City sandwiched in there.
Houston Rockets (5-7)
Houston is still nowhere near where many expected them to be this season although they have won four of their last six games after a brutal start. They are still struggling offensively but their defense has slowly tightened up. A visit to Denver followed by home games versus Golden State and Sacramento makes for a tough week.
Detroit Pistons (6-6)
After dropping five straight, the Pistons have won two of their last three games. While that might look impressive, we must keep in mind that those wins came against Atlanta and Orlando. The ended the week with a home loss to the Hornets. They face Toronto next before hosting Cleveland and then playing a home-at-home set with the Rockets.
Brooklyn Nets (6-8)
Brooklyn had a nice three-game winning streak snapped by the Warriors. Their next game against Minnesota was a good opportunity to get back in the win column but they couldn't get it done. Still, they are 4-3 in their last seven games and they have the Wizards, Clipper, Heat, and Mavericks coming up. Can these guys get to .500?
Orlando Magic (6-8)
The Orlando Magic are a pretty bad team but they have actually won four of their last six games. Of course, those wins came against the likes of New York, Washington, and Cleveland so don't get too excited. Still, as far as bad teams go, Orlando is one of the better ones. Let's see how they do against Philly and the Lakers this week.
Washington Wizards (4-9)
Wow. With two straight wins and three wins in their last five, Washington is playing pretty well considering that they are Washington. It's too bad they started the year at 2-9. Still, a two-game winning streak barely ranks them a cut above the Miami Heat and Minnesota Timberwolves. They will play their next four games at home against Cleveland, Brooklyn, Portland, and the Clippers.
Miami Heat (5-8)
Miami looked like they might be breaking out of their funk with their wins against Detroit and San Antonio but they have since lost three straight both SU and ATS. They've been scoring a fair number of points but the problem is that opponents are scoring more. They will head into Brooklyn and Indiana before heading home to face the Lakers and the Nets.
Dallas Mavericks (5-8)
Don't look now but the Dallas Mavericks have won three of their last four games!! They might have been against Chicago, Washington, and Oklahoma City but wins are wins. If they could stop teams from piling up points against them they might find more success but don't expect that to happen this week against the Jazz, Warriors, and Grizzlies.
Minnesota Timberwolves (5-9)
The Timberwolves got a win over the Nets in their last game to stop a five-game slide. Granted, the schedule hasn't been all that friendly to Minnesota over the past two weeks and they have been dealing with a few injuries. Still, Minnesota gives up a ton of points and they are still looking for their first road win of the year. The good news is that their next four games are at home. The bad news is that they are against the Pelicans, Blazers, Grizzlies, and Nuggets.
Chicago Bulls (4-10)
Chicago was a little better this past week winning two of their last four games but the bottom line is that these guys stink. That is unless you've been betting them ATS recently in which case they are awesome. Trips to Boston and Milwaukee will be capped off with a home game versus the Raptors. Yikes!!
New York Knicks (4-10)
One win in their last five games. 2-5 both at home and on the road and losing to terrible teams. Yep. That's the Knicks. Visits to Oklahoma City, New Orleans, and then Orlando will be tough as is the fact that seven of their next nine games are on the road.
Atlanta Hawks (3-10)
One win in their last nine games? An average of 118.3 points against per game? Just 1-6 on the road? Good luck in your trips to Golden State, Denver, and Indiana this week. At least the Atlanta Hawks can look forward to December 29thwhen they host the Cavaliers.
Phoenix Suns (2-11)
They may have started 1-0 but the Suns have now dropped 11 of their last 12 games including their last four straight. The -13.2 point differential is the worst in the league by a long shot and it's not like they can blame their poor play on injuries or anything else other than simply being terrible. The fact that these guys aren't ranked at the bottom just goes to show how truly bad the worst team is.
Cleveland Cavaliers (1-11)
With five straight losses and just a single win all year, the Cleveland Cavaliers are playing even worse than the dumpster fires that are the Atlanta Hawks and Phoenix Suns. Even if they didn't have so many injuries, this team would be bad. They possess the rare blend of being one of the lowest-scoring teams with being one of the worst defensive teams.