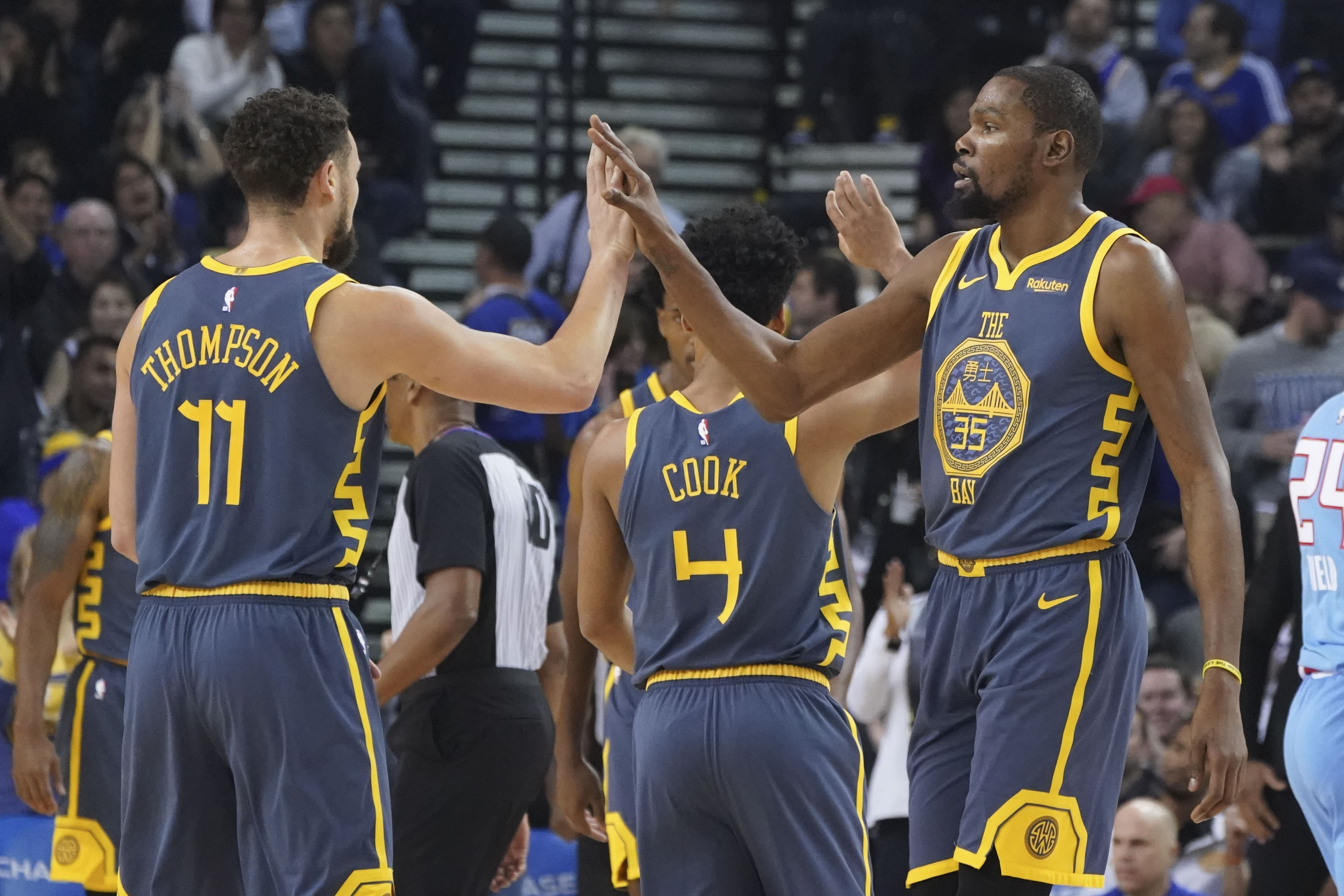 Image licensed from USA Today Sports
Most teams have reached the quarter mark of the NBA season. Some teams are doing what was expected of them entering the season while other teams are hard to get a good read on. Still, the season is quite young and a lot can happen between now and the playoffs. Let's take a look at the power rankings as we head into the seventh week of the NBA schedule.
Toronto Raptors (17-4)
The Raptors have won their last five straight and they remain at the top of the power rankings. Some will say that they have been playing inferior opponents lately, they are still winning and they have covered two of their last three games. This week's games against Memphis and Golden State will be challenging.
Los Angeles Clippers (13-6)
The Clippers have taken a big leap in the power rankings on the heels of a stretch in which they have gone 7-1 SU and 6-2 ATS. They have won their last two games beating Portland and Memphis and they should be able to extend their winning streak against Phoenix before a four-game road trip that starts in Sacramento.
Milwaukee Bucks (14-6)
Milwaukee owns the league's best point differential at +11.8 thanks to having the highest-scoring offense in the NBA along with a pretty solid defense. They drop to the number three spot in the power rankings due to losing two of their last three games and going 0-3 ATS in that span.
Golden State Warriors (12-6)
The Warriors got back on track last week with three straight wins. Still, this organization seems to be dealing with some internal adversity and are still failing to cover spreads which could indicate that they aren't playing up to expectations.
Denver Nuggets (13-7)
The Nuggets take a leap in the power rankings after winning and covering their last three in a row including their recent victory over the Thunder. They have been pretty steady on offense and defense and they have a winning road record which is good as they set out on a long road trip after they host the Lakers.
Oklahoma City Thunder (12-7)
The Thunder continue to climb the ranks after winning two of their last three and 12 of their last 15. Their point differential of +5.4 ranks higher than other teams with similar records and they are almost as good on the road as they are at home. Expect them to continue playing a hot hand as they face some weak competition over the next couple of weeks.
Philadelphia 76ers (14-8)
Philadelphia seems to have gotten their act together and have now won five of their last six games. A loss to Cleveland and a narrow victory over Brooklyn shows that they still have a bit of work to do. They face the Knicks next before facing bigger tests against Washington and Memphis.
Memphis Grizzlies (12-7)
After winning and covering in five straight games, the Grizzlies have stumbled in their last two games including their latest loss to the Knicks. They will have their hands full against Toronto before a short road trip takes them to Brooklyn and Philadelphia.
Indiana Pacers (12-8)
 Indiana has dropped a couple of spots after losses to Charlotte and San Antonio but they saved some face in their last game in which they pounded Utah. They are on the road and will face the Suns, Lakers, and Kings.
Los Angeles Lakers
 The Lakers just had a three-game winning streak snapped by the Magic but they have won seven of their last nine games and continue to be as effective on the road as they are at home. They visit the Nuggets next before returning home to face Indiana, Dallas, and Phoenix.
Portland Trailblazers (12-8)
Portland ranked a lot higher last week but blowout losses to Milwaukee and Golden State along with their most recent loss to the Clippers make us question if they are as good as their record indicates. This week's games against Orlando, Denver, and San Antonio will give us a little more insight.
Detroit Pistons (10-7)
The Pistons are entering the new week on a two-game winning streak. They have won four of their last five and have covered in five straight games. Their offense has been scoring a lot of points but their defense remains suspect. Upcoming games against New York and Chicago will be a good warm-up for the tough schedule they face after that.
Dallas Mavericks (10-10)
Dallas has recovered nicely from a poor start by winning seven of their last nine games. They are also covering at a very good clip which indicates that they are playing above expectations. In the last few games, the Mavs have downed Boston and Golden State but it will be interesting to see how they handle a tough upcoming schedule. The absolutely need to pick it up on the road.
Boston Celtics (11-10)
The Celtics are still one of the more inconsistent teams in the league but they have won two of their last three and are barely above .500. Upcoming games against Cleveland and Minnesota are a good chance to show that they can string a few wins together before they take a four-day break.
Charlotte Hornets (10-10)
A loss to the Thunder was forgivable but losing to the Hawks was troubling. It's a good thing that they were able to bounce back with a win over Milwaukee. They are barely hanging onto first place in a weak Southwest Division but Orlando and even Washington are on their heels.
Minnesota Timberwolves (10-11)
Minnesota's record might be a little worse than some of the teams listed lower on the power ranking but they have won and covered their last three straight. Their next four games will be a lot tougher than their last three but they can notch a couple of wins if they continue playing like they have been.
San Antonio Spurs (10-10)
The Spurs struggled a couple of weeks ago but they have bounced back with wins and covers in two of their last three outings. They have a challenging schedule over the next couple of weeks so we will see how they stack up against superior opponents. They could definitely use a few more road wins.
Sacramento Kings (10-10)
After hanging in with but ultimately losing Golden State, the Kings went on to get blown out by Utah to mark their second straight loss. Teams continue to pile on the points against the Kings and their own scoring ability falls just a little short.
Orlando Magic (10-11)
The Magic have lost three of their last four but it is important to put those losses into perspective. A two-point loss to Toronto and a six-point loss to the Lakers aren't anything to be particularly ashamed about. The blowout loss to the Nuggets is another thing but that evens out with their win over the Lakers.  The Magic have covered six of their last seven games and are just a half game back of Charlotte for first place in the Southeast Division.
New Orleans Pelicans (10-11)
It was looking like the Pelicans might have been turning things around two weeks ago but four straight losses have sent them tumbling down the power rankings. They have the ability to score a lot of points but that is offset by the fact that they are giving up more. They face the rising Wizards next before paying visits to Miami and Charlotte.
Houston Rockets (9-10)
The Rockets are another team that looked like they were about to go on a nice run after winning five in a row but they have dropped their last three and those losses came at the hands of Washington, Cleveland, and Detroit. Losing to Detroit is one thing but Washington and Cleveland?
Washington Wizards (8-12)
Just when many were giving this team up for goners, they reel off three wins and three covers in four games including their last two in a row. They are just a pair of games out of first place in the Southeast division and they have some winnable games coming up.
New York Knicks (7-14)
The Knicks have a worse record than a few of the teams that are ranked below them in the power rankings but they have won three games in a row and those wins came against superior teams. They have also covered five of their last six games. The next week should be interesting.
Utah Jazz (9-12)
It's not so much that Utah is decidedly better than the lower-ranked teams on this list but they have the better record and their -1.9 point differential isn't abysmal. They have lost two of their last three games and are about to hit the road for three games. Can you believe that the Jazz have a winning road record?
Miami Heat (7-12)
Miami has lost four of their last five and seven of their last nine but at least they got a win last week. Their point differential isn't all that bad but it is the wins and losses that count.
Brooklyn Nets (8-13)
Brooklyn came within striking distance of playing .500 ball but three straight losses have dashed those hopes for the time being. Granted, they didn't get blown out but they still failed to get the wins.
Cleveland Cavaliers (4-15)
They marched into Philadelphia and came out with a win and then followed that up with a victory over the Rockets. No, the Cavaliers aren't going anywhere but at least they gave their fans a little something to cheer about.
Phoenix Suns (4-15)
The Suns have lost four of their last five games but they surprised a lot of people with a shocking victory over the Bucks. Hooray! They still stink!
Chicago Bulls (5-16)
With three straight losses and just three wins in their last 15 games. It's amazing that the Bulls aren't at the very bottom of the power rankings. Alas, there is a team that has been even worse.
Atlanta Hawks (4-16)
A one-point victory over the reeling Hornets gave Atlanta their first wins in their last eleven games. Not surprisingly, the Hawks have the worst point differential in the league. Atlanta fans better savor their recent win because another one could be a long way off.