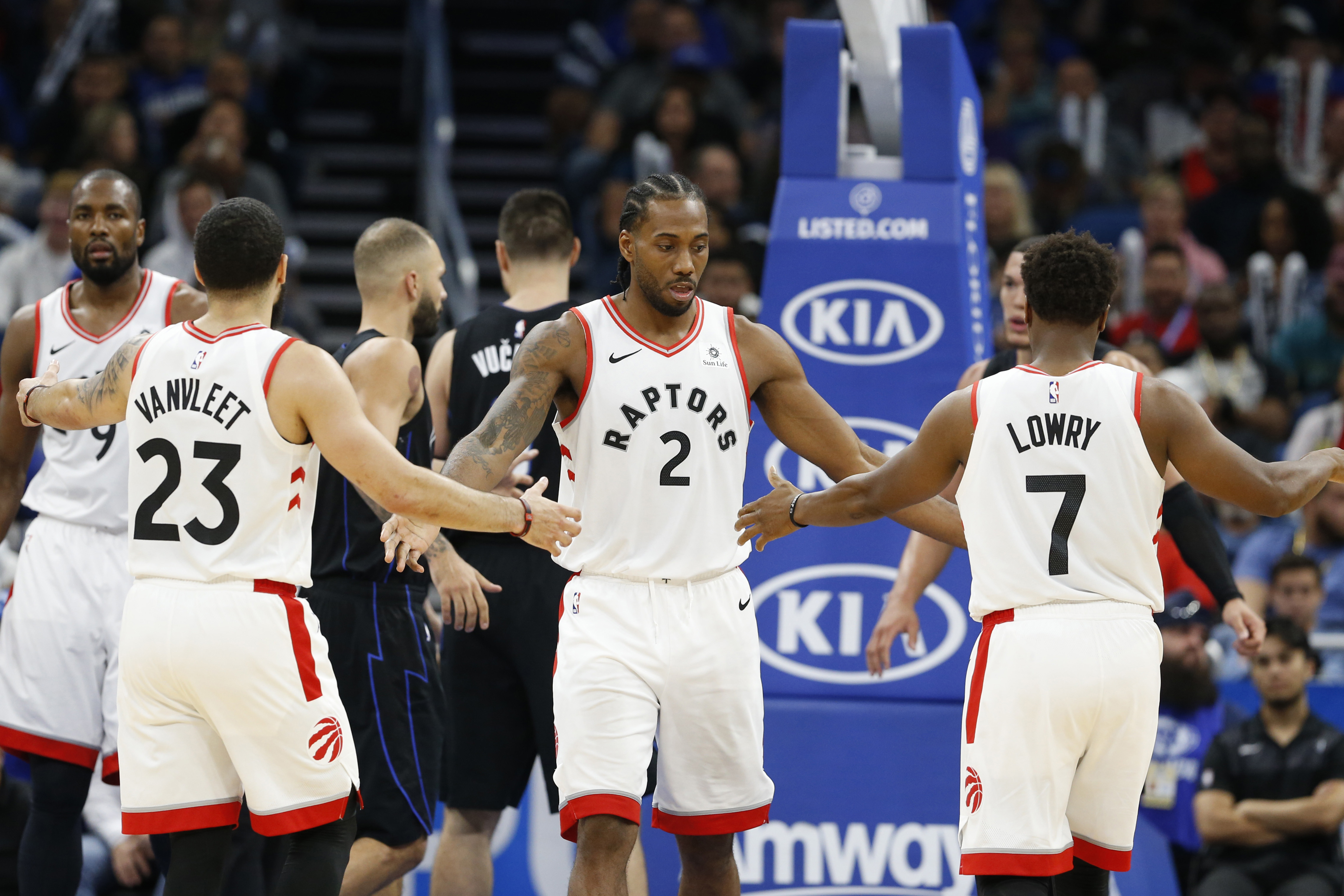 Image licensed from USA Today Sports
The NBA rolls into December with plenty of surprises and unexpected twists. The Denver Nuggets, Milwaukee Bucks, and Philadelphia Sixers are raising a few eyebrows for the right reasons while Phoenix, Chicago, and Atlanta are doing so for all the wrong reasons. Let's take a look at this week's NBA power rankings.
Toronto Raptors (20-5)
The Raptors had their eight-game winning streak broken by the surging Denver Nuggets but they are currently still the best team in the league. They are about to embark on a stretch against some good competition starting with Philadelphia, Milwaukee, the Clippers, and the Warriors.
Los Angeles Clippers (16-7)
The Los Angeles Clippers lead the competitive Pacific Division and have won and covered in five of their last six games. Their 11-4 ATS record over the past 15 games has put a nice chunk of change into the pockets of their backers. They have some winnable games on tap this week against Memphis, Miami, and Phoenix.
Denver Nuggets (16-7)
 The Nuggets are on a roll with six straight wins and covers heading into the next week. Toronto, the Lakers, and Oklahoma City are a few of their latest victims and an up road trip featuring Orlando, Charlotte, and Atlanta gives them a chance to extend their winning streak and creating a bit of a cushion atop the Northwest Division.
Oklahoma City Thunder (15-7)
 The Thunder moves up in the power ranking on the heels of three straight wins and eight wins in their last ten games. They have one of the best point differentials in the league and they will be playing a pretty soft schedule this week. 
Milwaukee Bucks (15-7)
Milwaukee had a chance to pick up a pair of easy wins last week but they stumbled against the New York Knicks and have now lost three of their last five games. Upcoming matches against Detroit, Golden State, and Toronto opens up the possibility that they drop even further in the power rankings.
Philadelphia 76ers (17-8)
 The Sixers seem to have finally hit their stride having strung together four wins and winning eight of their last ten games. They have benefited from an easy schedule in the past week and they will need to elevate their game, even more, this week against the Raptors before a home-at-home with the Pistons. 
Golden State Warriors (12-6)
The Warriors were all smiles as they cruised to victory in their last game but, come on, it was against the Atlanta Hawks. They have still lost two of their last three games and they are struggling to find consistency. It will be interesting to see if they are all smiled in their upcoming games against Cleveland, Milwaukee, and Minnesota before they take on Toronto.
Los Angeles Lakers (14-9)
The Lakers move up a couple of spots after putting together a three-game winning streak. Sure, their win over Phoenix is nothing to write home about but victories over Dallas and Indiana are deserving of a mention. A home-at-home with San Antonio precedes a meeting with Memphis. 
Detroit Pistons (13-8)
 Thanks to a relatively favorable schedule and plenty of home games over the past couple of weeks, the Detroit Pistons have won five of their last six games and have seven covers in their last nine. Things will be a little tougher for them this week as they face the Bucks, Pelicans, and Philly twice.
10. Memphis Grizzlies (13-9)
Memphis appears to be in somewhat of a tailspin with four losses both SU and ATS in their last five games. They are still leading the Southwest Division but that lead could evaporate with a tough week ahead of them.
Boston Celtics (13-10)
 After facing their share of struggles, the Celtics have put together a modest three-game winning streak which brings them up in the power rankings. They have now won and covered four of their last five games and have a bunch of soft opponents waiting for them over the next couple of weeks.
Indiana Pacers (13-10)
 Indiana has dropped in the NBA power rankings for a second consecutive week after losing to the Lakers and Sacramento. They have now lost four of their last six but they have a golden opportunity to turn things around this week against Chicago, Orlando, Sacramento, and Washington. 
Dallas Mavericks (11-10)
 Dallas is on the upswing after a shaky start to the season. They have won eight of their last ten and they have been covering spreads at a very profitable rate. Their biggest problem is an inability to win on the road but, fortunately for them, they play four of their next five games at home. Memphis is within striking distance.
Portland Trailblazers (13-10)
Portland has been plummeting in the power rankings over the last two weeks and they continue that trend after they dropped two of their last three games. They have just one win in their last six games and have failed to cover in seven straight. They start this next stretch with a visit to Dallas before returning home for a couple of winnable games. 
Minnesota Timberwolves (12-12)
Minnesota is heating up with five wins and covers in their last six games which brings them to .500. Their next game will be at home against a struggling Hornets team and then they will play seven of their next eight on the road where they have been terrible. 
Orlando Magic (11-12)
 Orlando moved into a tie with Charlotte in a weak Southwest Division. They are by no means racking up the wins but spread bettors who have backed the Magic have cashed in their tickets in 10 of their last 12 games. A tough schedule awaits them this week. 
Sacramento Kings (11-11)
 Sacramento has faced some stiff competition over the past several days which goes a long way in explaining them going 1-3 SU in their last four. Their win over the Pacers should give them a bit of a boost as they look forward to some soft opposition in the next week or so. 
Charlotte Hornets (11-12)
With two straight losses and a 2-4 record over their last six games, the Hornets have managed to slip below .500 and they have every other team besides Atlanta breathing down their neck for the division lead. They are going to have to battle hard this week to notch any wins.
Houston Rockets (11-12)
 What a disappointment these guys have been so far. They follow up a five-game winning streak with a four-game losing streak but they have bounced back to win two of their last three games. They are going to face some challenging competition over the next several days but they have the ability to get some wins. 
New Orleans Pelicans (12-13)
Many could argue that the Pelicans should be further down this list but they have at least won two of their last four games. One of the things that places them here in the NBA power rankings above other struggling teams is the fact that they have a +1.4 point differential while the teams that make up the rest of the list all have negative point differentials. 
San Antonio Spurs (11-12)
San Antonio had a chance to get something going last week but a pair of blowout losses really put a damper on things. Still, they aren't completely out of it yet and have plenty of time to turn things around. Are they up to the challenge of a home-at-home series against the Lakers? Probably not.
Utah Jazz (11-13)
 Utah moves up a spot or two in the NBA power rankings after notching a pair of wins in their last three games. A loss to Miami prevented them from matching a season-high three-game winning streak but they have a shot at getting back on track this week with games against San Antonio, and Houston.
Washington Wizards (10-14)
Washington might be a pretty bad team but they are a pretty bad team that has won two straight and four of their last six. They have a good shot at improving their record with upcoming games against Atlanta and Cleveland before they pay a visit to Indiana.
Miami Heat (9-13)
 There are a couple of other lower-ranked teams that could easily fill this spot but Miami gets it after winning two of their last three games. They have played .500 over their last six games and have gone 4-2 ATS during that stretch. They will probably find themselves further down the rankings next week as they are about to head out on a tough road trip.
New York Knicks (8-17)
The Knicks got on a bit of a roll a couple of weeks back with a three-game winning streak but they have gone on to lose three of their last four games. They have a couple of winnable games on the horizon but they also have some far superior teams to contend with.
Brooklyn Nets (8-17)
Seven games and counting. With upcoming matches against Oklahoma City and Toronto, it looks like they will need to come up big against the Knicks later in the week if they want to stop that losing streak from reaching 10.
Cleveland Cavaliers (5-18)
A game against the spiraling Nets was exactly what the Cavaliers need to stop their four-game skid. Even so, they didn't exactly win it in convincing fashion. This team is terrible but they are slightly better than the remaining teams on this list. Well, at least for this week.
Atlanta Hawks (5-19)
The fact that the Hawks have moved from the basement to the 28th spot in the NBA power rankings is more of a testament to how bad the Bulls and Suns have been playing lately. Atlanta has lost three straight games and they remain as one of the most consistent fades in the league.
Chicago Bulls (5-19)
Yikes! Seven losses in a row and just a single victory in their last dozen games? Things haven't looked so bleak for Bulls fans in a long time. Actually, have they ever been this bad? It's a good thing that the Suns are still kicking around for the Bulls to look down on.
Phoenix Suns (4-19)
The Phoenix Suns are now the proud owners of the worst record in the league and are more than deserving of the last entry on this list. They have lost five straight and 17 of their last 20. They really struggle to put up points last week and a quick glance at their upcoming schedule indicates that their next win could be a long way away.