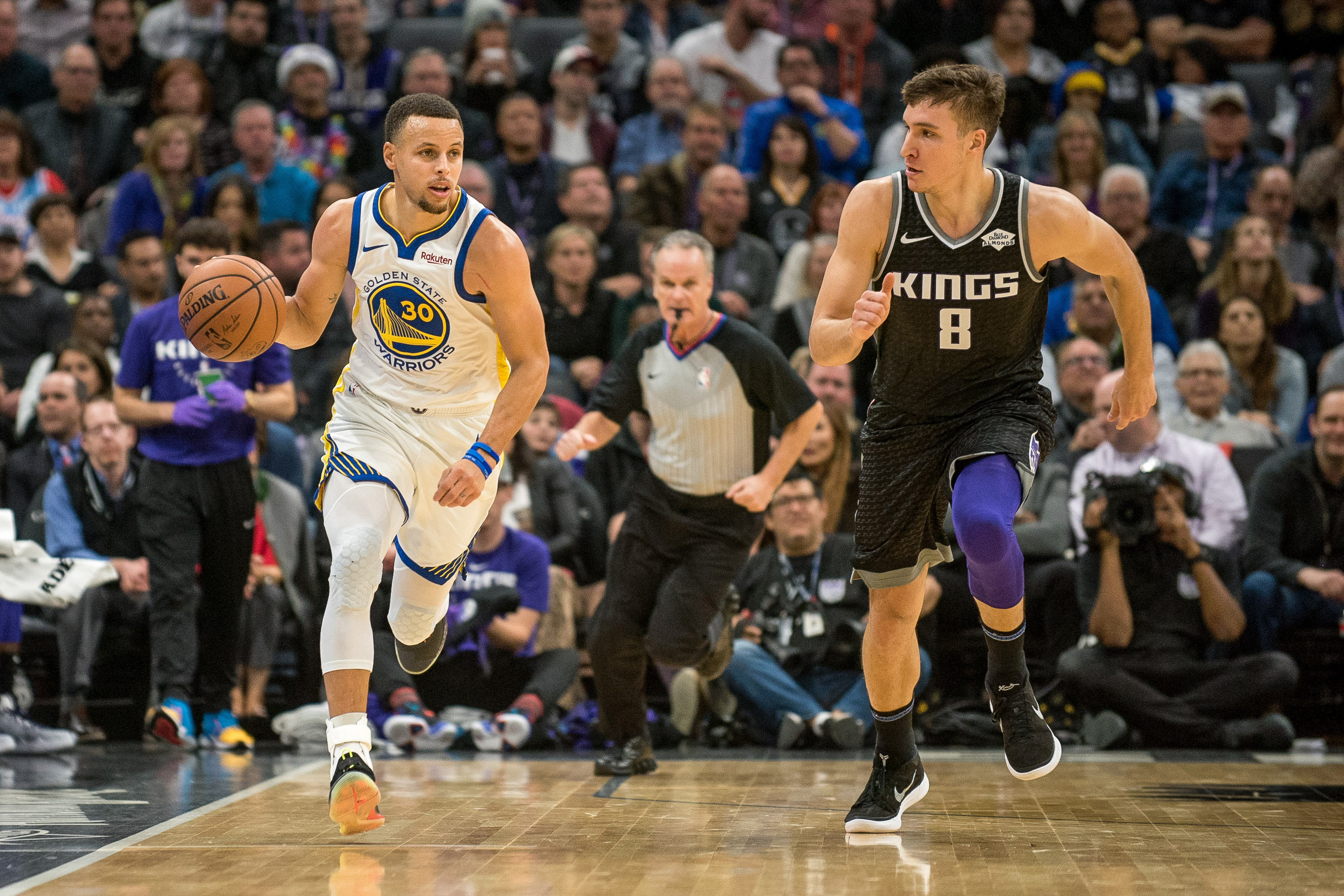 Image licensed from USA Today Sports
Another week of NBA action is behind us as we approach the new year as well as the halfway point of the season. We now have had six teams hit the 20-win mark while five others have yet to register 10. Most divisions are proving to be competitive with no first-place team leading by more than three games. Let's take a look at the good, the bad, and the downright ugly in the Week 10 NBA power rankings.
Toronto Raptors (23-9)
The Raptors remain in the number one spot despite dropping their last two games and four of their last six. A recent spate of injuries hasn't helped their cause but they will need to be resilient with Indiana and Philadelphia on the schedule this week.
Denver Nuggets (20-9)
Winning four straight games and 11 of their last 13 has propelled the Nuggets into our number two spot. These guys are winning and covering against some pretty good competition which should give them confidence when they visit the Clippers before playing a home-at-home set against the Spurs.
Golden State Warriors (21-10)
The Warriors have turned things around over the past couple of weeks by winning six of their last seven games. They are still having a few issues on the road but, fortunately for them, four of their next five games are at home where they are 13-3. 
Milwaukee Bucks (20-9)
The Bucks find themselves in a dogfight with the Pacers in the Central Division but they still hold a one-game lead entering the week. They will host the Pelicans before hitting the road where they have won three of their last four. Malcolm Brogdon is questionable for Milwaukee's next game but he should be ready to go when they visit Boston. 
Indiana Pacers (20-11)
Despite losing to the Cavaliers, Indiana is still one of the hottest teams in the league with seven wins in their last eight games. Totals bettors will be interested to know that the under has prevailed in Indy's last 11 games. The Pacers have a very nice opportunity to rack up some wins over the next couple of weeks and overtake Milwaukee in the Central Division.
Oklahoma City Thunder (19-10)
Oklahoma appears to have recovered nicely with a pair of wins following a stretch in which they dropped three of four. They will be playing five of their next six and seven of their next nine games on the road where they are just a .500 team. It's going to be a good test and it will be interesting to see if they can keep pace with Denver going into the new year. 
Boston Celtics (18-11)
The Boston Celtics were cooled off by the Detroit Pistons after they had won eight in a row and nine of their previous 10 games. The Celtics have a couple of tough opponents ahead of them this week but they have the luxury of facing them at home where they are 9-3. As a point of interest, Boston is 9-2 ATS in their last 11 games.
Philadelphia 76ers (20-12)
Philadelphia has stumbled over the past week by losing three of their last four games. This slump comes on the heels of a stretch in which they had won six of seven. The Sixers are the only 20-game winner to have a losing road record. After they host New York and Toronto, Philly will embark on a five-game road trip.
Los Angeles Lakers (18-13)
The Lakers have really struggled over the past week with losses to Brooklyn and Washington. Fortunately, this skid coincides with the Clippers' skid. Unfortunately, it also coincides with Golden State's recent upturn and the Lakers have fallen three-games out of first place. Los Angeles has a tough schedule to take them into the new year.
Portland Trailblazers (17-13)
Portland holds onto the number 10 spot after getting key wins over Toronto and the Clippers. They have won four of their last six games and are giving Denver and Oklahoma City a good run for their money in the Northwest Division. They can make a statement this week when they host Memphis, Utah, and Dallas.
Los Angeles Clippers (17-13)
The Clippers have now lost four in a row and six of their last seven. Their 1-6 ATS mark over their last seven games is absolutely killing spread bettors who back them. It's true that Los Angeles has been playing some very good teams lately but those losses are proving that the Clippers aren't nearly as good as many thought they were a couple of weeks ago.
Houston Rockets (15-14)
 There are a couple of teams that have better records than Houston but the Rockets are currently playing with a hot hand. They have put together a four-game winning streak with hard-fought victories over Utah, Memphis, the Lakers, and Portland. Upcoming matches against Washington, Miami, and San Antonio might be just what they need to start looking like the team that many expected them to be. 
Sacramento Kings (16-14)
The Kings remain in the number 13 spot despite dropping two of their last three games. It's not going to be an easy week with the Thunder, Grizzlies, and Pelicans coming up but they have the advantage of playing those games at home. 
San Antonio Spurs (16-15)
 A stretch of games in which the Spurs have won five of six games has earned them a winning record. They've also been cashing it in for those who have been backing them against the spread recently. They are right in the middle of the logjam atop the Southwest Division but they will need to continue playing well this week if they want to stay in that mix entering 2019. 
Dallas Mavericks (15-14)
 The Mavericks had some momentum entering this last week after winning three straight and five of six but all of that momentum seems to have evaporated as the Mavericks have lost their last three games. They even lost to Phoenix which is a very difficult thing to do. Still, Dallas remains tied with Memphis atop the weak Southwest Division. 
Memphis Grizzlies (16-14)
 The Grizzlies have really hit the skids recently and their five losses in their last six games including three straight losses should be reason enough to place them further down on this list but they still have a winning record and share the lead in the Southwest Division. Their standing in the power rankings is precarious at best. 
Orlando Magic (14-15)
 Orlando is another team that could very well be ranked lower but they have won two in a row and are now tied with Charlotte for first place in the Southeast Division. They are playing almost as well on the road as they are at home and they have some winnable games coming up. 
New Orleans Pelicans (15-16) 
New Orleans has seen their offense wane a bit in recent weeks but they are still flirting with .500 and they're just 1.5 games out of first place in the Southwest Division. They have alternated wins and losses over the past 11 games but that might change with a tough road facing them this week. 
Charlotte Hornets (14-15)
Charlotte looked like they were headed in the right direction last week after winning three in a row but then they lost to the Knicks at home and followed that up with a loss to the Lakers. They have a chance to alter the momentum when they face the Cavaliers and the struggling Pistons at home. 
Detroit Pistons (14-14)
Detroit might be a .500 team at the moment but don't let that fool you. These guys are stinking it up right now with seven losses in their last eight games. Some folks might point out that they have been playing some good teams but that doesn't take away from the fact that the losses are mounting at a rapid pace. 
Brooklyn Nets (14-18)
 The Brooklyn Nets are on one heck of a tear having won their last six in a row. A team that spread backers were staying far away from has now covered in their last seven games and they have a relatively friendly schedule ahead of them this week. It's not like these guys are going to compete with Toronto, Boston, and Philadelphia in the Atlantic Division but they are giving their fans a reason to smile.
Minnesota Timberwolves (14-16)
Minnesota snapped their four-game losing streak with a home win over the Kings. The fact that they were at home is a key piece of information because Minnesota's 12-4 record at home is one of the best in the league. It's too bad that these guys are one of the worst road teams with their 2-12 record. With six of Minny's next eight games being on the road, things aren't exactly looking up.
Miami Heat (13-16)
 Let's give the Heat a little bit of credit for playing some decent basketball over the past couple of weeks. The might have a losing record but they have improved immensely in December. They have won their last two games and they are 6-3 in their last nine. Spread bettors might want to take note of their 9-3 ATS record in their last 12 games.
Utah Jazz (14-17)
 Utah evened up their record last week after winning four of five games but they have fallen off a cliff ever since going 1-4 over their last five games. The Jazz can look forward to playing five of their next six games at home although they will be facing stiff competition starting with the Warriors. Don't expect this team to get back to .500 any time soon. 
Washington Wizards (12-19)
 The Wizards were raising a few eyebrows a couple of weeks back after winning three straight and flirting with a .500 record. Well, the wheels fell off and they have gone on to win just once in their last six outings. Don't expect a drastic turnaround this week as three of their next four games are on the road where they are a pathetic 4-13. 
Cleveland Cavaliers (8-23)
Nobody is expecting a lot out of Cleveland and that is exactly what they are getting. However, Cleveland has managed to notch three wins in their last six games including their latest victory over the Pacers in Indiana. They can proudly boast that they are not the worst team in the NBA.
Phoenix Suns (7-24)
 Phoenix makes their way out of the bottom of the power rankings on the heels of a three-game winning streak. They even won a road game!! That is a pleasant change after suffering through a ten-game losing skid. Savor the moment. 
New York Knicks (9-23)
 What can be said about the New York Knicks that hasn't been said about the Grinch Who Stole Christmas? Stink, stank, stunk! They have lost seven of their last eight and nine of their last eleven. These guys even made Phoenix look good! The sad thing for Knicks fans is that there really aren't any signs that they are going to get any better.
Atlanta Hawks (7-23)
A win over the Washington Wizards broke Atlanta's three-game losing streak but they have still won just a pair of games in their last nine games. Six of their next eight games will be played on the road where they are a laughable 2-14. Good luck!!
Chicago Bulls
You might have forgotten that Chicago still has an NBA team but they do and they are craptacular. They have lost four of their last five and 11 of their last 13. They have also failed to reach the 100-point plateau in eight of their last nine games. How they came out of San Antonio with a win earlier in the week is a mystery.