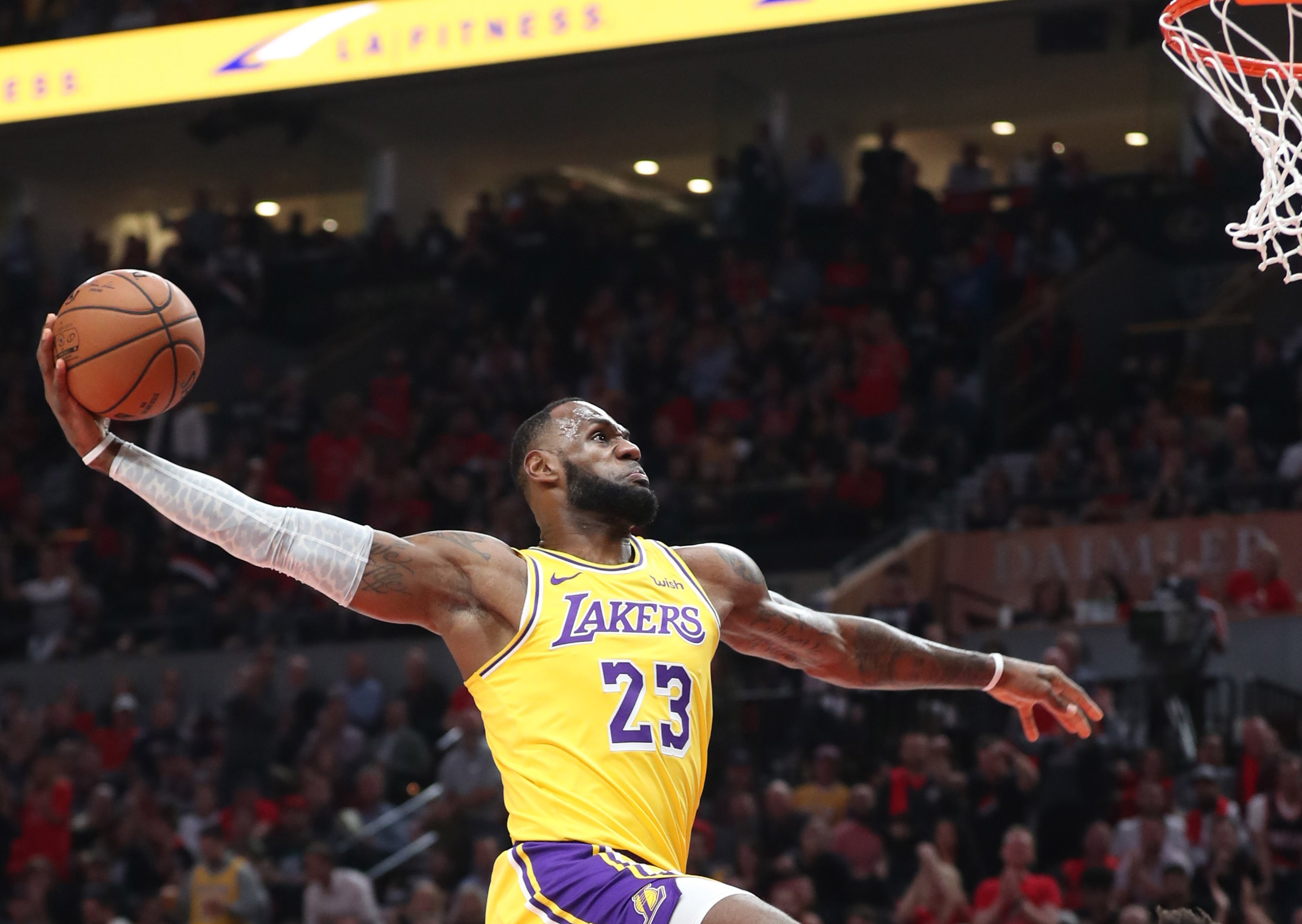 Image licensed from USA Today Sports
We are now heading into the 11th week of the NBA schedule and we have seen some interesting developments over the past week. Eight teams have now eclipsed the 20-win plateau and there are some great battles going on in many divisions. Here are the power rankings as we head into the 11th week of NBA action.
Golden State Warriors (23-11)
We have a new team atop the NBA power rankings and it is Golden State. They might not have the league's highest winning percentage but they have gotten their act together with eight wins in their last 10 games. Bettors should still be very wary of backing the Warriors ATS but they are starting to pile up the SU wins.
Toronto Raptors (25-10)
Toronto drops to the number two spot after enjoying a good run at the top. Despite a 2-3 record over their last five games, Toronto still has the best winning percentage in the league and their NBA-best 12-6 road record is a big reason for that.
Milwaukee Bucks (23-10)
The Bucks have won two of their last three games and seven of their last nine while continuing to produce the most points per game in the NBA. They need to keep on playing at a high level if they are going to keep the red-hot Pacers in their rear-view mirror.
Denver Nuggets (21-10)
Denver got spanked by the Lakers in their last outing but they have been one of the best teams in the NBA over the past few weeks. They have won four of their last five and 11 of their last 13. They have also been a spread bettor's dream with 11 covers in their last 13 games. 
Indiana Pacers (22-12)
Holding onto the number five spot is Indiana who has bounced back from a two-game skid to record a pair of wins. They are 9-2 in their last 11 games and they have been cashing tickets for those who have been betting them ATS as well as putting money on the under which has prevailed in 13 of their last 14 games.
Oklahoma City Thunder (21-12)
Oklahoma remains in the number six spot although their status is a little tenuous after dropping their last two games. Still, those losses were close and they have won four of their last six games and trail the Nuggets by a single game for the Northwest Division lead.
Philadelphia 76ers (22-13)
The Sixers continue their steady rise in the NBA power rankings and they supplant the Celtics to take possession of the number 7 spot. Philadelphia has won two of their last three games and they had a very good week in the scoring department. If only they were better on the road.
Boston Celtics (20-13)
The Celtics have recovered nicely by winning their last two games after a three-game losing streak. They have won 10 of their last 13 games and they have made their spread bettors a nice chunk of cash during that time. They play their next three games on the road where they are a respectable 9-8.
Los Angeles Lakers (20-14)
The Lakers and their fans got a nice Christmas gift in the form of a huge win over Golden State. They have won two of their last three games and are still very much in the running in the Pacific Division against whom they are still undefeated in 2018.
Portland Trailblazers (19-14)
The Trailblazers barely hold onto the number ten spot having won four of their last five games. Getting a few more road wins and more victories against division rivals will help them remain one of the better teams in the NBA. They've beaten some good opponents in the past week or so.
Houston Rockets (18-15)
James Harden has been on fire lately and this has translated into success for the Rockets who now sit atop the Southwest Division. Houston has really turned their season around after winning seven of their last eight games but they will need to keep it up against some pretty stiff competition this week.
Sacramento Kings (18-15)
Sacramento stumbled a bit last week but they have gone on to record two straight wins. They might be a few notches below the Warriors but they have kept up with the Clippers and Lakers. Upcoming games against the Clippers and Lakers will really test their mettle.
San Antonio Spurs (18-16)
San Antonio is another team that has worked hard to turn their season around. They have won seven of their last nine games and are just a half-game behind Houston in the Southwest Division. They could further their cause by being a little better on the road which is where they play two of their next three games.
Los Angeles Clippers (19-14)
The Clippers broke out of a terrible slump with two straight wins but they dropped a close one to the Warriors in their last outing. Still, it looks like they may have stopped the bleeding for the time being. Let's see how they do this week against Sacramento, the Lakers, and San Antonio.
Miami Heat (16-16)
The Heat are really heating up with a five-game winning streak under their belt. This streak evens their record and gives them a share of the Southeast Division lead with Charlotte. This team actually has a better road record than home record but they have a chance to improve that over their next few games.
Memphis Grizzlies (17-16)
Memphis has been terrible over the past couple of weeks but they claim the number 16 spot mainly due to the fact that they still have a winning record. They broke a five-game funk with a win over the Lakers but they have still won just twice in their last nine games. Their upcoming schedule starts with a game against Cleveland but it gets much tougher with Boston and Houston after that.
Charlotte Hornets (14-15)
Charlotte had a productive week picking up a pair of wins in their last three games. They have won five of their last eight but they still just can't seem to get on a real roll. They are in for a tough week with a home-at-home against Brooklyn leading up to a roads game against the Wizards.
Brooklyn Nets (16-19)
Don't let their losing record fool you. The Nets are playing some really good ball lately which is demonstrated by their 8-1 record over their last nine games. It's not like they are going to be a factor in the Atlantic Division but they are giving their fans something to cheer about.
Utah Jazz (16-18)
Wins over the Warriors and Trailblazers gave Jazz fans something to cheer about and even their narrow loss to Oklahoma City showed that the Jazz can bring it. The only problem is that they don't seem to be able to bring it on a consistent basis. We have to go back to early November to find a three-game winning streak which is something they haven't been able to match since.
Detroit Pistons (16-19)
The Pistons have fallen off a cliff in recent weeks and now have a losing record. They have picked up just a pair of wins in their last 11 games and a recent loss to Atlanta illustrates just how far they have fallen. Four of their next five games will be played on the road against some good teams.
Minnesota Timberwolves (15-18)
Minnesota came out of Oklahoma City with a victory in their last game but they have still dropped six of their last eight games and they are in the Northwest Division's cellar. They have been strong at home but they are one of the worst road teams in the league.
Dallas Mavericks (15-17)
The fact that a team that team that is in the midst of a six-game losing streak can rank higher than eight other teams is really a testament to how bad those other teams are. Dallas was making a lot of noise a couple of weeks back but we can barely hear a whisper out of them these days.
Orlando Magic (14-18)
Orlando has had a few stretches during which they played good ball but that definitely hasn't been the case over the past week. They were flirting with a .500 record but three straight losses have put a damper on things. They are now 2-6 in their last eight games.
Washington Wizards (13-21)
Washington is far from being a good team but they certainly aren't the worst. Even though they have lost three of their last four and seven of their last nine, they are still better than the other trash that sits below them in the garbage can.
New Orleans Pelicans (15-19)
 Sure, these guys have a better record than a couple of the teams ahead of them in the NBA power rankings but they have now lost 4 straight games and haven't been able to record back-to-back wins in well over a month. As bad as they are, they still hang just 3.5 games back of the Southwest Division lead.
Atlanta Hawks (9-23)
 The Atlanta Hawks have somehow managed to reel off three wins in a row. That accounts for one-third of their overall victories. The truly amazing thing is that they have actually won two road games in a row which doubles their road wins to four on the season. Merry Christmas Hawks fans! 
Chicago Bulls (9-25)
 Congratulations to the Chicago Bull who have risen from the lowest depths of the NBA power rankings. These guys are still terrible but they are a terrible team that has won two in a row and three of their last five.
Cleveland Cavaliers (8-26)
We're really getting down to the bottom of the barrel with the Cleveland Cavaliers who have lost their last three games and have just three wins in their last 11 games. Still, they aren't quite as bad as New York or Phoenix.
Phoenix Suns (8-26)
The good news for Phoenix is that they have won four of their last 10 games but the bad news is that they are in the sub-basement of the Western Conference. The fact that their current losing streak is only two prevents them from regaining the 30th spot in the NBA power rankings.
New York Knicks (9-26)
How bad are the Knicks? Well, they have lost five in a row and have just a pair of wins to show for their last 14 games. Recent losses to Atlanta and Phoenix highlight what has been an abysmal December.