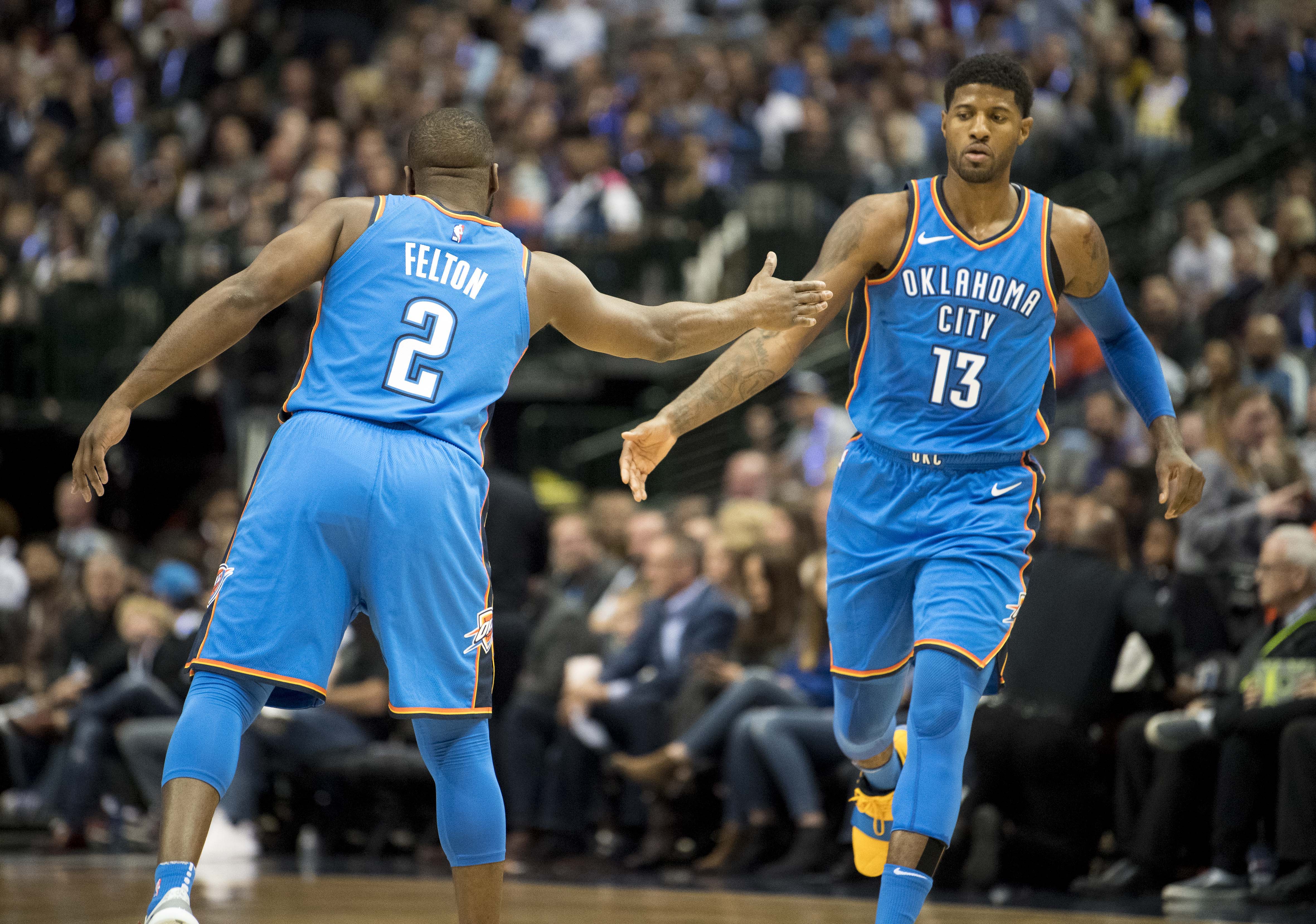 Image licensed from USA Today Sports
We are now heading into the 12th week of the NBA schedule and the Christmas stretch has produced a few changes in the NBA power rankings. While the Cavaliers and New York Knicks are once again mired in losing streaks, the Houston Rockets and Indiana Pacers are both red hot. Let's take a look at this week's NBA power rankings.
Toronto Raptors (28-11)
Toronto works their way back into the number one slot after a win over the Jazz which gives them three wins in their last four games. While one could make strong cases for the Bucks, Pacers, and Warriors, Toronto is getting it done whether they're at home or on the road.
Milwaukee Bucks (25-10) 
Milwaukee now owns the best winning percentage in the NBA. They continue to rack up the points and their defense is improving. The Bucks are riding a three-game winning streak and they've won seven of their last eight including four of their last five on the road. 
Indiana Pacers (25-12) 
The Pacers have been strong all year but they really turned it up in December winning 12 of their last 14 games. Their current five-game winning streak has pulled them within a game of the Central Division-leading Bucks. Many might point out that the Pacers haven't had a very tough schedule of late but that doesn't take away from the fact that they have been getting the job done. 
Golden State Warriors (25-13) 
Getting blown out by the Lakers on Christmas Day followed by a close loss to Portland knocks the Warriors down a few spots in the NBA power rankings but they have since bounced back with two straight wins which has kept them from sliding further down the list. Consistency remains an issue. 
Denver Nuggets (23-11) 
Denver continues to have one of the league's best defenses and they have won two straight games. However, they are a completely different team when they are on the road. Prior to their win against the woeful Suns in Phoenix, Denver had dropped their last four straight road games including an embarrassing loss to Atlanta. 
Houston Rockets (21-15) 
James Harden is on fire and, as Harden goes, so do the Rockets. Houston is not the same mediocre team that we saw earlier in the year and this is proven by their current five-game winning streak and their 10 wins in their last 11 games. Their victory over Oklahoma City on Christmas Day makes them the better team...for now.
Oklahoma City Thunder (22-13) 
Oklahoma City sits a game behind Denver in the Northwest Division and they are third place in the Western Conference. However, recent losses to Minnesota, Houston, and Dallas were blown opportunities to gain ground on the competition. They have one of the best home records but they are barely above .500 on the road. 
Boston Celtics (21-15)
There are a few other teams that sport similar overall records but Boston has the better balance. Despite dropping two of their last three games which were all on the road, the Celtics are still a .500 road team and their +5.6 average point differential is among the best in the league. 
Los Angeles Clippers (21-15) 
What a difference a week can make! After enduring a stretch in which the Clippers lost four straight and six of seven, they have bounced back with four wins in their last six games including wins over the Lakers, Sacramento, and Denver. These guys need to string some wins together and get back to being a .500 road team.
Philadelphia 76ers (23-14)
The Sixers are one of the many NBA teams that are struggling to find consistency. They have won three of their last five but they have proven to be rather vulnerable on the road. They have done well against some pretty stiff competition in recent weeks and sit just 3.5 games back of Toronto in the Atlantic Division. They have a great opportunity to improve their record with a relatively week schedule facing them in the next couple of weeks. 
Portland Trailblazers (21-16) 
Portland has played well enough to keep pace in the competitive Northwest Division but not quite well enough to gain ground on Oklahoma City and Denver. Still, six wins in their last nine games including victories over Philadelphia and Golden State shows that they have a lot of fight in them.
San Antonio Spurs (21-17)
San Antonio has turned their season around in recent weeks and they continue to be strong against formidable opponents. They have three wins in their last four games and 10 wins in their last 13. Recent wins over Boston, the Clippers, and Denver along with the fact that they have covered in 11 of their last 13 games shows that they are rolling.
Sacramento Kings (19-17)
Sacramento hasn't exactly been lighting it up lately but they have still won three of their last five against a challenging schedule. It's hard to believe that this team is only 5 games back of the Warriors in the Pacific Division but there they are. They even have a respectable road record. 
Los Angeles Lakers (21-16) 
The Lakers were already sliding when they lost LeBron James for a few games. They have lost two of their last three and are just 3-5 in their last eight outings. Granted, they have beaten some good opponents recently but they are not the same without King James.
Miami Heat (17-18) 
The Heat held the number 15 spot in the NBA power rankings last week and they hold it again this week despite losing two of their last three to drop below .500. Regardless, Miami has won six of their last eight and have inched within a half-game of first place in the Southeast Division.
Utah Jazz (18-19) 
Utah is still a bottom-15 team but they are the cream of the crop as far as bottom-15 teams go. They have won four of their last seven, they have a +1.9 average point differential, and they play almost as well on the road as they do at home. Can they work their way up to being a bottom-of-the-barrel top-15 team? 
Charlotte Hornets (18-18) 
Charlotte had another mediocre week and are still leading the Southeast Division after winning two of their last three. However, those wins were against Orlando and Brooklyn so it's not like they are accomplishing great feats. This team also dropped games to Washington and the Nets and they are one of the worst road teams in the league.
Memphis Grizzlies (18-18)
Memphis can be forgiven for losing to Boston and a smoking-hot Houston team but they have only recorded three wins in their last dozen games which has effectively negated a pretty good start to the season. They might have a pretty decent defense but their offense is the worst in the league in terms of scoring.
19. Brooklyn Nets (17-21)
It seemed like just a matter of time before the Nets cooled off and it appears that the time has come. After winning nine of ten games, the Nets have dropped their last two straight. They are still fairly consistent with a 9-11 home record and an 8-10 road record.
Detroit Pistons (16-18)
What the heck is wrong with the Pistons? This team has completely collapsed in December winning three times in their last 15 games. They are even having plenty of trouble against the worst teams that the NBA has to offer. They have lost seven of their last eight road games and they are struggling to score.
Minnesota Timberwolves (17-20)
Minnesota has won three of their last five games but losses to the Pelicans and Hawks clearly demonstrate that these guys can't be trusted. It's amazing how they can beat teams like Oklahoma City and then lay an egg against a team like Phoenix. At least they are trending in the right direction.
Dallas Mavericks (17-19)
If Dallas played all of their games at home then they might be a powerhouse. Their 15-3 home record is quite awesome and among the best in the league but they are absolute trash on the road. 2-16? Really? They have either been immensely lucky at home or extremely unlucky on the road. What else could explain such an imbalance?
Orlando Magic (16-20)
The Magic have won two of their last three games including a big win over the Raptors followed by a victory over Detroit. Unfortunately, they were unable to match their season-high three game winning streak when they got blown out by the Hornets in Charlotte.
New Orleans Pelicans (17-21)
New Orleans is a pretty good home team which is likely why they have won two of their last three games after dropping five in a row. What contributed to them losing five in a row? Well, four of those games were on the road where they are a laughable 4-15.
Atlanta Hawks (11-25)
Atlanta has risen from the very lowest depths of the NBA power rankings in recent weeks by winning five of their last seven and two of their last three. Sure, they haven't beaten any NBA titans but winning is winning and they've been doing more of that lately than the lower ranked teams.
Washington Wizards (9-23)
 After being held to under 100 points in three consecutive losses, the Wizards dropped 130 points on Charlotte to get the win in their last game. They have still lost nine of their last 12 games and they have covered only two spreads in that span. They might have a winning record at home but they blow on the road.
Chicago Bulls (10-27)
 The Bulls might be terrible but at least they have won three of their last five games. They now have five home wins and five road wins which makes them an all-around bad team. Nobody scores fewer points per game than Chicago
Phoenix Suns (9-29)
Three straight losses and five losses in their last six games is still not bad enough to relegate the Phoenix Suns to the bottom of the NBA power rankings. Of course, that could easily change as these bottom three teams are so close to each other as far as stinking goes.
Cleveland Cavaliers (8-29)
Make that six losses in a row!! Yes, Cleveland is truly terrible and there are no signs that point to them getting any better. How they managed to knock off the Pacers in Indiana a couple of weeks ago is a mystery. Maybe they can get a couple of wins at home in the next week or so?
New York Knicks (9-26)
The Knicks started the month of December with a win over the Bucks but they have gone on to lose 14 of their last 15 games including their last eight in a row. The big question is whether or not they can make it ten in a row? Enough said.