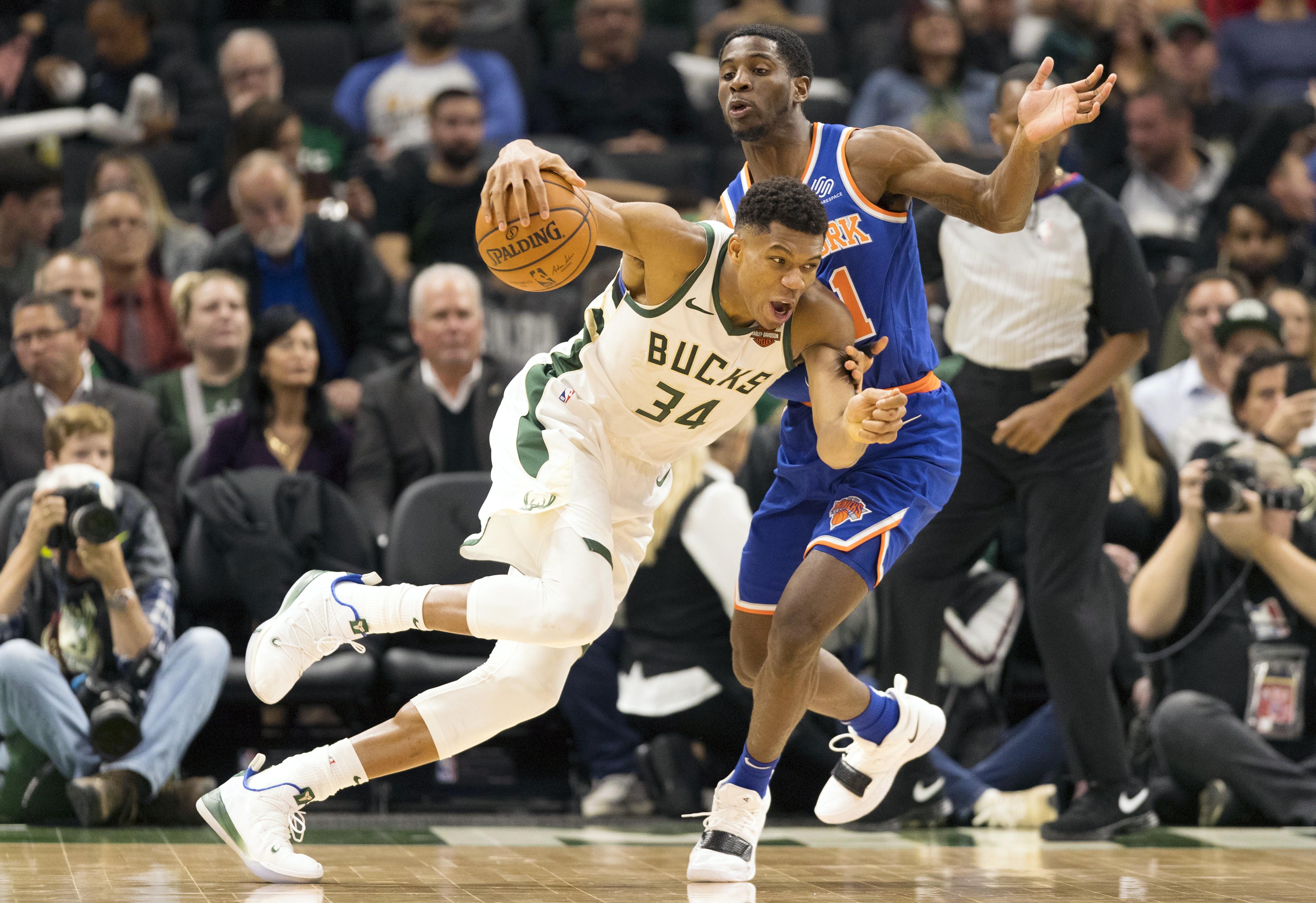 Image licensed from USA Today Sports
The NBA schedule is now deep into December and each team is quickly approaching the 30-game mark. Many of the good teams continue to dominate while the league's worst battle for respectability. The Celtics, Pistons, and Warriors are starting to heat up while the Phoenix Suns have displaced the Atlanta Hawks as the laughing stock. Here are the NBA power rankings for week 9.
Toronto Raptors (21-7)
The Raptors have gone 1-3 SU and ATS in their last four games following an eight-game winning streak but they still retain the number one spot in the power rankings. Toronto fans will be hoping that Kawhi Leonard doesn't miss too many games as the Raptors set out on a tough four-game road trip.
Milwaukee Bucks (18-8)
 The Bucks work their way back up the rankings after winning their last three of four including wins over Toronto and Detroit. They play six of their next seven on the road where they are a .500 team. They will need to get a couple of wins if they want to continue to be so highly regarded.
Golden State Warriors (19-9)
The Warriors are healthy with the exception of DeMarcus Cousins who has been missing all year but he should be inserted into the lineup in a couple of weeks. Golden State has won four in a row and even more shocking is the fact that they've covered three of their last four games. Their upcoming game against Toronto should be interesting.
Philadelphia 76ers (19-9)
 The Sixers have managed to shake off a slow start and have won 10 of their last 12 games including a recent home-at-home sweep of the Pistons. They have been playing beyond expectation as their 5-1 ATS record over the past six games would indicate and they are suddenly just two games behind Toronto in the Atlantic Division.
Oklahoma City Thunder (17-8)
 Oklahoma City is a team on the rise. They have won five of their last six and moved into a first-place tie in the Northwest Division with the Nuggets. They haven't had the toughest schedule over the past two weeks and upcoming games against the Pelicans, Nuggets, and Clippers will be a challenge.
Denver Nuggets (18-9)
 Denver has slipped in the rankings after dropping their matches against the Hawks and Hornets. It's not just that though. Denver has been hit with a few injuries that are bound to affect them in a negative way. An important game against the surging Thunder, as well as games against Toronto and Dallas, will test their mettle. 
Boston Celtics (16-10)
 These guys are on an impressive run with six straight wins both SU and ATS along with seven wins and covers in their last eight games. They have a very good shot at extending their current streak over their next four games in which they face Washington, Atlanta, Detroit, and Phoenix.
Indiana Pacers (17-10)
 Indiana has been playing well lately and they have gained ground on the Bucks in the Central Division. They have put together a four-game winning streak through which their defense has been very solid and their offense steady. They should be up for their next game against Milwaukee as a win would put them just ½ back of the Bucks. 
Los Angeles Lakers (17-10)
 The Lakers are still in the mix in the Pacific Division and find themselves just 1.5 games behind the Warriors and a half game back of the fading Clippers. They have won their last two games and six of their last seven and they are 5-2 ATS over that stretch. They have a chance to improve their .500 road record over the next week with stops in Houston, Charlotte, Washington, and Brooklyn.
Los Angeles Clippers (17-9)
The Los Angeles Clippers have dropped significantly in the power rankings after losing two of their last three and three of their last five. The offense has been struggling and their defense has been suspect. With a tough schedule ahead of them over the next couple of weeks, the Clippers need to figure it out if they want to avoid a free fall.
Portland Trailblazers (15-11)
 Portland has moved up a couple of spots after being relegated to the number 14 spot last week due to a three-game skid. They have bounced back with a pair of wins in their last three games and they could find themselves moving up in the standings and the power rankings if they can notch victories this week against Memphis, Toronto, and the struggling Clippers.
Memphis Grizzlies (15-11)
 The Grizzlies take a bit of a tumble in the power rankings on the heels of a two-game losing streak where they failed to break the 100-point plateau. They have won three games in their last nine outings and their upcoming schedule is far from easy.
Dallas Mavericks (14-11)
 The Mavericks have won and covered their last two and 11 of their last 14 which should really please their fans and those who back them against the spread. They are just a half game behind the Grizzlies in the Southwest Division and they have a good shot at overtaking them this week as they take on the Hawks, Suns, and Spurs. They need those wins as the schedule gets a lot tougher after that. 
Sacramento Kings (14-12)
 The Kings just finished a very productive road trip in which they went 3-1. They have won four of their last five games and have worked their way to being two games over .500. They should savor the moment as they are about to face Minnesota, Golden State, Dallas, and Minnesota this week. It's going to be tough for the next few weeks.
Charlotte Hornets (13-13)
 Charlotte ranks pretty lowly for a division leader but, let's face it, they play in a weak division. They managed to snap a three-game losing streak against a pretty solid Nuggets squad and followed that up with a win against the Knicks. They will play their next five at home with two of those against a slumping Pistons team as well as the Knicks and Cavs with the Lakers thrown into the mix.
New Orleans Pelicans (14-15)
 This team cannot seem to find a grove. They have alternated wins and losses over the past two weeks and they seem to have cooled off on the offensive side of things. They will be hard-pressed to move above .500 with their next two games coming against the Thunder and Heat and then they will really face challenges on their upcoming four-game road trip. 
Detroit Pistons (13-12)
 Every team goes into a slump from time to time but Detroit is doing it in grand fashion. These guys have tumbled down the power rankings and in the standings after dropping their last five games in a row. Their defensive play has left much to be desired as has their 0-5 ATS record during this slump. They will almost certainly get back on track but they will have a tough time doing so against Charlotte, Boston, and Milwaukee who they face this week.
Minnesota Timberwolves (13-14)
Minnesota may have lost their last two games but they have still been pretty over the past few weeks. If only they were better on the road where they play eight of their next 11 games. They could be in for some dark times in the coming weeks.
San Antonio Spurs (13-14)
The Spurs deserve a bit of credit for their recent three-game winning streak that has kept them in the mix in the Southwest Division. They get to face the Clippers, Bulls, and Philly at home before making a stop in Orlando to face the Magic. They could easily be a .500 team by this time next week. 
Utah Jazz (13-15)
 Utah worked hard to get to .500 and they had a chance to have a winning record when they went into San Antonio as four-point favorites last week. Well, they lost and then they lost their next game and now they are once again a sub-.500 team. They have a chance to get back to par with upcoming games against Miami and Orlando but it may be an effort in futility as their next several games will be against superior opponents.
Miami Heat (11-15)
 It's always tough to assign ranks when we start getting into the bottom of the NBA barrel. Miami is a pretty bad team but they just aren't quite as bad as the other teams that are ranked below them. They have won two of their last three and five of their last seven and they have been decent on the road which is where they will be for their next three games.
Orlando Magic (12-15)
 Last week, Orlando had moved into a tie for first place in the Southeast Division but the party quickly came to an end after the Magic dropped their last three games in a row. They have now lost five of their last seven but they can turn that around with great efforts against Chicago, Utah, and San Antonio this week.
Washington Wizards (11-16)
 Washington followed up an impressive three-game winning streak against unimpressive teams with an unimpressive loss to the unimpressive Cavaliers. They then proceeded to make a showing in a 109-101 loss to Indiana. Still, through all of this, they remain just 2.5 games behind Charlotte for first place in the Southeast Division. They might have a tough time against the streaking Celtics but they have some winnable games after that.
Houston Rockets (11-14)
 Despite getting the win over Portland to break their three-game losing skid, the Rockets continue to disappoint. They have lost seven of their last ten games and really haven't shown any signs of getting any better. They better hope that James Ennis doesn't miss much time with that hamstring injury.
Brooklyn Nets (10-18)
 Get your toxic waste suits on as we delve into the deepest and skankiest depths of the NBA's worst. After they stunned the Raptors with a 106-105 victory to end an eight-game slide, the Nets went on to beat the Knicks which gives them a rare two wins in a row. They are going to have a tough time matching their season-high three-game winning streak when they take on the Sixers and who knows what to expect when they host Washington and Atlanta. 
New York Knicks (8-20)
The Knicks have now lost four straight and six of their last seven. The biggest question is how they managed to get that lone win against the Bucks? They are terrible at home and terrible on the road which optimists will call consistent.
Atlanta Hawks (6-20)
 It's hard to give such a putrid team any credit but we must at least acknowledge the fact that Atlanta has been playing a bit better than they had earlier this year. Three wins in seven games isn't normally anything to write home about but it is when you are the Hawks.
Cleveland Cavaliers (6-21)
 The mere fact that Cleveland hasn't lost their last nine in a row and the fact that they have more than a single win in their last ten games earns them this lofty status. Not much more can be said about this team.
Chicago Bulls (6-22)
The good news is that the Bulls broke their seven-game losing streak with a 114-112 win against the Thunder. The bad news is that the Bulls have lost their last two and are about to hit the road where they have gone an amusing 2-11 so far.
Phoenix Suns (4-23)
Last week, it was pointed out that the Suns were the proud owners of the worst record in the league. Well, we can now give them accolades for adding to their achievements as they are now the proud owners of the longest current losing streak in the league. It takes a special kind of team to drop ten games in a row and Phoenix is obviously that kind of special.