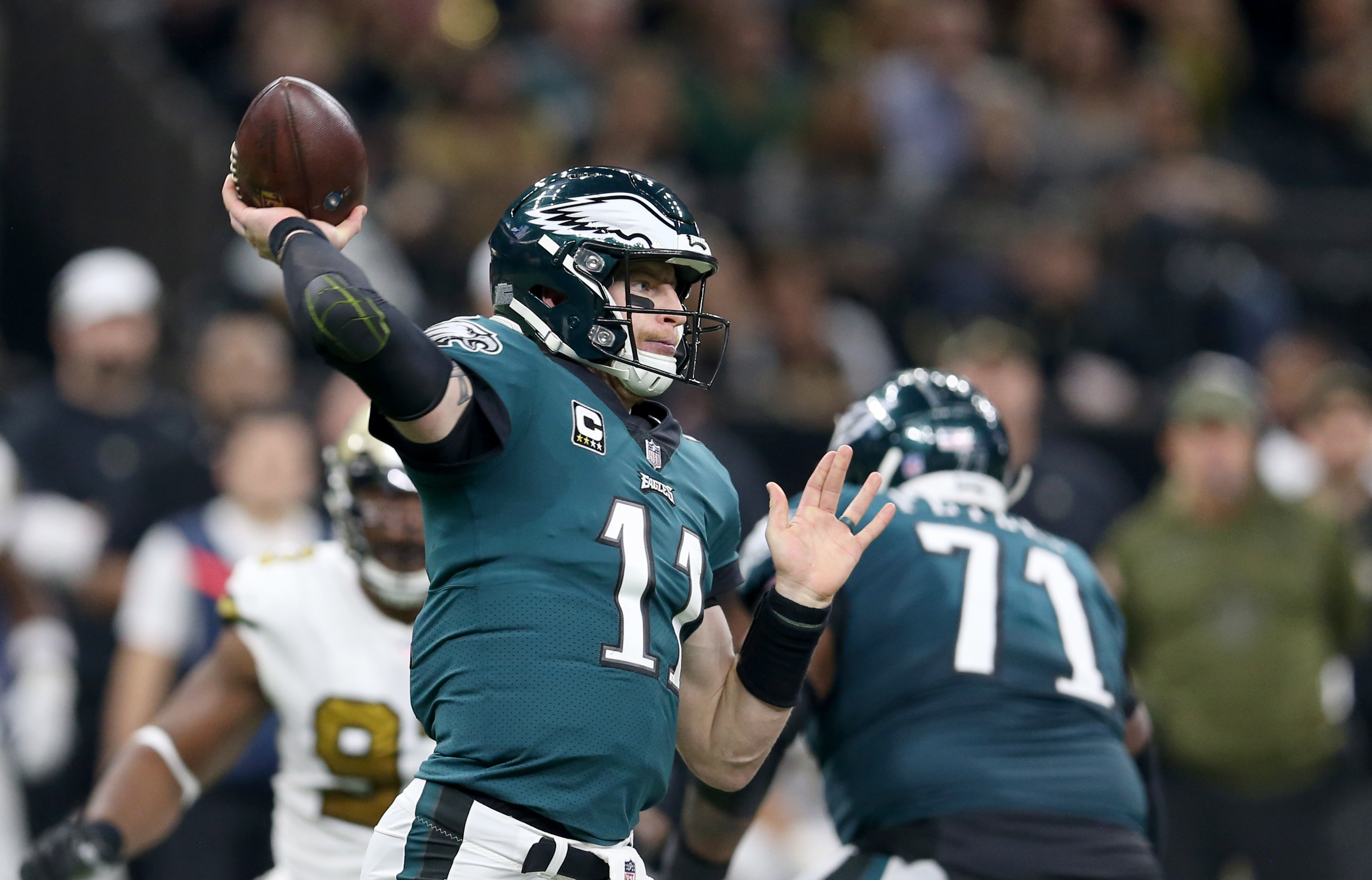 Image licensed from USA Today Sports
The NFL 2018-19 season seems to have passed in the blink of an eye as we head into the divisional round. The Wildcard round was quite entertaining with the Seahawks and Cowboys going down to the wire while Chicago missed their opportunity to move on by an inch. The Chargers were in charge during their road win in Baltimore and the Colts proved to be too much for the Texans who were frustrated all day. The divisional round looks like it's going to be exciting despite none of the spreads being lower than 4 points. Let's see if we can improve on our 36-28-1 record as we look at this week's NFL picks.
Indianapolis Colts at Kansas City Chiefs (-5.5)
The Colts are coming off their first playoff win since 2015 and it was an impressive victory. Andrew Luck and company have now won five straight and 10 of their last 11 games. They have been treating their spread backers quite well going 7-3-1 over their last 11 games and they've been finding success on both sides of the ball. While they have shown the football world that they can be tough defensively, they haven't faced an offense like Kansas City's in quite a while so this is going to be a test.
Kansas City looked unstoppable for most of the season but they have displayed some serious vulnerabilities in the past few weeks. The most obvious weakness is their lack of defense. Don't let their 35-3 Week 17 win over the Raiders fool you. These guys have been giving up a lot of yards through the air and on the ground which has resulted in opponents putting up a lot of points. Still, the Chiefs have had their way with some very good defenses and they should be able to score their share this weekend against another good defense. Kansas City has won ten of their last 12 home games but they have covered just once in their last 5. Indy has covered four out of their last five on the road and they looked primed to cover the 5.5-point spread in this one.
My Pick: Indianapolis Colts +5.5
Dallas Cowboys at Los Angeles Rams (-7)
The Cowboys had their hands full against Seattle but they eked out a two-point win to give them their third straight victory and their eighth win in their last nine. Although the 35 points that the Giants scored against Dallas in Week 17 might indicate otherwise, the Cowboys have been one of the toughest defenses in the league this year. They are pretty good at defending the passing game and they are very difficult to run against as Seattle found out. Ezekiel Elliott has the potential to do a lot of damage as long as Dallas doesn't fall too far behind. The Rams allow a league-worst 5.1 yards per rush. Things could get rough for the Cowboys if they are forced to go to the air.
The Rams scored the second-most points this year and they've done it with a balanced attacked. Todd Gurley is a dominant player who can carry the team but he sat out the final two games of the regular season with a knee injury. He is expected to play but it's hard to tell how effective he will be. Fortunately for Los Angeles, they have an explosive pass attack and a group of talented receivers that will give Dallas fits. The Rams are 1-3-2 ATS in their last six home games and 7-1 SU. The Cowboys are 3-1 SU and ATS in their last four on the road.
My Pick: Dallas Cowboys +7
Los Angeles Chargers at New England Patriots (-4)
Sunday's action kicks off in Foxboro where the Chargers are looking to continue with their winning ways against the Patriots. It appears that the temperature will be hovering around the zero mark and there is a chance of precipitation which could make things interesting. This might be another road game for the Chargers but they have actually performed better away from home this year. With their Wildcard win, the Bolts have won their last 6 road games and eight of their last nine. They have also been a cover machine away from home going 8-1 in their last nine. One X-factor for the Chargers is running back Melvin Gordon who suffered a knee injury last week. Still, LA has a very good passing game and they can put up points even against a New England pass defense that allowed just 6.9 yards per completion.
The Patriots might not appear to be as good as in previous years but they are still one of the best and they have owned the Chargers for over 10 years going 7-1 SU and 6-2 ATS dating back to 2007. The Patriots posted a losing road record this year but they are undefeated at home. They score more at home and they allow significantly fewer points. Overall, they have held opponents to 17 points or less in seven of their last nine games and visiting teams have been held to 20 or less in six of New England's eight regular season games. Spread bettors will want to know that the Patriots are 11-2 ATS in their last 13 home games. Of course, Los Angeles is 10-2 ATS in their last 12 road games.
My Pick: Over 45.5