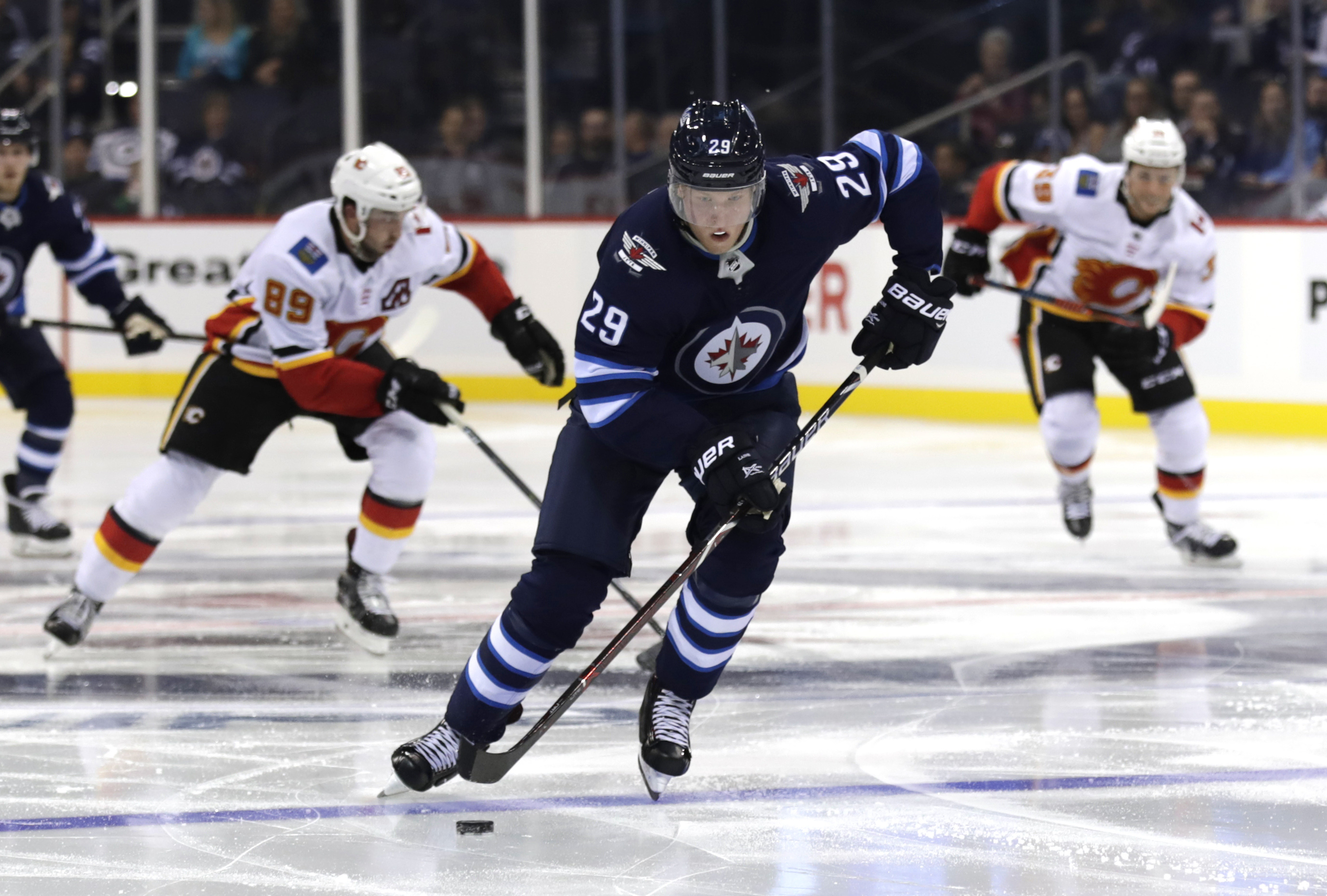 Image licensed from USA Today Sports
The NHL's Central Division was powerful last year, and this year it looks like it will be no different. The Preds and Jets are among the best teams in the league, and they ran away from the rest of the pack in the division last year. They are still the class of the division, but the gap is closing. With the start of the NHL just a few short days away, we will take a look at how the Central Division stacks up.
Nashville Predators
The Nashville Predators had the most points in the league last year at 117, and they will again challenge for that honor. Their season did not end as expected as they were knocked out of the playoffs by the Winnipeg Jets in the 2nd round. Pekka Rinne won the Vezina Trophy for his work during the regular season, but he struggled in the postseason with a 3.07 GAA. He will look to bounce back from that performance, and the hope from the Predators is that his performance in the playoffs will not have a lingering effect.
The Preds were relatively quiet in the offseason, but they did sign free agent Dan Hamhuis to bolster their already strong defense. It is his 15th year in the league, and he gives them some veteran depth in the back end. The Preds have the same team that was in the Stanley Cup Finals two years ago. One significant loss was Scott Hartnell, who just announced his retirement after 17 seasons in the NHL. He had 13 goals and 11 assists in 60 games last year.
This is still a very formidable team that has its eyes set on the big prize once again. Filip Forsberg had a strong season as he notched 26 goals and led the team in points with 64. Viktor Arvidsson led the team in goals with 29 and was 2nd in points with 61. They are joined by Ryan Johansen to form one of the best front lines in the league. The Preds brought in Kyle Turris from the Senators last year and will be ready for his first full season in Nashville. He had 13 goals and 29 assists last year for the Preds. Nashville was 8th in the league in scoring last year at 3.18 gpg, and they should have another strong season on offense.
On the other end of the ice, they were 2nd in the league in goals allowed at 2.49, and that was mostly due to the play of Pekka Rinne. This could be his last year in Nashville as his contract will be up at the end of it. If that happens, they still have Juuse Saros, who is just 23 and very talented. The defense is led by Roman Josi and P.K. Subban, who are two of the best around, while Ryan Ellis and Mattias Ekholm are not far behind. They will again be one of the best defensive teams in the league.
Nashville made it to the Stanley Cup Finals as an eight seed in 2016/17 and then last year they grabbed the most points in the league. This is a team that has some unfinished business, and the feeling here is that they will win their division again and parlay that into a trip to the Finals. Whether they win it all remains to be seen.   
Winnipeg Jets
The Winnipeg Jets had the 2nd most points in the league last year with 114, and they made it all the way to the Western Conference finals before bowing out to Vegas in five games. They also feel like they have some unfinished business this year and they are one of the best teams in the league.
The Jets have a potent offense that averaged 3.33 gpg last year, which was 2nd in the league behind Tampa Bay.  The offensive attack is led by Mark Scheifle, who had 23 goals and 60 points and Patrick Laine, who had 44 goals and 70 points. Laine is one of the best in the league overall and is just in his 3rd season. In his rookie season, he scored 36 goals. Blake Wheeler led them in scoring with 91 points, which included 23 goals. When this offense is on, it is very tough to stop. It was not on in the WCF as they scored just six total goals in the final four games of that series.
Paul Stastny was brought in late in the year but is now off to Vegas. He had four goals and nine assists in 19 games for the Jets last year. Kyle Connor and Nikolaj Ehlers are also back and have been integral parts of this potent offense. They did trade away Joel Armia to the Canadiens after he scored 12 goals in 79 games for the Jets a season ago.
This team not only scores, but they can stop teams from scoring, as well. It starts with Connor Hellebuyck, who was 44-11-9 with a 2.36 GAA and a .924 save percentage. Hellebuyck was second in the Vezina voting and will look to at least duplicate what he did a season ago. Jacob Trouba and Josh Morrissey are top-line defenders, while Dustin Byfuglien, Dmitry Kulikov, Joe Morrow, and Ben Chiarot give them a solid 2nd and 3rd lines. They have a change at backup goalie as Laurent Brossoit was brought in, while Michael Hutchinson and Steven Mason were let go.
The Jets have a very potent offense, and they will be an exciting team to watch once again. They also have one of the best goalies in the league in Connor Hellebuyck plus they are a deep team at most positions. They will again challenge in the Central, but come up just a bit short like they did last year. I also feel they will come up a bit short regarding making it to the Finals.         
St Louis Blues
The St Louis Blues finished in 5th place in the Central last year and missed out on the playoffs by just one point. This year they will challenge in the Central Division as they have made some key moves to upgrade their team. They were very busy in free agency and with trades, especially on offense.
Their biggest task was to upgrade an offense that was 24th in the league in scoring last year at just 2.72 gpg. The Blues hoped to address their scoring needs by bringing in Patrick Maroon, who has 78 career goals, including 17 last year for New Jersey and Edmonton combined. Ryan O'Reilly was brought in via trade with the Sabres, where he scored 24 goals last year. Those two are projected to be on the top line with Vladimir Tarasenko, who had 33 goals a year ago.
The second line is not too shabby either as they brought back David Perron, who began his career with the team and also had a stint with them in 2016/17. He has scored 102 goals in his seven seasons with the Blues. He will pair with Jaden Schwartz (24 goals) and Brayden Schenn (28 goals) to give them a very formidable second line. The Blues have added some good pieces on offense, and they have a shot at ranking in the top 10 in scoring.
Alex Pietrangelo and Joel Edmundson form a solid duo on the first line defense, while Vince Dunn and Colton Parayko give them a solid second line. The Blues were 6th in the league in goals allowed as they gave up just 2.71 gpg. Jake Allen is back after going 27-28-1 with a 2.75 GAA last year. He is still a quality goalie and will be backed up this year by the newly acquired Chad Johnson after Carter Hutton's departure.
St Louis has always been a solid defensive team, but this year they have added some good pieces on offense. That makes them a dangerous team. They fell a point short of making the postseason last year, but that will not be a problem for them this time around. This is a bonafide playoff team.        
Minnesota Wild
The Minnesota Wild finished third in the Central Division last year, but they were knocked out in the first round of the playoffs by the Winnipeg Jets. They lost that series in five games and scored a total of nine goals in those games. They did go 9-10 down the stretch of the regular season as injuries took their toll and it carried over to the postseason. This year they are healthy and ready to make a strong run at another playoff berth.
Their top three lines remain virtually intact, but they did add some depth to the 4th and 5th lines with the additions of Eric Fehr, Matt Read, and J.T. Brown through free agency. Jason Zucker, Eric Staal, and Mikael Granlund should again lead the attack for the Wild after combining for 96 goals last year. Mikko Koivu will also find himself on the top line at different times. He scored 14 goals and added 31 assists in 82 games last year.
Mostly, he will be on the 2nd line and will be joined by Zach Parise and Nino Niederreiter, who combined for 33 goals last year. The Wild had a respectable offensive team last year as they ranked 11th in the league in goals scored, putting up 3.05 gpg. With their top nine offensive players back and some solid depth added, they should move into the top 10 in scoring this year.
In the crease is Devan Dubnyk, who was 35-23-5  with a 2.52 GAA a season ago. He is backed up by Alex Stalock (10-14-1, 2.85 GAA) and newly acquired Andrew Hammond, who played in just one game for Colorado last year. Ryan Suter, Matt Dumba, Jared Spurgeon, and Jonas Brodin for a very formidable top four on defense and they will be relied on heavily. The Wild do not have a ton of depth on defense. They allowed 2.79 gpg last year, which was 11th in the league.
Last year, the Wild made it to the postseason for a franchise record 6th year in a row. They have a lot of the same top pieces that they had last year and will again be a force in the very tough Central Division. They have some issues with depth on defense, but overall, this is a solid team and will find their way into the postseason for the seventh year in a row.    
Dallas Stars
The Dallas Stars were 42-32-8 last year and came up three points short of making it to the postseason. The Central Division is very tough, and the Stars will be in the mix once again. The big problem they had last year was offensive depth, and they didn't address that need in the offseason. Their big pickup was Blake Comeau, who scored 13 goals for Colorado last year. He is slated to be on the 3rd line.
The top line is led by the powerful duo of Tyler Seguin and Jamie Benn, who combined for 76 goals and 157 points last year, Alexander Radulov came over from Montreal in last year's offseason and scored 27 goals for the stars. He will also be on the top line. The Stars outscored their opponents 38 to 22 when all three of them were on the ice, and it was five on five. After those three, it gets a bit dicey for the offense.
Valeri Nichushkin returns to the Stars after a two-year stint in the KHL, where he scored 27 goals in 86 games with CSKA Moscow. Jason Spezza and Mattias Janmark round out the rest of the 2nd line, but the duo scored just 26 combined goals last year. Comeau could eventually replace Janmark on the 2nd line. Radek Faksa notched 17 goals last year and is a very underrated center. The Stars may look to break up Seguin and Benn at times as it will give them some scoring balance. They were 18th in scoring at 2.82 gpg.  
The defense lost Dan Hamhuis, but they did add Roman Polak. TYhey still have John Klingberg, who had 67 points overall, including eight goals a year ago, while Esa Lindell had 27 points. Ben Bishop 26-22-5 with a 2.49 GAA last year and will again be the number one goalie. Kari Lehtonen left via free agency, but they brought in the solid Anton Khudobin to back up Bishop. The Stars were 7th in the league in goals allowed, giving up just 2.71 gpg a season ago.     
The Stars just missed out on the postseason last year, and it will probably happen again. They are stable in the crease and on defense, plus they have one of the most potent top lines in the league. The problem is just like it was last year and that is the lack of scoring depth, which will again be their downfall.    
Colorado Avalanche
The Colorado Avalanche had a 47-point turnaround last year, which was the 4th best in NHL History. They also earned their first playoff berth since 2014 but were dispatched by the Predators in six games in the first round. They had a lot go their way last year and still made the playoffs by just one point. Could a regression be on the way for this team? Let's see if we can figure it out.
The Avs put up 3.11 gpg last year and were led by Nathan McKinnon, who exploded for 97 points, including 39 goals. The most goals he had in a season was his rookie year back in 2013/14 when he scored 24 times. Mikko Rantanen and Gabriel Landeskog combined for 148 points, including 58 goals last year and they help form one of the strongest from lines in the league. The Avalanche outscored their opponents 48 to 27 at five on five when their top line was on the ice.
It is hard to imagine the top line being as strong as it was last year. Alexander Kerfoot, Sven Andrighetto and Tyson Jost for a solid but unspectacular second line. They did lose Blake Comeau (13 goals) and that hurts them in the depth department. They are just like the start as they don't have a lot of scoring depth after the top line. If the top line does regress, they could be in trouble.
The defense was better than it had been for them as they finished 15th in the league in goals allowed, giving up 2.88 gpg a season ago. The defense still has some ground to make up. Erik Johnson and Tyson Barrie are solid, and they got some help a year ago in Samuel Girard, who had a solid rookie season after coming over in the Matt Duchene trade. This defense will continue to improve. Semyon Varlamov is back in the crease after going 24-22-2 with a 2.68 GAA last year. He will be backed up by the newly acquired Philipp Grubauer, who comes over from the Stanley Cup Champion Washington Nationals.
The Avs made great strides last year, after a horrible 2016-17 season in which they had the fewest points in the league. Last year, they turned it around by 47 points and made it to the postseason. They had a lot of things go right, but that will not happen this year. They have a solid top six on offense, but they lack scoring depth, and their defense is still a work in progress. I look for them to finish 6th in the very tough Central Division as they take a step back from last year.
Chicago Blackhawks
From 2008-2017, the Chicago Blackhawks made it to the postseason nine times and won the Stanley Cup three times over that stretch. Last year, it all fell apart for them as they finished last in the Central with just 76 points. It looks like it will be another long year for them as they are an aging team, especially their core, plus they lost Patrick Sharp to free agency.
Patrick Kane is still the leader of the offense, but head a bit of a down year as he scored just 27 goals, after notching 34 and 46 goals in his previous two seasons. He also had only 76 points after putting up 89 and 106 the last two years. Kane should be on the 2nd line this year, and the top line will consist of Alex Debrincat (28 goals), Jonathan Toews (20 goals) and Brandon Saad (18 goals). They are hoping to get more from Saad, whose goal total was his fewest since 2012/13 when he had 10.
As I stated, Kane will be on the 2nd line and joined by Nick Schmaltz and Artem Anisimov, who combined for 41 goals last year. They also brought in free agent Chris Kunitz, who had 13 goals in 82 games for the Lighting in the previous year. They didn't get younger with that addition as Kunitz is 39 years old. They were 21st in the league in scoring at 2.78 gpg. They may not top that this year.
The defense is where they struggled last year as they were 23rd n the league in goals allowed, giving up 3.10 gpg. Corey Crawford is currently injured with a concussion, and if he can't go on opening night, then it will be newly acquired Cam Ward who gets the nod. Ward spent the first 13 years of his career in Carolina and was 23-14-4 with a 2.73 GAA last year. Crawford was 16-9-2 with a 2.27 GAA in 28 games for Chicago last year. The defense is not very spectacular overall, but Brent Seabrook and Duncan Keith are solid along the front line.
A lot went wrong for Chicago last year, and it doesn't look like they will get much better. Corey Crowford is injury prone, and Cam Ward is not the goalie he once was. The offense has a couple of solid pieces, but still, it is an aging unit and could decline some from last year. Look for the Blackhawks to finish in the basement of the Central Division once again.