When PointsBet launched in the United States, they added three different welcome bonuses just for signing up. You get one free bet for signing up and then another two risk-free bets worth up to $1000 ($500 each wager).
Use Bonus code WAWVIP and you will get all three welcome bonuses for signing up.
$50
No-Deposit Bonus:
PointsBet also has a $50 No-Deposit bonus bet when you sign up. As long as you sign up for an account, PointsBet will give you $50 to place wagers on before having to deposit your own money, which is perfect for beginners who are just getting their feet wet. The $50 bonus bet cannot be withdrawn, but if you are able to win your bet, your winnings can be withdrawn.
PointsBet wants it to be known that you have seven days from signing up to use your bonus bet. Once you find a wager you would like to make, you will check the box to use your bonus bet. However, PointsBet does restrict customers on what they can bet that bonus on too. You can't bet on anything over -200 odds. If there's a wager that you like at -210 odds, the bonus bet will not be allowed.
Two Risk Free Bets Totaling

$1000

:

PointsBet offers two risk-free bets when you sign up to allow bettors two opportunities to win a risk-free bet. This helps eliminate the risk of a loss on your first wager.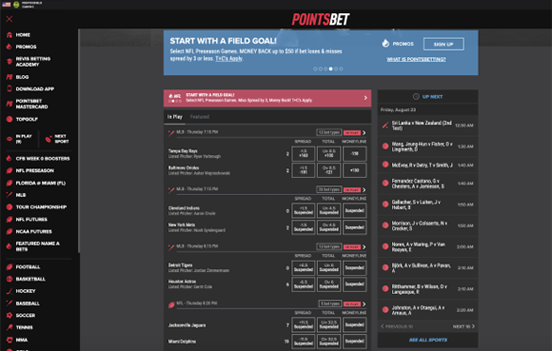 Previous/Other PointsBet Promotions:
PointsBet.com has made a big splash with their promotions since debuting into the USA.
If you are looking for current promotions, just log in with your account credentials and click "promos" on the left hand toolbar.
Promotions change on a day-to-day basis depending on which sports are in season or rivalry games that are being played.
Here's a sampling of the promotions PointBet runs:
No Juice NFL Lines:
During the NFL last season, PointsBet added a promotion which eliminated the juice on NFL spreads. If the New York Giants were +3 -110, you can get the Giants for +3 +100 and have better odds with your selection. Having better odds means your wager would win more money if your team wins against the spread.
Early Payouts:
PointsBet sporadically comes out with early payouts that pay your pre-game wager instantly if the team you back goes ahead by a certain number of points. During the NHL playoffs, if the team you backed led by two goals, you would get an instant payout without having to hold your breath waiting for the final horn.
OUR FAVORITE

Name Your Bet:

Most recently, PointsBet got clever and interactive with a name your bet promotion. They asked bettors/customers to tweet @PointsBetUSA with any bet, outside the box, or not, to their account where they would look through different inquiries and create odds for your idea.
PointsBet Game Day Guarantee: Smart Money Welcome
Recently, some sportsbooks have limited bettors to $5 or $1 wagers just because they've won a lot. This is legal and allowed but it's definitely defeating. On April 2019, PointsBet showed their support for bettors that are good at what they do. They announced "Game Day Guarantee" to appeal to gamblers that have been dumped by other sportsbooks. PointsBet will accept wagers as high as $10,000 on game day for all wagers on the NBA, NHL, and NFL no matter what.